Cư dân mạng
World
6 'homework' without an appointment date of a 10th grade teacher in Ho Chi Minh City is touching
Recently, a teacher named Do Duc Anh (Literature teacher at Bui Thi Xuan High School, Ho Chi Minh City) assigned exercise special home for students of class 10A9 touched the online community.
Usually when assigning homework to students, teachers will directly ask students to complete them. However, Mr. Duc Anh did not do that, but put his topics in envelopes and handed them to the children's parents during the class meeting.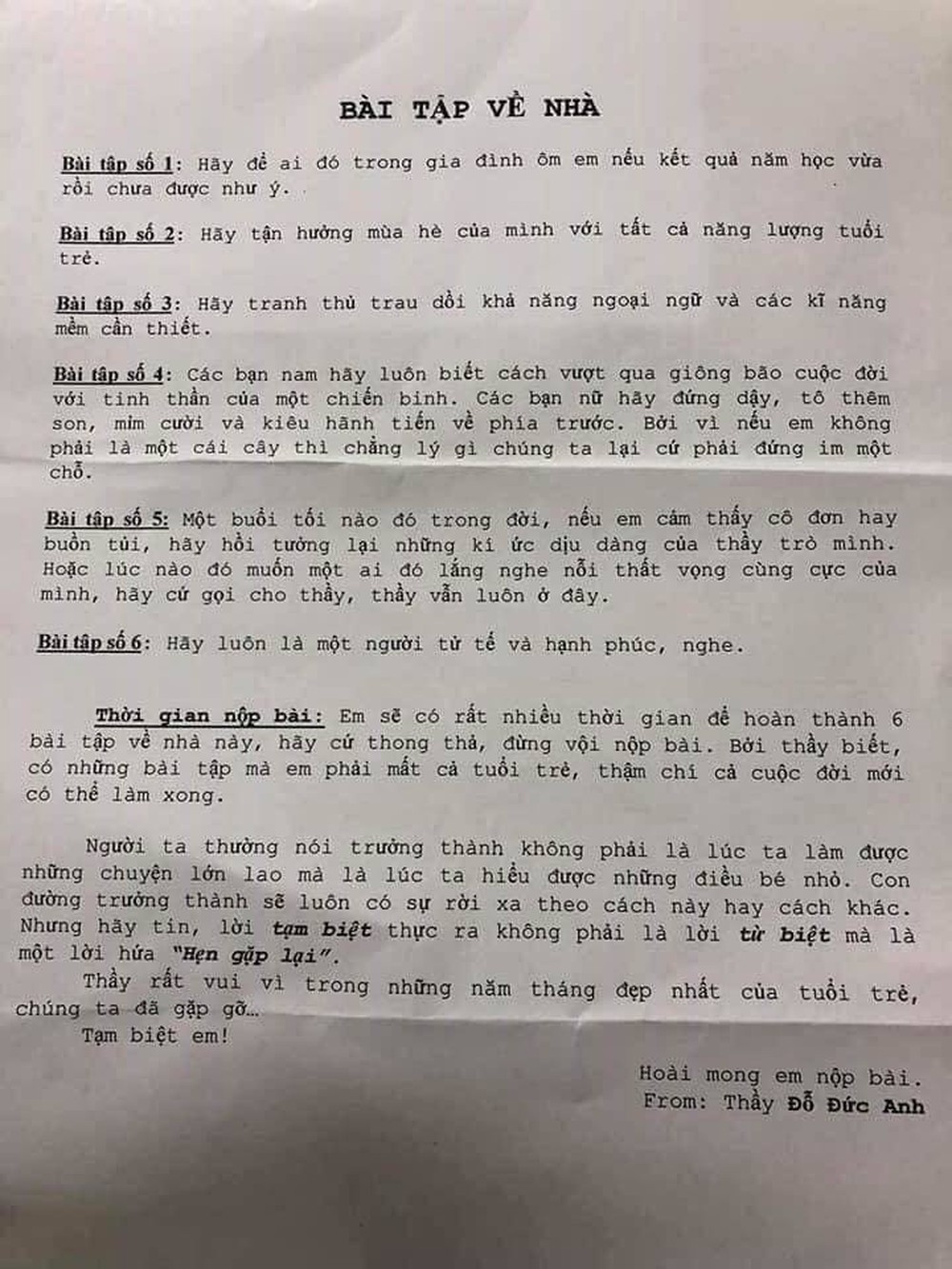 The content of the lesson for teacher Duc Anh is as follows:
"Exercise 1: Let someone in the family hug you if the results last year are not satisfactory.
Exercise #2: Enjoy your summer with all your youthful energy.
Exercise 3: Take advantage of improving your foreign language skills and necessary soft skills.
Exercise 4: Men, always know how to overcome life's storms with the spirit of a warrior. Ladies, get up, put on more lipstick, smile and proudly move forward. Because if you're not a tree, there's no reason for us to be standing still.
Exercise 5: One night in your life, if you feel lonely or sad, recall the gentle memories of your teacher and student. Or whenever you want someone to listen to your extreme frustration, just give me a call, I'm always here.
Exercise 6: Always be a kind and happy person, listen!
Submission time: You will have plenty of time to complete these 6 homework assignments, take it easy, don't rush to submit them. Because you know, there are exercises that take a young age, even a lifetime to complete.
It is often said that maturity is not when we do great things, but when we understand small things. The path to adulthood will always have a departure in one way or another. But believe, goodbye is not actually a goodbye but a promise "See you later".
I am very happy because in the best years of our youth, we met… Goodbye! Hoai expects you to submit the article."
After reading the teacher's request, everyone was touched. Because these are exercises that you have to go through with your own life to be able to solve.
Through those exercises, the teacher showed sympathy and understanding to the students' psychophysiology at a sensitive stage: They both wanted to assert themselves and were afraid of failure. So the teacher advised his students: When students are sad, find someone to share; Enjoy your youth; Son be strong; Girls must always be beautiful in all circumstances….
The topic assigned by the teacher is also a word of conveying the useful experience of the experienced person to his beloved students to succeed in the future, no matter how busy the students are, they still have to hone their soft skills and foreign abilities. his language. Now busy playing, success will be far away.
Finally, what I want to "give" to my students is this: you should become kind and happy people.
Some comments on the special exercise of Mr. Do Duc Anh assigned to his students:
– Youth will be wonderful, there will be no more pressured students to depression, no more summer vacations to study all night and all morning if you meet teachers like this.
– A well-nourished and sufficient youth will bring more success than forcing it into a framework.
– So emotional. Reminds me of my homeroom teacher. My years have been crazy too.
– I suddenly realized that even though I graduated from school 11 years ago, there are exercises in this topic that I haven't really completed…. Tearfully recalling the summer of my senior year is too much.
– Your exercises are so sweet and warm. Maybe he wanted parents to do it with the children, so he gave it to them.
– Injured too. I hope you submit your essay.
– I read it with tears in my eyes. Remember the moment when the devil and the second ghost.
– I cried when I read these words, really touched. The teachers are wonderful.
You are reading the article
6 'homework' without an appointment date of a 10th grade teacher in Ho Chi Minh City is touching

at
Blogtuan.info
– Source:
Soha.vn
– Read the original article
here