Kinh doanh
World
Ba Ria-Vung Tau flourishes again with 'ghost' projects, subdivisions for sale on agricultural land
Big sale
Recently, many businesses have aggressively advertised for registration, deposit to reserve seats at "project" 38 Lang Dai in Lang Dai commune, Dat Do district, Ba Ria-Vung Tau province. For example, Dai Nam Real Estate Business Co., Ltd. advertises, 38 Lang Dai project has the scale of 36 plots, area from 100 -306m2, selling price 600 million dong.
PV Tien Phong contacted Dai Nam Real Estate Business Co., Ltd. and received the answer, 38 Lang Dai project is located next to the People's Committee of Lang Dai commune and opposite the People's Committee of Phuoc Long Tho commune of Dat Do district, only 7 minutes connecting Ho Tram tourist areas. "You will definitely make a profit if you buy it. This year, Ba Ria-Vung Tau invests in many large infrastructure projects, so the land price will go up," said this employee.
However, the leader of Dat Do District People's Committee said that the land area 38 Lang Dai belongs to land plot number 426, map sheet 32 ​​has an area of ​​6,183m2 in the name of households and individuals. Currently, the planned land is residential and traffic land, not project land.
Similarly, Dat Do ecological housing area in Lang Dai commune is developed by Dai Phu Nam Construction Investment and Trading Company Limited, and VIC Real Estate Investment and Construction Joint Stock Company is a distributor with 77 garden houses, 5 garden villas. Real Estate Investment and Construction Joint Stock Company VIC advertises, Dat Do Eco-Residential Area project is residential land, private book is notarized, selling price 9-16 million VND/m2.
However, the People's Committee of Dat Do district confirmed that the land advertised as the Dat Do ecological housing project belongs to the land plot number 07, the map sheet 42 has been divided into 47 land plots by households and individuals. Name. This land has been planned as land for perennial crops and traffic (specialized airport), not project land.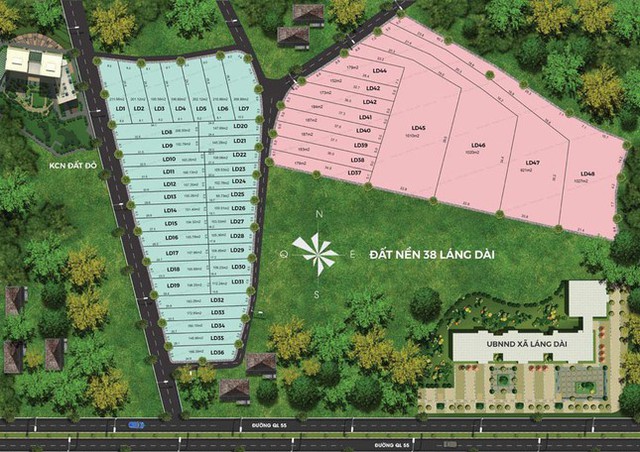 The so-called "38 Lang Dai" project in Lang Dai commune, Dat Do district, Ba Ria-Vung Tau province is actually in the name of an individual. Currently, the planned land is residential and traffic land, not project land.
Also in Dat Do district, there are 3 other "ghost" projects, namely Phuoc Long Tho Residential Area invested by Phat Loi Group, Millionaire Hostel 2, Dai Duong Xanh which are being sold loudly.
The Department of Natural Resources and Environment of Dat Do district confirmed that, in fact, the location of the above lands does not have synchronous infrastructure investment and utilities as advertised. These land plots are all perennial crops, residential land, and park land.
Specifically, the legality of the land advertised as Phuoc Long Tho Residential Area (Loc An City Gate) is the land for perennial crops. Current status is bare land and Melaleuca plantation. The land area of ​​the Millionaire's Residence 2 has a total area of ​​9,810m2, belonging to plots 1248, 1249…), map sheet 48. Current status is vacant land, land use planning is residential land. Dai Duong Xanh land area belongs to map sheet No. 40, plot 169, with an area of ​​​​3 hectares is personal land, the current state of the land is vacant.
Selling plots of agricultural land
In addition to the "ghost" project, in Ba Ria-Vung Tau, the situation of subdivision selling plots on agricultural land is flourishing.
Specifically, Mr. Cao Nhat Minh (living in Bau Chinh commune, Chau Duc district) leveled the ground and poured stones on the land to form a road on agricultural land with a width of 3m and a length of 170m, passing through the plots. land number 60, 65, 67, 225 connected with the cross section from land plot No. 225, 226, 227, 228, 229 and land plot No. 70 cadastral map sheet No. 53 Bau Chinh commune.
However, the cadastral records over the periods (1998, 2004, 2009) do not show this road segment.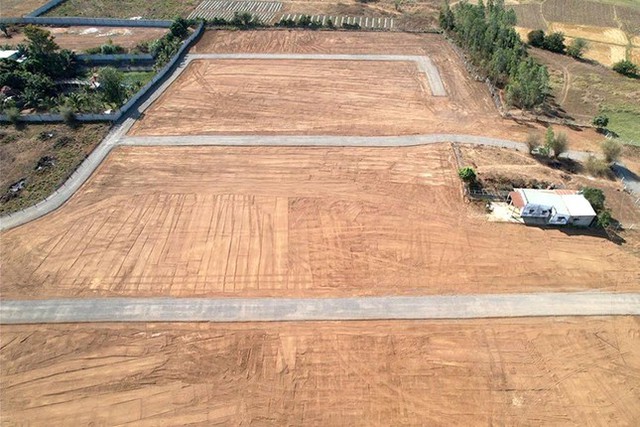 Many agricultural lands in Ba Ria-Vung Tau were butchered and illegally built.
Mr. Le Thanh Liem, Vice Chairman of Chau Duc District People's Committee, said that the area with signs of forming Mr. Minh's roads is agricultural land, with no existing houses.
Comparing the land use planning map for the period 2021-2030, with a vision to 2050 of Chau Duc district, this area is still planned as agricultural land. Mr. Liem said, will punish land owners violating regulations and consider the responsibility of local authorities.
Similarly, plot No. 1554, map sheet No. 5 (Dat Do town, Dat Do district) owned by Mrs. Nguyen Thi Thuan with an area of ​​21,600m2, the purpose of which is land to grow annual crops, was also cut down. into 61 land plots with an area of ​​450-500 m2 with the selling price of 1.7-2.1 billion VND/lot. The landowner also opened a temporary path from the existing Le Van Mot street to the land.
Inside this land, the landowner has also opened a road for traffic. Currently, carpets and stones have been laid, forming 3 roads on the land. After that, Dat Do district had these roads removed and decided to fine Ms. Thuan 45 million dong.
The 1 hectare agricultural land of Mr. Nguyen Van Cuong (Tan Ro village, Chau Pha commune, Phu My town, Ba Ria-Vung Tau province) was also misused. The authorities made a record for Mr. Cuong and asked to remedy and return the status quo. After that, Mr. Cuong demolished the internal road that was illegally built in the land and returned it to its original state.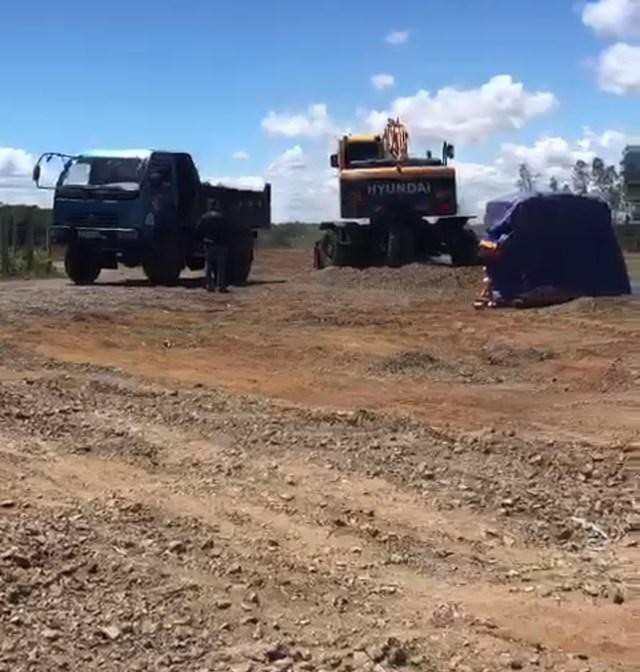 Ba Ria-Vung Tau has strongly handled the situation of subdivision and sale of plots on agricultural land, but this situation still recurs.
Nguyen Cong Vinh, Vice Chairman of the People's Committee of Ba Ria-Vung Tau province, said that from the end of 2021, the situation of splitting agricultural land parcels, illegally building on agricultural land and selling it, has been slow to get approval from the local authorities. departments from villages, hamlets, communes, wards to districts and other forces discovered.
The most basic solution is to strictly manage the area as well as the records of the separated agricultural land plots must be sent to the district level for management.
Mr. Pham Viet Thanh, Secretary of the Provincial Party Committee of Ba Ria-Vung Tau, said bluntly that, without the involvement, neglect and approval of the party secretary, the chairman of the commune, ward, management agency, including the district president, the How can there be a plot to sell the background?
He emphasized, because of prestige before the Party and responsibility before the people, it is necessary to strictly punish and propagate and mobilize, because there are too many lessons in losing cadres for land and resources.
You are reading the article
Ba Ria-Vung Tau flourishes again with 'ghost' projects, subdivisions for sale on agricultural land

at
Blogtuan.info
– Source:
Soha.vn
– Read the original article
here