Business
Candidates "cut" in their CV IELTS 7.5, until the boss interview English, "stuck"
Recently, on a website specializing in "complaining about the office" shared a tragic story when recruiting personnel of a unit. Specifically:
"Because I have little knowledge, I am often tasked with interviewing and evaluating candidates. Over the past 10 years, I have interviewed many friends, from fresh graduates to "masters" of all kinds.
This time, the unit is having a big project with US customers. Normally, due to gossiping with customers, the company is full of senior engineers, the code is like a devil and melancholy. However, the truth is that all new graduates are recruited to lower the cost of illegal wages. Therefore, as soon as the customer trusts to transfer the project, the company will hire people with three legs and four legs.
After a lot of searching in vain, I finally found a friend with a very nice CV: 10 years of experience, TOEIC 945 points, IELTS 7.5…makes me happy as if I caught gold.
Because you are in Hanoi and it's the right time of the epidemic, I made an appointment for an interview via Skype at 3:30pm. At 3:25 p.m., when the board of directors had sat enough in the room, everyone was anxiously waiting for the "senior" to appear, but the candidate was nowhere to be found.
Seeing that, I frantically made a phone call, and the other end of the line answered: I'm X, sorry I have an urgent business right now, can I make an appointment at 16:30?
Because of his high hopes for new people, his boss also nodded in agreement, even though waiting for 1 hour was difficult to accept.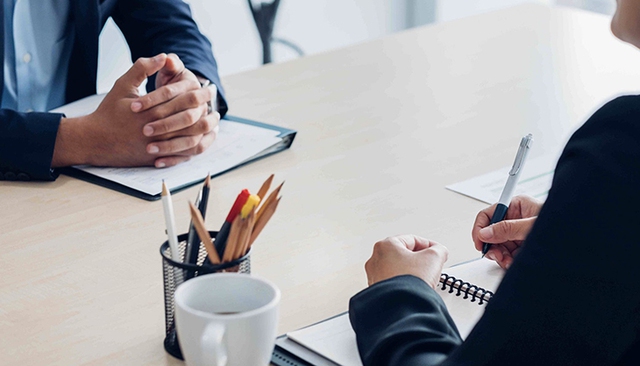 Finally, the candidate was online, after a few polite greetings, I started asking some basic English questions like "Could you introduce yourself??", "How long have you been working for"
The candidate was dumbfounded, answered falteringly, in a low voice…
– "I'm so nervous, can I speak Vietnamese?"
– "Copy CV score TOEIC You got 945, why can't you speak English?
"Yes, I'm trembling, but normally I can speak."
– "Well, in Vietnamese, seeing that your CV is fluent in SOLID principles in coding, can you explain it?"
There was silence for a long time, the clack of the keyboard resounded, a few timid voices:
– "SOLID is abc, xyz"
At this point, even though I was very angry, I still had to be patient and ask another question.
– "If you code.NET a lot, do you know about Entity Framework?"
The space was silent again, only the sound of the keyboard clattering. The candidate has spent his youth on Google search.
– "Well, say what you don't know, you don't know, you don't need Google Search, I don't ask for heavenly things, just focus on the technical knowledge that you write in your CV. It's strange why So what salary do you expect?"
– "About 1200 USD"
At this point, everyone in the room could not keep calm. People got up to go out, people tried to hold back their laughter. As for me, please allow me to report the results later.
Indeed, I have never seen the recruitment life so ironic. I hope you are serious when writing your CV and respect the company you are applying for. Your CV can make up 360 degrees, but the knowledge in your head can never be fake. Just a few tests, a few interview questions, everything will be revealed. Companies will always send out highly qualified engineers to test your ability, so don't think you can beat them.
If in the past we encountered a person who was good at English, being able to speak fluently was quite rare, but now it has become common. In particular, in many office environments, English is considered an indispensable thing for every employee, no matter how little or how much it is used, this language is used for work.
Not to mention when applying for a job, you are very susceptible to psychological problems, so in any case, plan ahead for the questions the employer will ask and your answers.

Here are 7 suggestions for English job interview questions and answers that make employers happy:
1. Tell me about yourself (Tell us about yourself)
After greeting, shaking hands, the employer may ask you to share about yourself. You don't need to say how many people in your family, how your village is. Instead, what needs to be said in the interview should be related to your personal career development and the experience you've had in the position you're applying for.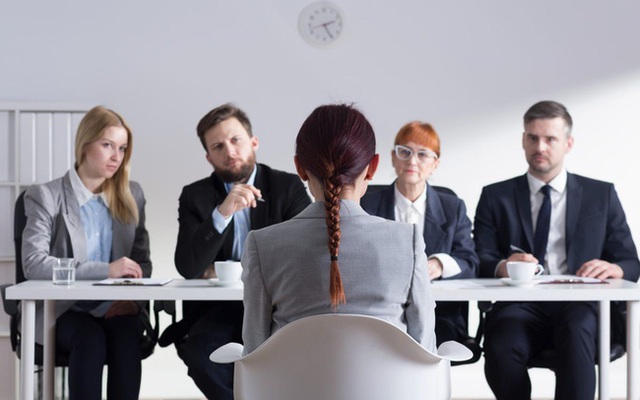 Don't lose confidence in front of recruiters
For example: "I've been working as a junior chef at a small Italian restaurant for 2 years and my duties always assisted the head chef and preparing salads. I have been interested in food and cooking which was why I chose to follow this career path. I studied at ____ college, where I gained my first level cooking diploma".
(I worked as a kitchen assistant at a small Italian restaurant for two years. My duties included assisting the chef and preparing salads. I have always been interested in food and cooking, that's why I chose the job. I graduated from _____ college, where I received my first degree in cooking).
2. What are your strengths? (What are your strengths?)
When employers ask this question, they want to know your positive, work-related qualities. Therefore, before participating in the interview, you need to research the criteria and capabilities required of a new person with this position. The thing to remember is that it's not a good idea to just list a bunch of adjectives because anyone can do this. Instead, use examples to make your answer more convincing.
To be on time – to be on time (on time):
"I'm a punctual person. I always arrive early and complete my work on time. My previous job had a lot of deadlines and I made sure that I was organized and adhered to (respected) all my jobs"
(I'm a punctual person. I always arrive early and get the job done. My previous job always came with deadline requirements and I had to make sure that I work with a plan and follow the work rules. ).
To be a team-player – to work well with others
"I consider myself to be a team-player. I like to work with other people and I find that it's much easier to achieve something when everyone works together and communicates well".
(I consider myself part of a team. I enjoy working with others and find it easier to achieve goals if everyone collaborates and communicates.)
To be ambitious – to have goals
"I'm ambitious. I have always set myself and it motivates me to work hard. I have achieved my goals so far with my training, education and work experience and now I am looking for ways to improve myself and grow".
(I am an ambitious person. I always set myself goals and they motivate me to work hard. I achieve my goals with experience, training, education and work. Currently, I am looking for ways to improve. self-improvement and self-development).
To take initiative – to do something without having to be told to do it
"When I work, I always take initiative. If I see something that needs doing, I don't wait for instruction, I do it. I believe that to be get anywhere in life, you need this quality"
(When I work, I always take the initiative. If I see something that needs to be done, I don't wait for instructions but will do it. I believe that to get anywhere in life, you need to have this quality).
Some other qualities include: "to keep your cool", "focused", "confident", "problem-solver" …
3. What are your weaknesses? (What are your weaknesses?)
This question doesn't focus on what you haven't done. Employers want to see how you try to fix imperfections and the level of self-perception.
One trick to overcome this question is to turn a weakness into a positive quality, such as you spend too much time on projects that should work slower.
"I am sometimes slower in completing my tasks compared to others because I really want to get things right. I will double or sometimes triple-check documents and files to make sure everything is accurate"
(Sometimes, I complete my tasks slower than others because I really want everything to be correct. I will check two, sometimes three times, of the documents to make sure they are error-free. ).
4. Why did you leave your last job? (Why did you quit your old job?)
If you are a recent graduate and this is your first job, this question is not for you. However, if you have worked in other positions before, employers want to find out why. Are you fired or actively quit?
If you take the initiative to take a break, avoid saying anything negative about your workplace or your former boss. Some answers you can refer to:
"I'm looking for new challenges".
"I feel I wasn't able to show my talents".
"I'm looking for a job that suits my qualifications" (I'm looking for a job that matches my qualifications).
"I'm looking for a job where I can grow with the company".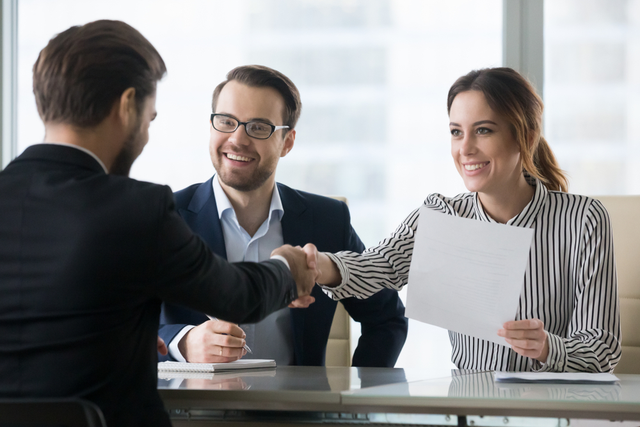 Be well prepared to get off to a great start when interviewing in English with employers
5. Tell us about your education
You don't have to tell the employer everything you've studied, but you should list some important qualifications. You should bring them with you if the company wants to see the originals.
– Degrees: 3-4 year university bachelor's degree.
Diploma: Diploma, usually obtained after completing a short course (about a year in return).
– Certificate: certificate, certificate that you have attended a course or activity.
6. Where do you see yourself 5 years from now? (Where do you think you will be in 5 years?)
This is a question of goals, so don't mention "going to be with the family". With this question, you need to share a work-related purpose, but don't be too ambitious. If you answer that you want to be "director", "head of department", the employer may see you as a threat to their current position.
You should refer to the following answers: By then I will have…/ I would have liked to…
"Improved my skills" (Improved my skills).
"Created more of a name for myself in the industry".
"Become more independent and productive".
"Enhanced (improved) my knowledge".
"Achieved a higher position".
7. What kind of salary do you expect? (Your expected salary?)
Before attending the interview, you need to research the average salary of the market for the position you are applying for. Don't say I don't know, because that makes you less confident.
You should offer a slightly higher salary than the market average. Because in fact, the employer has already set a salary for you, they just want to check your understanding of this industry and field.
Source: FluentU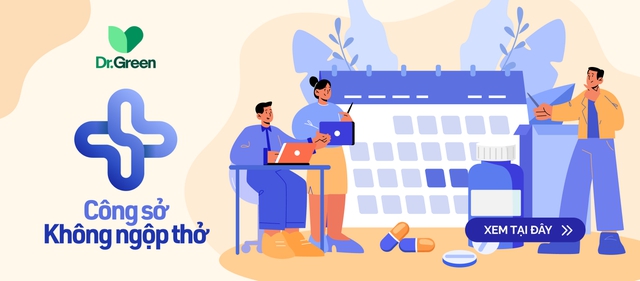 https://cafebiz.vn/ung-vien-to-ve-trong-cv-ielts-75-den-khi-sep-phong-van-thi-dung-hinh-ten-to-dung-de-ban- than-kem-coi-roi-trach-cong-ty-khat-khe-20220527161839917.chn
You are reading the article
Candidates "cut" in their CV IELTS 7.5, until the boss interview English, "stuck"

at
Blogtuan.info
– Source:
cafebiz.vn
– Read the original article
here