Sức Khỏe
Children hospitalized increased due to unusual weather changes
Recently, the weather has been very unpredictable. Although it is summer, in the North, there is still a short cold air, thunderstorms interspersed with hot days. The difference in temperature and humidity causes the number of hospitalized children to increase.
Recorded at a number of hospitals in Hanoi shows that the number of hospitalized children has increased, mostly related to respiratory and digestive diseases.
At the National Children's Hospital, the Medical Examination Department has received an average of 200 visits/day related to respiratory diseases in recent days. At the Respiratory Center (National Children's Hospital) receives about 30 children / day due to lower respiratory infections such as pneumonia, bronchiolitis …
At the Pediatrics Department, Agricultural General Hospital, the number of hospitalized pediatric patients with respiratory infections and acute diarrhea also increased. Doctor Nguyen Huu Linh – Deputy Department of Pediatrics said that over the past time, children hospitalized due to vomiting and diarrhea have increased, but this is not unusual and is not "vomiting epidemic" as people still share.
According to the doctor, now starting in the summer, the erratic hot and humid weather makes food susceptible to bacteria, insects such as flies, mosquitoes, cockroaches, ants… multiply and spread pathogens. Therefore, summer is also the season when children are prone to gastrointestinal diseases.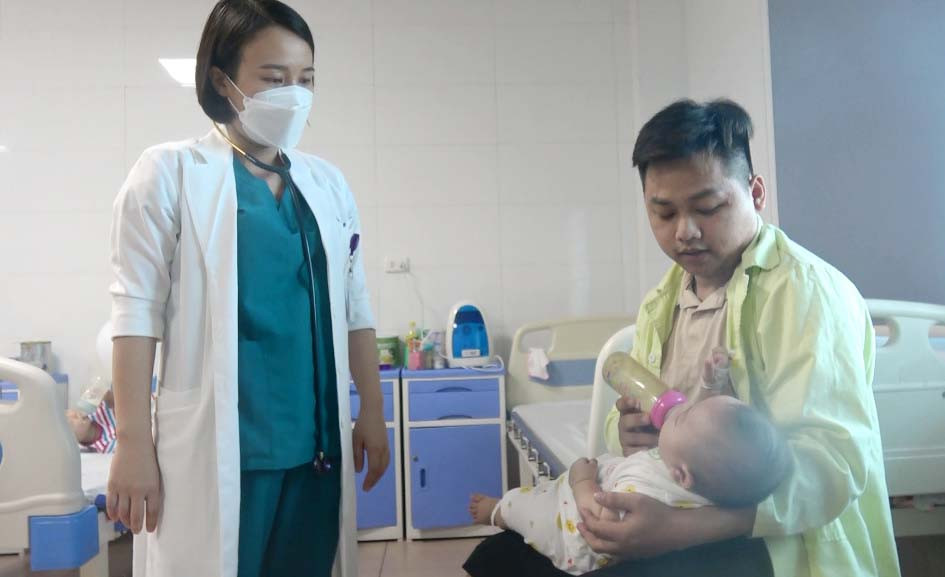 Dr. CKII Nghiem Thi Mai Sang, Deputy Head of Pediatrics Department, Thanh Nhan Hospital, said that children with vomiting, fever and diarrhea coming to this hospital also increased in the past 2 weeks, most of the children admitted to the hospital after receiving regular treatment. Good response and quick recovery.
For children with respiratory diseases, Dr. Mai Sang said that this is an alarming problem today. Over the past week or so, the number of patients coming to the hospital for examination and admission has increased by 150 to 200% compared to the previous months. Among nearly 100 patients being inpatient at the department, up to 70% of pediatric patients have diseases related to the respiratory tract, mainly pneumonia, bronchitis, bronchioles….
"Through testing, it was found that mainly children were infected with the respiratory syncytial virus (RSV). This is a virus that infects the lungs and respiratory tract, causing bronchiolitis, pneumonia. Notably, there are many cases where parents are subjective or make mistakes when taking care of children at home, making them worse," said Deputy Head of Pediatrics Department, Thanh Nhan Hospital.
In the treatment room at the pediatric department of this hospital, Mr. Nghiem Duc Toan (Hoang Mai, Hanoi) has a 4-month-old son who is being treated at the hospital on the 4th day. He said that his son showed signs of coughing, fever, stridor and was monitored at home for 3 days. The baby was given some medicine but it didn't help, so he went to the hospital for examination.
Here, he was diagnosed with bronchiolitis, pneumonia, now he has been in the hospital for 3 days, his condition has improved but still needs to be monitored.
Dr. Sang emphasized, in addition to the above case, many parents subjectively let their children arrive late or arbitrarily bought antibiotics for treatment, causing the children to be hospitalized in serious condition, causing difficulties in the treatment process.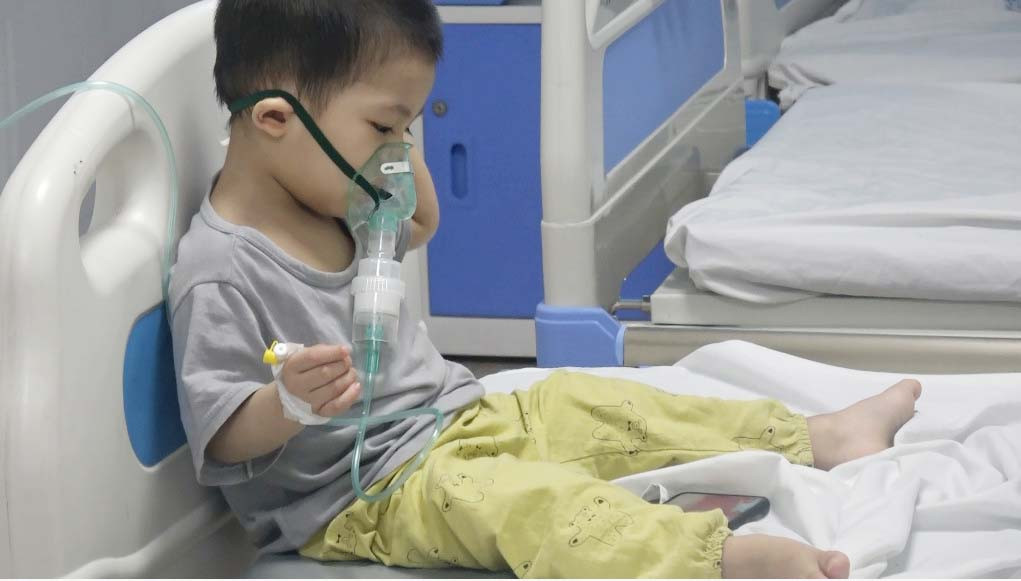 During the process of receiving and examining children, doctors found that the two most common mistakes parents make when taking care of children with cough and fever at home is to buy medicine, including antibiotics, and apply cold compresses to the child.
"This is extremely dangerous. In case the child is attacked by a virus, antibiotic treatment is ineffective, making the situation worse, even in cases of sepsis.
It is also a mistake to apply cold compresses to children because not only does not bring down the child's fever, but also makes the child's cold worse. Since then, the child's fever has increased," said Dr. Sang.
When a child has a fever at home, Dr. Nghiem Thi Mai Sang advises, most importantly, parents must monitor the child's temperature. It is recommended to take the child's temperature every 20-30 minutes. If the child has a fever above 38.5 degrees, parents need to use antipyretic for the child according to the instructions of the manufacturer and the doctor, paying special attention to the weight of the child.
In the case of children, apply warm, not cold. When the child has a high fever for 2 consecutive days, coughs, wheezes a lot, eats poorly, and is lethargic, the family should take the child to the hospital for examination.
In a time of complicated weather like today, in order to prevent diseases, parents need to keep their children clean, avoid the risk of infection such as going to crowded places, increase nutrition supplements to improve their health. children's resistance. Parents need to pay attention to the care of the upper respiratory tract for their children such as rinsing the nose with physiological saline, gargling and washing hands regularly for children.
Families also need to detect early signs of respiratory infection such as nasal discharge, cough, wheezing, difficulty breathing, so they should take them to a medical facility for examination and timely intervention.
Inflammatory diseases of the upper respiratory tract such as rhinitis, pharyngitis, and tonsillitis usually have milder symptoms. However, lower respiratory tract infections such as pneumonia and bronchiolitis need to be detected early and treated promptly, otherwise complications such as systemic infections and respiratory failure will result.
Ngoc Trang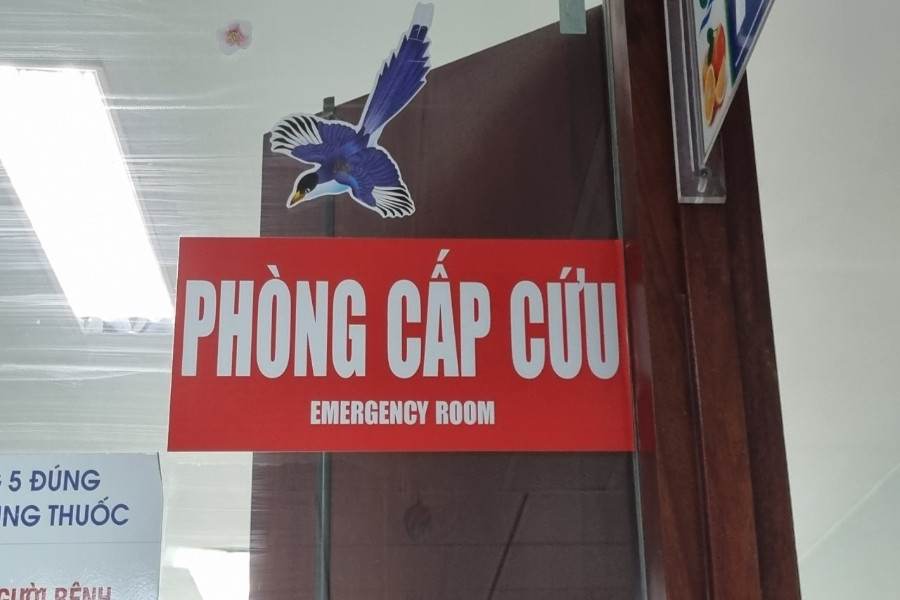 You are reading the article
Children hospitalized increased due to unusual weather changes

at
Blogtuan.info
– Source:
vietnamnet.vn
– Read the original article
here