Tech
Customer communication combined with smooth and synchronous collaboration in the enterprise helps increase work efficiency by 70%
As an example, a startup company grows from 5 employees to 200 employees, new teams are formed to handle specific tasks and optimize efficiency. Managers need to monitor each department to make sure everyone hits their targets on time. Business owners need to find ways to enhance their competitive reputation against their competitors and connect more customers in a professional manner.
These new requirements lead to the need for a system to help employees and managers communicate, collaborate, and quickly process tasks.
If businesses have not yet used a tool, they will face difficult challenges such as:
Information is not synchronized between departments, it takes a long time to compare, update and synthesize, making it more difficult to grasp the work situation, inconsistent information reduces interaction between departments. .
Searching for documents and comparing between parties affects employee productivity with about 30-40% of time spent on this job alone. As a result, managers do not properly assess the working efficiency of employees, do not understand the progress and progress of work at which step.
The growth and "accumulation" of excel files hour by hour, day by day causes storage overload
There is no inheritance, when employees leave, they can "hug" customer data to leave, not hand over work or accidentally delete important information…
Finally, loss, loss of important data often occurs, causing work interruption, completion schedule and even financial damage, company reputation.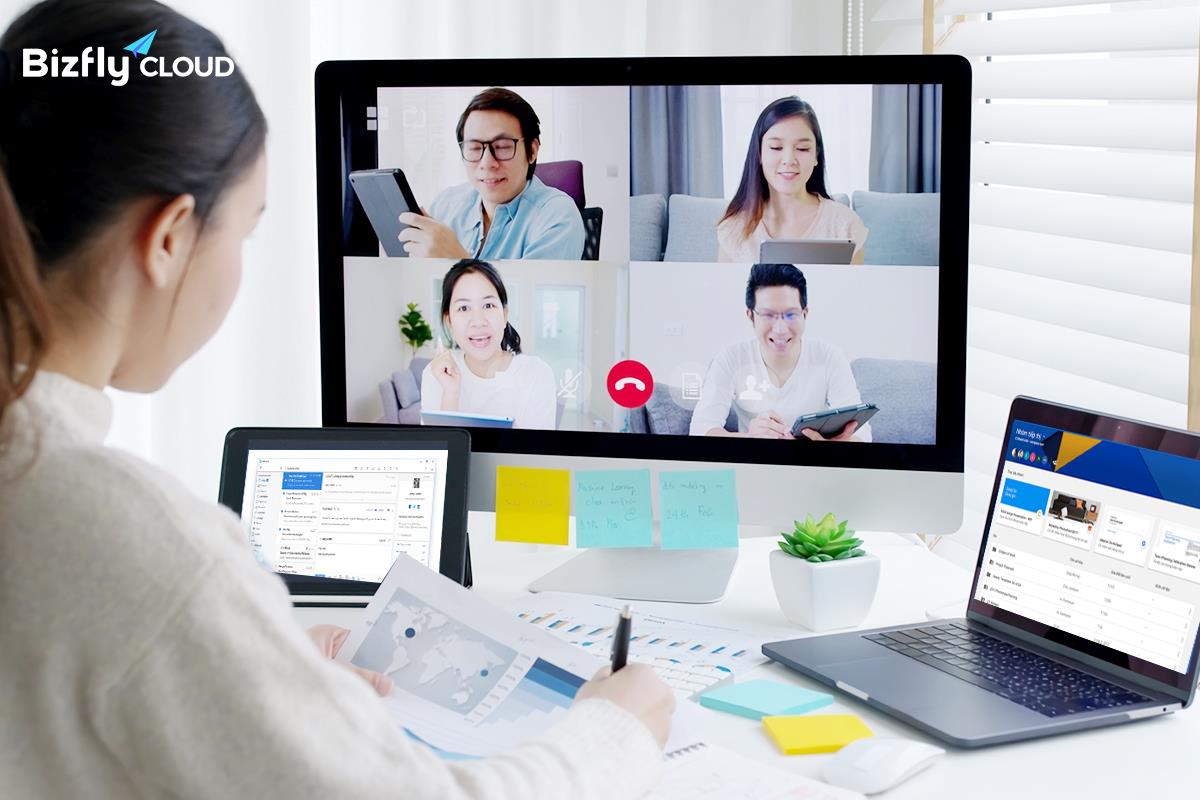 The most popular solutions for storing and transmitting information in enterprise systems today are using business email in combination with a synchronous storage drive to complete a collaborative working system for businesses.
Each solution will have its own advantages, for example, there is a solution that has the advantage of a strong domestic transmission line, making access and sharing always smooth in all situations, including when there is a disconnection problem. international network, or features to decentralize access, decentralize administration to manage and protect information, or share storage capacity between users to optimize usage costs… At the same time, the connection and Compatible with a business domain email solution that provides the ability to transmit information throughout both internally and externally, improving professionalism when working with customers and employees in the company. Overall, work efficiency can be increased by up to 70% when eliminating the old problems of only saving information and managing on the "mountain" of excel created every day.
All these issues will be answered in Bizfly Expert Talk #55: "Drive & Business Email – Solution for storing and transmitting information in enterprise systems". Register directly via the link to receive a voucher worth #500k: https://bit.ly/3LXByKt
Format: Live stream at Zoom, Fanpage Bizfly Cloud and Fanpage CafeF
Time: 14h30 – 15h30, Tuesday, May 31, 2022
With the contents:
The problem of data storage and transmission businesses are facing
– The importance of information and data in business
– Risks in enterprise data management
Introducing solutions to help businesses store and transmit information effectively
– Drive
– Business Email
Q&A
With the presence of Speaker:
Mr. Dang Tung Lam – Product Owner Bizfly Business Email
Mr. Nguyen Trong Nhan – Head of Platform Service Development, Bizfly Cloud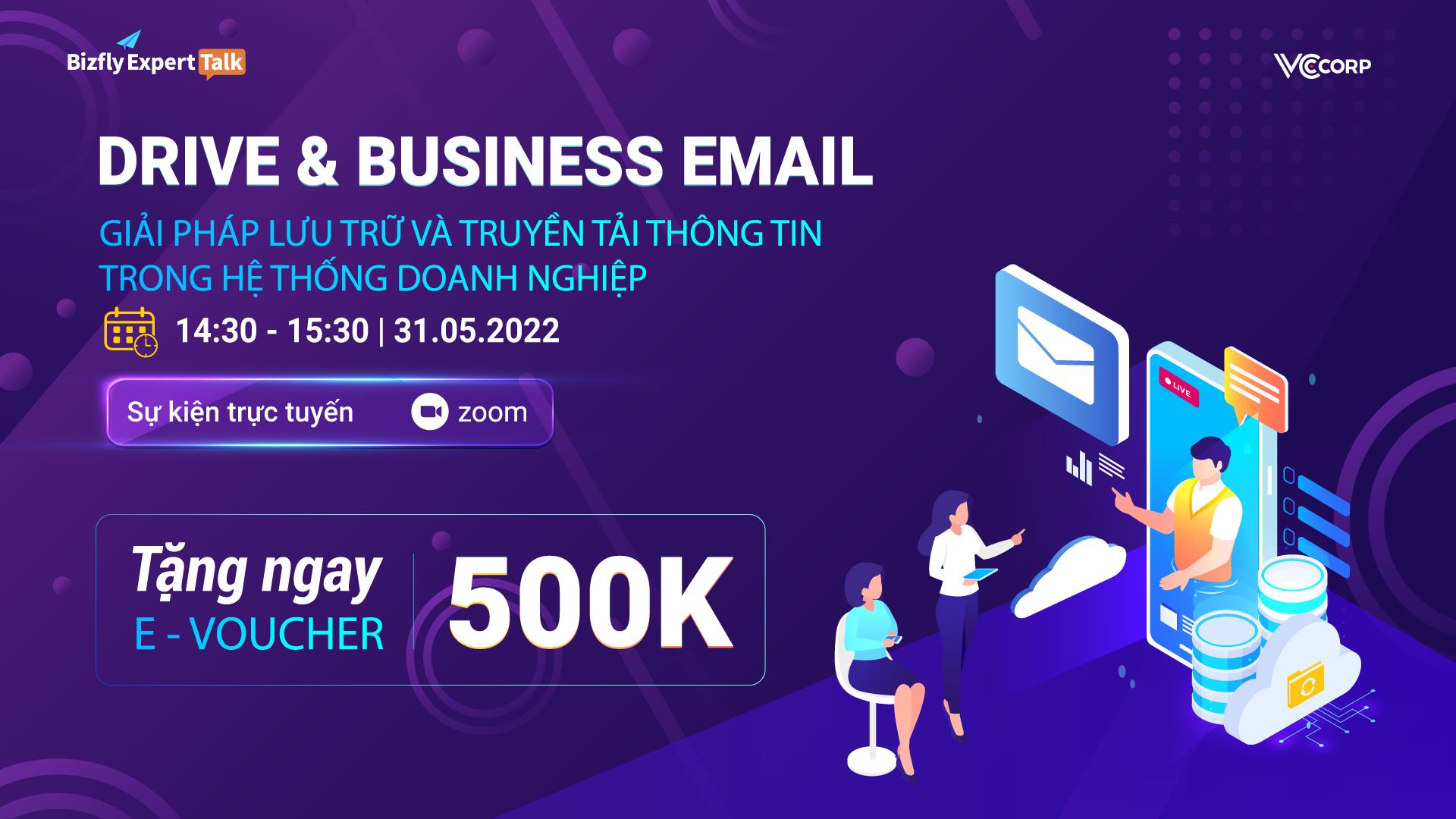 Bizfly Cloud is operated by VCCorp – A pioneer in the field of technology and high technology in Vietnam. Bizfly Cloud has experienced in cooperating with many big domestic and foreign partners such as VinGroup, VTV, Adayroi, 7-Eleven, Dat Xanh Group, Zinnia Corp, Topica, Fahasa, Ahamove… Bizfly Cloud has been supporting a lot partners and customers deploy solutions to store, manage and secure data that match their business models and bring operational efficiency to their businesses.
Companies, whether growing or just starting up, can benefit from centralized management, scientific organization of information, exploitation of valuable information, from which a basis for strategic decisions is made. strategies and improve problem-solving skills.
According to Forbes, 59% of businesses are using data in a variety of ways to make better decisions and increase the efficiency of their business operations. From marketing and sales to HR and IT, data helps business owners understand their customers, predict customer behavior patterns, identify trends, improve the quality of service they provide, cut costs fees, new product development, etc.
However, to make good use of the above benefits, first of all, it is still necessary to have a synchronous, smooth, simple and flexible communication and collaboration platform. Along with the need to work remotely, work without geographical barriers, this need is increasingly showing a stronger importance and necessity.

https://genk.vn/Giao-tiep-khach-hang-ket-hop-lam-viec-cong-tac-thong-suot-dong-bo-trong-doanh-nghiep-giup-tang-70-hieu- suat-cong-viet-20220528111938447.chn
You are reading the article
Customer communication combined with smooth and synchronous collaboration in the enterprise helps increase work efficiency by 70%

at
Blogtuan.info
– Source:
genk.vn
– Read the original article
here