Business
Drawing street vendors carrying the whole of Hanoi, paintings of IT students are paid nearly 200 million VND
Dang Thai Tuan (22 years old, Hanoi, 4th year student majoring in Information Technology, Hanoi University of Industrial Technology – Economics) is the author of the picture "Hanoi Rong" that won the first prize in the competition. illustration contest "Hanoi is…" organized by the United Nations Educational, Scientific and Cultural Organization (UNESCO) and the United Nations Human Settlement Program (UN-Habitat).
The idea of ​​carrying street vendors in Hanoi
Sharing about his picture, the IT student said that at the end of August 2021 he knew about the contest "Hanoi is …", at that time the young man was busy with his studies and many personal projects.
"I myself didn't have the inspiration to compose, so I didn't register," Tuan said and said that when the contest ended and his personal projects were completed, he decided to register. participate in drawing. Tuan rushed to complete his work in time to submit it to the organizers.
Registering to participate, Tuan was also quite headache with the idea. Hanoi is a broad concept. For Tuan, Hanoi can be ancient historical sites, restaurants such as bun cha, vermicelli with shrimp paste, etc., can also be activities of people in Hanoi, or simply a column. entangled electricity.
Tuan told him that if you use a specific image to define Hanoi, there really isn't. The young man believes that all things in Hanoi, no matter how small or grandiose things are, always have a common feature hidden deep inside is simplicity.
So he chose simple, rustic images that are most typical of Hanoi as the main inspiration, and the image of street vendors was born. Because he also wanted the picture to have more images in it, Thai Tuan applied the idea of ​​"carrying Hanoi".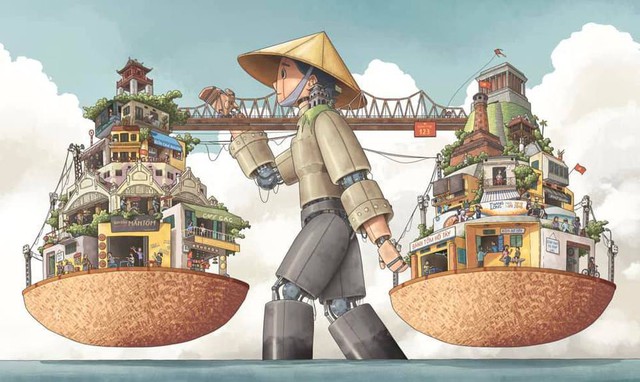 Tuan's painting Hanoi is the first prize in the contest "Hanoi is…"
"I came up with the idea of ​​​​drawing a woman carrying a pair of light burdens, inside the baskets are monuments, restaurants, roads, the culture of Ha Thanh people", Tuan shared.
The time the 4th-year student drew this picture, it was also when Hanoi was in a period of isolation because of Covid-19, Tuan could not go out to look at the scenery and streets of Hanoi to include in the picture. With the memories of a young man growing up in Hanoi and the help of "Google", Tuan drew the first strokes of Hanoi in his imagination.
Starting to draw Tuan faced many difficulties because the picture used many details, the typical details of Hanoi were shown on two baskets, there were many pictures of historical sites Tuan had never painted before, it took him a few days. Observe closely to draw the correct structure as possible. For the first time, the 22-year-old guy also took a lot of time to arrange the layout so that it was reasonable.
"Because I had to draw with a fairly wide and long image, it was quite difficult to find a reasonable angle. I also drew a few different options, and in the end I chose a bottom-up view," Tuan said. know.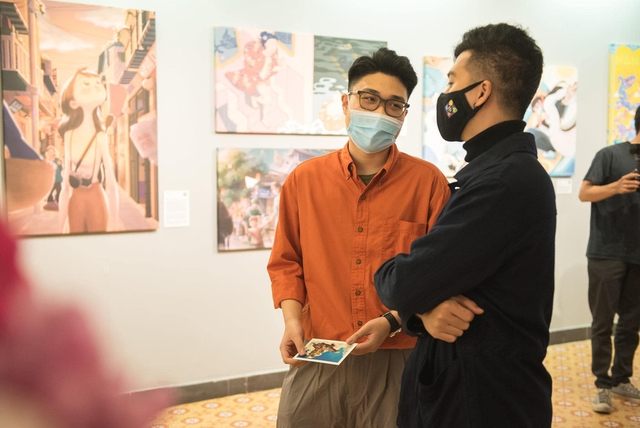 Tuan introduces his paintings to visitors to the exhibition.
Although he faced many difficulties while drawing, Tuan said that thanks to his talent and passion for drawing from a young age, he quickly completed the painting on time for the competition.
Thai Tuan shared, drawing is his passion since childhood, in the past he often drew his favorite cartoon characters. Gradually, his drawings were no longer cars, animals, or plants, Tuan was able to draw large, colorful pictures of landscapes.
In the first year of university, Tuan applied to work as a graphic designer for some small startup companies to earn extra income. When he had money, Tuan bought a new iPad and started learning to draw Digital.
After a period of practice, finally the picture of the kindest IT student was born – "Banh Chung". "I also tried to post on a design group, and I didn't expect a lot of support", since then Thai Tuan started working with Digital painting (drawing by computer).
Selling paintings to support children affected by the Covid-19 epidemic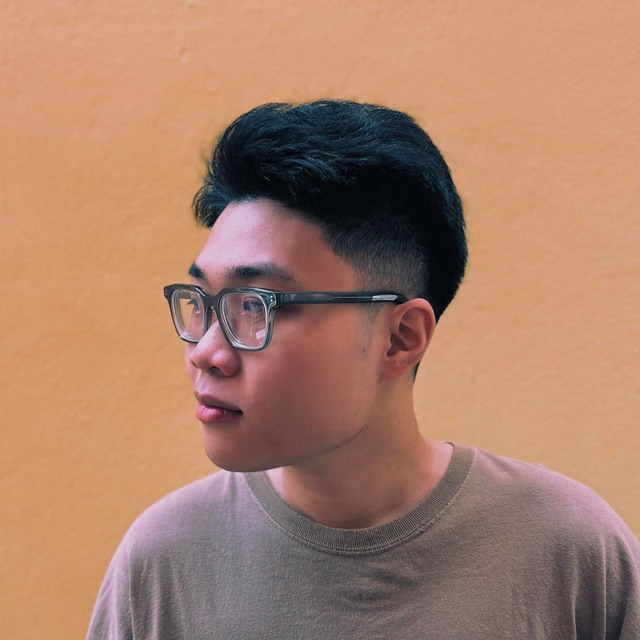 The fourth-year student has had a passion for painting since childhood.
"Hanoi Rong" is not the first picture Tuan has painted with Digital, but it is a picture containing many difficult details, and there are images that he drew for the first time.
When the picture won the first prize in the contest, Thai Tuan was quite happy because his hard work of staying up all night had paid off.
The painting was then put up for auction with a starting price of $3,000. Tuan said that when he was invited to the art auction event, he did not expect too much of the painting to sell for a lot of money. After seeing the starting price of $3,000, he was surprised and even more surprised when the successful auction amount was $8,000.
"I used to paint and sell paintings, but this price is dozens of times higher than previous paintings," Tuan said happily.
After the painting was sold, he deducted half of the money to support poor children affected by the Covid-19 epidemic at that time. The other half he serves to draw the next pictures about Hanoi to promote to international friends about the beauty of the capital and of Vietnam.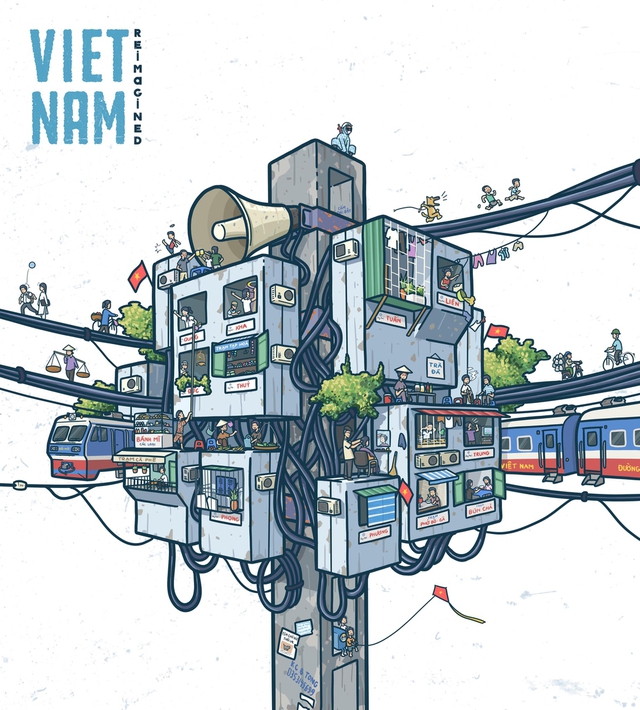 Tuan is cherishing a number of painting projects to introduce Vietnam to international friends.
Currently, in addition to studying, Thai Tuan is collaborating with a number of brands/pages on art products, fashion, etc. In the future to increase his drawing experience, Tuan wants to experiment with some new ways of drawing for his paintings.
Along with that, the 22-year-old will carry out a number of personal projects to introduce Vietnamese culture and people to international friends through paintings. Tuan also wants his paintings to be auctioned so he can help with projects for the community.
https://soha.vn/ve-ganh-hang-rong-ganh-ca-ha-noi-tranh-cua-sinh-vien-it-duoc-tra-gan-200-trieu-20220527095304571.htm
You are reading the article
Drawing street vendors carrying the whole of Hanoi, paintings of IT students are paid nearly 200 million VND

at
Blogtuan.info
– Source:
cafebiz.vn
– Read the original article
here