On the recovery track of the post-pandemic green economy, especially in the hotel and tourism service industries, businesses must not only accelerate digital transformation but also "lead hands" to enter the race to increase. customer experience (CX), with the trend of gamification (gamification) in experience design.
So, what do experts say about this story and what model is leading the trend in Vietnam?
The Age of "Personalized Experience"
It can be said that never before has digital technology and personalized experiences in the field of travel services "exploded" like in the post-COVID-19 period. Therefore, experts say, businesses that capture the psychology and needs of customers, touch the "happy spots" … of customers will win.
Ms. Dang Thuy Ha – Director of Customer Behavior Research, NielsenIQ Vietnam said that according to a recent survey by Visa's Green Shoots Radar, 42% of participants believe that they will travel for pleasure in 2022. Meanwhile, another survey in the US showed that 100% of participants were motivated to hit the road.
Because, after two years of being "tied up" because of the pandemic, many people want to find joyful travel experiences to revive their spirits and find new inspirations for living. Their travel needs are now also changing, not only need a convenient stopover but also want to have a more interesting place to stay.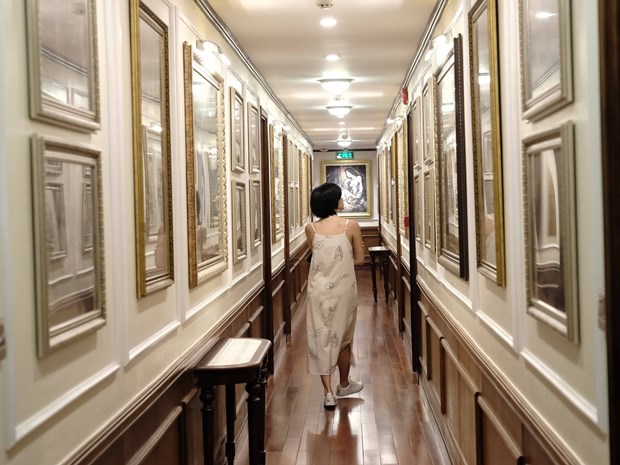 The accommodation facility enhances the customer experience by painting works. (Photo: Mai Mai/Vietnam+)
"Going to the hotel now is not only to sleep and eat, to go to the hotel is to play and have fun. To achieve that 'fun' factor, hotels need to focus on improving the experience, creating and personalizing the experience…," said Mr. Le Quoc Vinh – Vice Chairman of Vietnam Sales and Marketing Directors Club. , Chairman of Le Media Group shared so at the Open Talk program with the theme "From CX to Gamification" (From customer experience to gamification) just held this morning, May 24, in Hanoi. .
Sharing the same view as Mr. Vinh and Ms. Dang Thuy Ha, the survey results show that today, there are 3 factors customers care most about when traveling: Personalized experience (82%), standards high security (81%), privacy (58%).
"The race for customer experience in the hotel service industry is now tougher than ever, but also more attractive," commented Ms. Dang Thuy Ha.
On that track, technology is one of the factors that bring a positive experience to guests staying. Deloitte's research results show that up to 62% of customers feel that ordering via phone or tablet is very important; 70% gen X (used to refer to people born in 1960-1980); 58% of travelers will happily accept check-in via mobile app; 95% increase in customer engagement if the property has a tablet in the room.
One of the typical examples of the trend of focusing on customer experience cited by Ms. Dang Thuy Ha is the case of Flyzoo hotel established in 2018 in Hangzhou, China. There, all requests and transactions from booking to accompanying services will not be performed in the traditional way, but will be thoroughly synchronized through the smartphone application.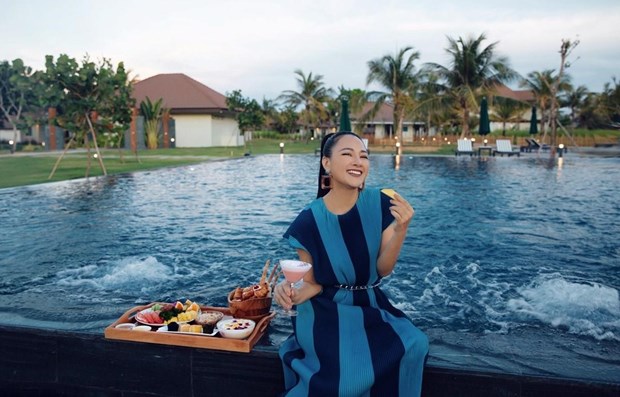 Mr. Hoang Anh Duc, Director of Customer Experience Administration Center, Strategy Division, MSB Bank, said that the use of "rescuing robots" instead of service staff, voice-controlled break rooms or the work of the customers. Luxury hotels that use human imagination and data science to take the customer experience to the next level are trend stand out in the world hotel service industry today.
Gamification application trends
Gamification simply means the application of game components (technologies, methods, rules and other factors …) to any activity with the aim of creating motivation and excitement for users, changing awareness and encourage them to actively participate more actively in similar activities in the future.
The ultimate goal of these applications is to bring joy in the experience and touch the positive emotions of each individual on the journey of moving and staying. The increase in customer experience with the trend of gamification (gamification) is not new in Vietnam, but this trend has become really "hot" in the hotel and tourism industry in the past few years, especially especially in the post-pandemic period.
"By doing a lot of surveys, we realized that customers have a need for a destination that is always ready to welcome them, where their needs are met – not lacking in amenities but not in excess of rarely used facilities. arrive. They also want to be connected in a profound and holistic way, from space to people and emotions. With global citizens, they also want to experience new things, want a feeling that is both close and different. And, they expect the place they live to have taste," shared Ms. Nguyen Thi Thu Ha, Head of Style Shaping Department, SOJO Hotels.
Stemming from those studies, SOJO Hotels has built a completely new convenient hotel model in Vietnam. With a customer-centric strategy, SOJO Hotels focuses on researching experiences that are "right and right for your taste." In particular, this hotel chain has applied "gamification" of customer experience and is known as the first hotel in Vietnam to apply this trend.
At SOJO Hotels, the game element is reflected throughout the guest's stay. The first is the "play with emotions" as soon as you step into the room. Every detail suggests a certain game, sometimes a little "mind battle" with yourself. For example, in the bathroom, the shampoo couple will "puzzle" the guest with the witty question "JO, shower first or wash first. That's the problem." The two-color indoor slippers that seem like "cuckoo" also have variable characters to bring guests into the game of decoding the language…
The game element is also evident in the JO247 Lounge area. Designed around the hidden expectations of customers, this area offers emotional "wow" experiences with a range of games from folk games such as mandarin box, hopscotch, to modern games. such as pendulums, darts, wooden draw…
In the near future, the hotel will also launch many attractive games on its application. Also, hotel managers want customers who approach SOJO Hotels at any touchpoint to be able to play, relax and have fun, thereby having more inspiration in their lives.
With such efforts to change and constantly renew, the domestic market has another distinct option, and at the same time opens up new directions in the field of accommodation. Experts believe that in the near future, Vietnam's hotel and tourism service industry will witness an "explosion" of the race to increase customer experience with the trend of gamification in experience design. experience.
You are reading the article
Exploding customer experience in the hotel industry

at
Blogtuan.info
– Source:
danviet.vn
– Read the original article
here