Thế Giới
Food crisis seen from the Black Sea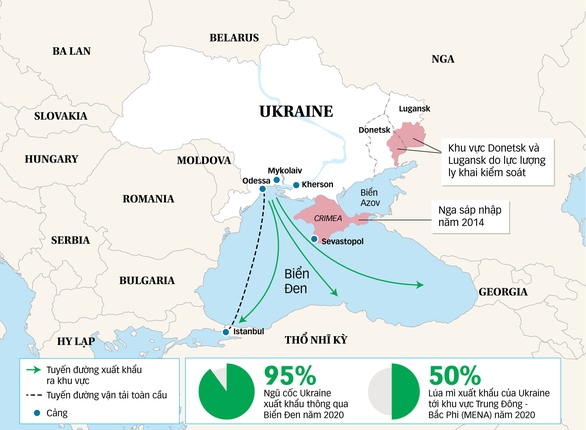 Export route of Ukrainian agricultural products from the Black Sea source: US Department of Agriculture, Al Jazeera – Data: B.ANH – Graphics: T.DAT
Congestion in the Black Sea is seriously threatening the world's food supply.

The United Nations and the West are promoting dialogue with Russia to find a "way out" of the current food crisis, which is affecting negatively around the world, especially poor countries.
Urgent problem
Before the global food crisis heated up, in April this year, Italian Prime Minister Mario Draghi told Il Corriere della Sera (Italy) daily: "Others are right when they think talking to you is right. (President Putin) is of no use, just a waste of time."
That's not a statement made after just a few hours of intense exchange. According to the Financial Times, the Italian prime minister's stance on the conflict between Russia and Ukraine is "one of the biggest foreign policy shifts in Europe in many years" and goes against Italy's friendliness towards Russia. before.
On May 26, Prime Minister Draghi actively talked by phone with President Putin to find a solution to the current food crisis. Draghi's continued dialogue with Putin proves that finding solutions to food security is very urgent.
According to Forbes magazine, more than 44 million people in 38 countries around the world are facing a food crisis. Part of the current problem stems from the fact that Ukrainian grain shipments cannot be exported, because Russia has closed its ports in the Black Sea.
Russia recently proposed the establishment of "safe corridors" for the export of grain and essential food from Ukrainian ports.
According to a statement from Moscow, at a dialogue with Prime Minister Draghi on May 26, President Putin emphasized that Russia is ready to help the world "surpass the food crisis through grain and fertilizer exports, with the condition that the political barriers of the West (for Russia) must be removed".
However, Putin did not specify whether to support with Russian goods or create a "safe corridor" for Ukraine to continue exporting its goods.
Experts assess that it is difficult for the US and its allies to agree to remove the sanctions that Russia has been suffering since it started a "special military operation" in Ukraine.
While both Ukraine and Britain oppose the offer from Russia, the White House insists there has been no dialogue around easing sanctions on Russia in return for grain exports.
In the midst of this tense situation, the Italian Prime Minister considered that he had an obligation to actively dialogue with the leader of Russia. "I feel it is my duty to do so, as the burden of this humanitarian crisis can affect the world's poorest countries," Draghi said.
Speaking at a press conference on the afternoon of May 26, Draghi said he was interested in a "smaller and more specific issue", which is the release of Ukrainian grain stuck in the Black Sea.
The center of the Black Sea
According to a report released this month by the Oxfam Foundation, one person in East Africa is at risk of dying every 48 seconds from prolonged starvation.
The United Nations' World Food Program (WFP) warned that if key wheat suppliers continue to face port closures, prices will rise even further, "exacerbating hunger for the most vulnerable citizens around the world".
According to Bloomberg News, Estonia and Lithuania are promoting a mechanism to escort food vessels across the Black Sea with warships of allied countries to help open up the flow of Ukrainian exports. But this still requires all mines in the ports to be cleared and Russia must agree to ensure safety.
Meanwhile, silos and grain-laden ships at the port of Odessa are just waiting to be able to set sail. "Odessa has to be reopened and we need an agreement to reopen the port. This diplomatic solution needs to be discussed," said Pierre Vauthier, who is responsible for Ukraine at the UN's Food and Agriculture Organization. , said.
With no access to the sea, Ukraine is focusing on alternative routes to meet its target of 2 million tonnes of exports per month, according to Reuters news agency. Ukraine hopes to be able to transport 700,000-750,000 tons from two small ports on the Danube to Romania every month, from there to North Africa and Asia. The rest will go by road and rail to Europe. But this plan has come very slowly.
In the first 22 days of May, only 28,000 tons of grain were exported by road from Ukraine, while rail remains a complex and expensive option.
Ukrainian trains will have to stop at the border because the gauge from the Soviet era is 9cm wider than the tracks in neighboring European countries. Then, having to transfer grain to other ships is both time-consuming and limits the volume that can be transported.
Russia is committed to opening a safe corridor
On May 25, the Russian Defense Ministry promised to open a "safe corridor" for foreign ships to leave ports in the Black Sea. Another "safety corridor" will be opened for ships leaving the port of Mariupol, by going from the shallow port of the Sea of ​​Azov to the Black Sea.
Specifically, Mikhail Mizintsev, director of the Russian Center for Defense Management, said that 70 ships from 16 other countries are anchored at six ports on the Black Sea, including the ports of Odessa, Kherson and Mykolaiv.
According to Interfax news agency, Mizintsev confirmed that these safe corridors will be maintained daily.