Starting from April, the beer service is in the bustling season, the beer shops are always "packed" with customers.
Compared with other beverage products, although only selling and serving customers in a short period of time from afternoon to late evening, many beer bar Hanoi is always crowded with people, even at peak times such as in the evening, they are often overloaded and have to refuse to serve.
Especially, on weekends or football days, customers must book in advance to have a seat.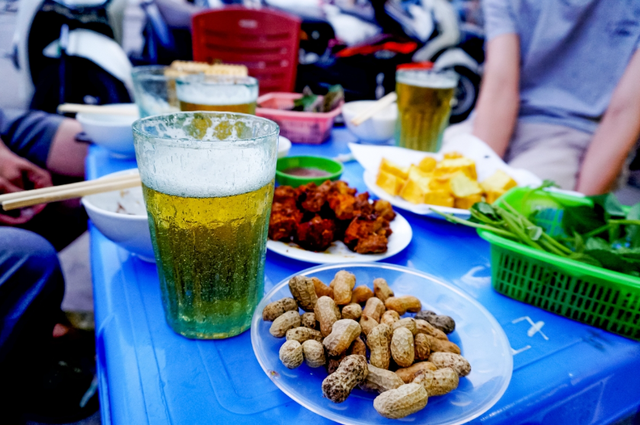 The price of draft beer ranges from 10,000 VND to 22,000 VND/cup (depending on the type).
As noted by a VOV.VN reporter, almost every street, street corner, large or small, or sidewalks with airy and spacious spaces has at least 1-2 beer bars. Even, the old town area has its own streets specializing in selling beer to serve international and domestic customers, especially young people such as: "beer street" Ta Hien, Luong Ngoc Quyen, etc.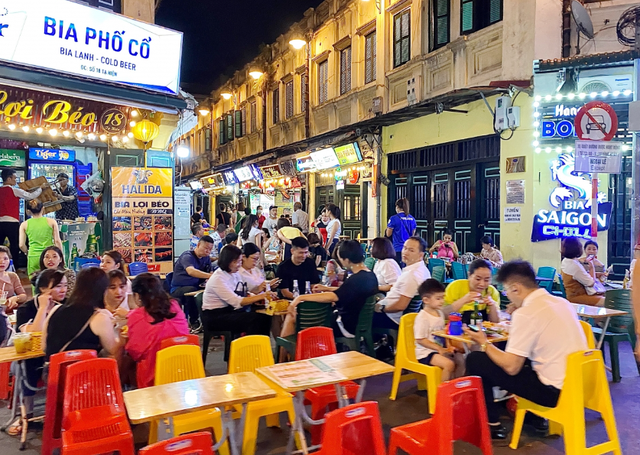 A beer shop in Ta Hien "beer street" area is full of customers.
Mr. Nguyen Nam, owner of a beer shop on Luong Ngoc Quyen street, said that overcrowding at the bar often happens. The staff has almost no time off.
Mr. Nam shared: "On weekends, the shop is full of customers from 5pm until late at night. Hanoi's weather has begun to enter a hot and sunny period and thanks to the walking street that takes place in three days (Friday, Saturday, Sunday), the number of customers has increased.
In those days, my shop often had to hire more staff to serve and pay by the hour (30k/1h). The price of beer at my shop is 12,000 VND – 22,000 VND/cup (depending on the type). On average, the shop sells 7-10 beer bombs per day (50 liters each). On weekdays, the restaurant earns about ten million VND from beer (excluding other expenses) excluding "drinks".
As for the peak days (weekends, football days), the shop has not yet counted all the sales, but it is estimated to increase 3-4 times compared to weekdays. However, the beer business is not always so profitable, the beer business is only best in the summer, making it a season to eat all year.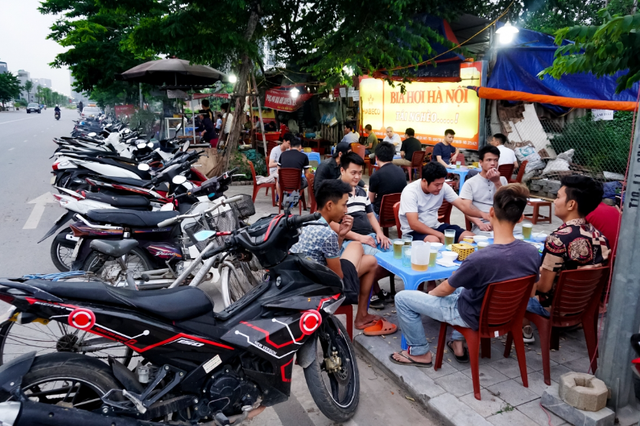 Beer bars with seats on the sidewalk are crowded, motorbikes lined up in a long line.
At a famous beer hall in Lieu Giai (Hanoi), perhaps the hardest-working person is not the service staff, the kitchen staff, but the parking attendant. The parking lot here is not only packed with motorbikes lined up, but cars are also parked on the side of the road in a long row.
The famous beer hall on Lieu Giai street has more than 200 motorbikes in the evening of football cheer. Some people who came later had no tables left, staff refused to serve and had to wait outside.
Mr. Thanh, security guard here, said: "Although my shop has already printed 200 free bus tickets for guests, there are still not enough tickets at peak hours, my fellow passengers usually ask to keep 1 ticket. Sometimes alone, I can't look good, I have to call 1-2 more staff members to look after the most.. The hardest part of the last SEA Games 31, the number of cars was too crowded, I was just afraid of losing customers' cars. ".
Mr. Thanh happily added: "But when working on those crowded days, the shop owner often rewards the staff, especially the car security guard like me".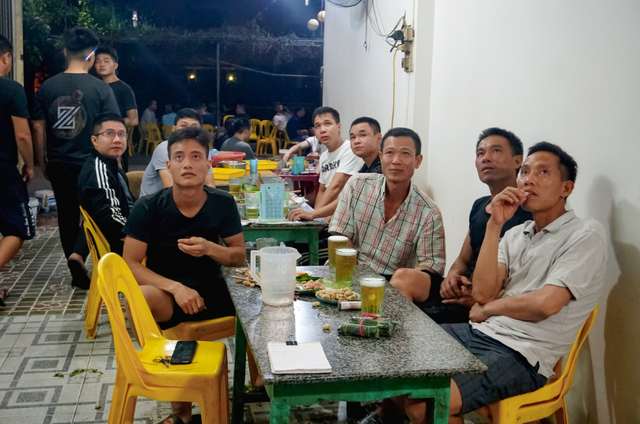 Beer bars start to get crowded after 6pm every day.
In addition to protection, "the force to run the table" is equally hard. The last long hot days are also "torture" for the service staff.
A sidewalk beer shop in Ha Dong area is also full of customers, "people standing and sitting" have no place to squeeze. Mr. Hai, a waiter at a beer bar, said: "The weather in Hanoi is hot and sunny, making me almost exhausted when I go to work.
It's okay to run the table on normal days, on peak days like weekends, when there is a football match, there are many guests coming to watch and cheer. On weekdays, I can get off work at 11 o'clock, but on busy days, I can't go back until 1-2 am."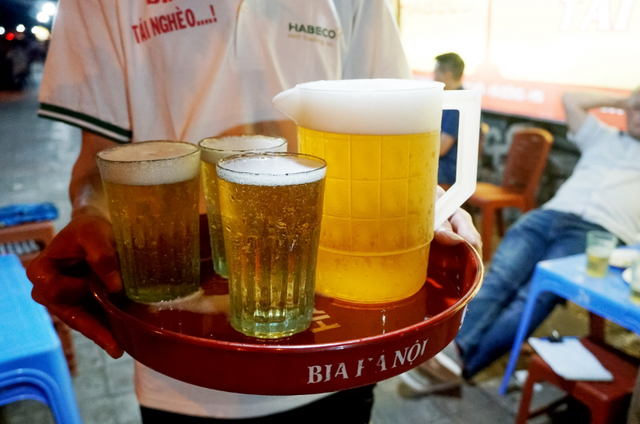 The staff of the restaurant must work at full capacity on hot, crowded days.
The owner of a sidewalk beer shop in Ha Dong, Mr. Nguyen Tai, said: "In the winter, my shop specializes in car washes and sells hot food to take home. But when the weather turns to summer, the bar switches to serving beer and "drinks". On hot sunny days, my shop is often very crowded, even full of seats.
But even so, every staff member is always enthusiastic and dedicated to customers. On peak days, my shop's revenue is about 14 -15 million VND. And with sales growing strongly on hot days, the staff will be rewarded with a worthy sales compared to the effort you put in."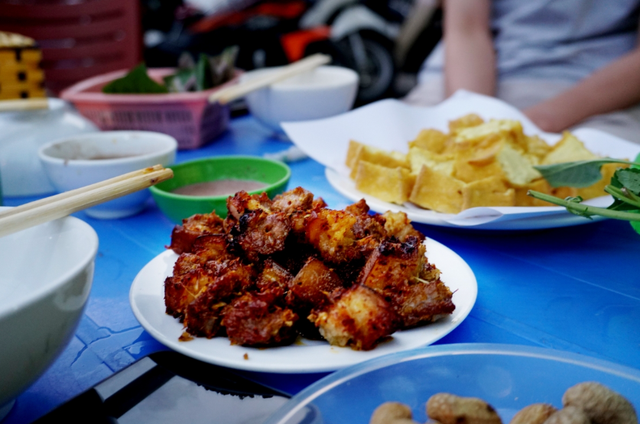 According to the survey, this year, the price of draft beer and accompanying drinks has increased slightly.
In addition to beer, accompanying drinks such as boiled peanuts, scrambled eggs, spring rolls, rice cakes, grilled squid, etc. were also consumed strongly. The sidewalk beer service in Hanoi attracts customers, which means that the restaurants earn "huge" profits.
You are reading the article
Hanoi draft beer shop "sold money" on a hot day

at
Blogtuan.info
– Source:
Soha.vn
– Read the original article
here