In the final round of the first Asian U23 tournament in Oman in 2013, U23 Vietnam could not win the right to attend. In Qatar in 2016, the "Golden Star Warriors" are in Group D with U23 United Arab Emirates, U23 Jordan, U23 Australia. Closing the group stage, we were at the bottom of the group when we lost all 3 matches (scored 3 goals, conceded 8 goals).
In China in 2018, U23 Vietnam was in Group D with U23 Korea, U23 Australia and U23 Syria. Coach Park Hang-seo's students ranked 2nd in the group with 4 points (scored 2 goals, conceded 2 goals), 3 points behind Korea U23, 1 point more than Australia U23.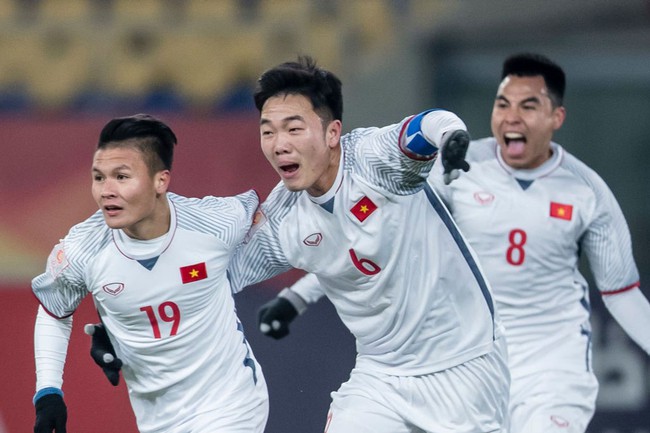 In the quarterfinals, U23 Vietnam drew U23 Iraq 3-3 after 120 minutes of play. Entering the penalty shootout, Cong Phuong and his teammates won 5-3. In the semi-finals, U23 Vietnam continued to have to take a penalty shootout with Qatar U23 after drawing 2-2 after 120 minutes. As a result we won 4-3 on the "gunfight".
In the final match in Changzhou, U23 Vietnam lost 1-2 to U23 Uzbekistan after 120 minutes. Quang Hai was the author of the only goal for Vietnam U23 in the 41st minute. Two goals for Uzbekistan U23 came from Rustam Ashurmatov (8′) and Andrey Sidorov (120′).
At the 4th Asian U23 Championship in Thailand in 2020, U23 Vietnam is also in Group D with U23 United Arab Emirates, U23 Jordan, U23 North Korea. After 3 matches, we are at the bottom of the table with 2 points (scored 1 goal and conceded 2 goals).
From June 1 to 19, the final round of the AFC U23 Championship 2022 will take place in Uzbekistan U23 Vietnam is in Group C along with South Korea U23, Thailand U23 and Malaysia U23. The home fans hope that the new coach Gong Oh-kyun will help the team at least reach the quarterfinals.