Business
'Save' the old villa building by building
Powerless to protect the ancient mansion
Talk to PV Tien PhongAccording to historian Duong Trung Quoc, from 1888, the French decided to build in 3 cities (Hanoi, Hai Phong, Da Nang) according to the model and criteria of France, for example: house numbering, curbside, underground works, drainage system, flower gardens, monuments, villas…
Particularly in Hanoi, in the Old Quarter, the French still keep the native architecture, only "planting" in it modern urban architecture such as roads, bridges, lighting… They all have a plan and implementation until the end of the colonial regime," Quoc said.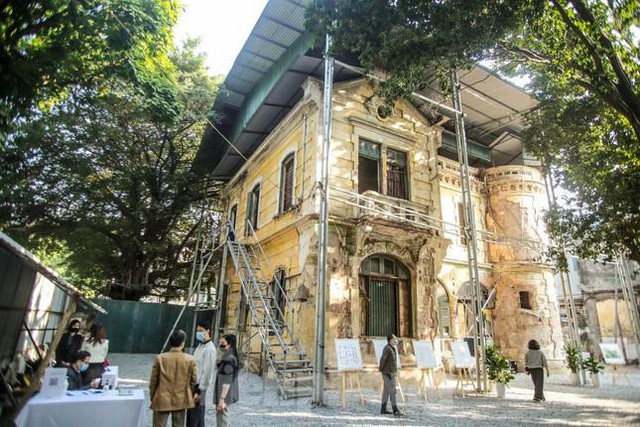 According to Mr. Quoc, Hoan Kiem district is taking the lead in preserving ancient villas with the project 49 Tran Hung Dao. (Photo: Duy Pham)
According to Mr. Quoc, in the area to the east of Hoan Kiem Lake, the French built the city's offices, the town hall… In the Ba Dinh area, they built the Bach Thao flower garden according to the Western model, and placed it next to it. there is a castle, headquarters of the Governor-General… leaving behind many architectural heritages. And of course, in order to serve the population with a high standard of living, first of all, officials and businessmen, diplomats at that time, they planned and built an entire villa area.
After that, Hanoi expanded, they planned more chess boards, on roads such as Hai Ba Trung, Ly Thuong Kiet, Tran Hung Dao… are the main areas to build villas, or other constructions. High-class civil engineering… Further, for example, Hue street area, mainly civil construction, serving ordinary people. Any house with conditions can be built in the style of a villa…
Historian Duong Trung Quoc stated that, with his living situation and age, he was able to partly witness the appearance of ancient Hanoi as a legacy of the colonial period. But later, when taking over, with a different management method, plus a sudden increase in population, most of which are not urban residents, greatly affected these works.
There was a time, the management of housing in the direction of raking the area, as long as it was possible to arrange accommodation for a large number of immigrants to Hanoi, especially those from the war zones or from the South gathered. , leading to the breakdown of the structure of villas, expansion, digging…
"That situation lasted too long, almost breaking the structure of the villas. That is not to mention that over the years, there are villas that have been demolished to build high-rise buildings due to the need for floor space, accommodation, and business space … ", Mr. Quoc stated.
However, Mr. Quoc said that at present, it is very fortunate that we can still preserve a part of these villas in the case of villas used for diplomatic work, arranged for senior officials. , the texture is still kept relatively intact.
According to former National Assembly deputy Duong Trung, in Hanoi, the city had the idea of ​​preserving and embellishing these ancient villas for a long time, there was preparation work such as investigation, statistics, classification, but almost " powerless to protect the works". Recently, there has been information about "saving" old villas, according to Mr. Quoc, which is a very objective condition.
"There is a class of them that have the need to own and use those villas. Without them we wouldn't be able to do it. Like the relaxation of people in the old quarter, if you want to preserve it, each house must be a household, each house has a "family room", not in the same house, but this room belongs to the worker, this one belongs to the teacher. , the other room belongs to the cadre, the other room belongs to temporary tenants, so the structure should be broken.
There needs to be a method to refer to a term. Households outside the facade, with financial and economic conditions, can "buy back" so that the remaining people can move to other places, creating conditions for conservation," Quoc said.
Only "save" each building
According to Mr. Quoc, the restoration and preservation of the original status quo is a correct policy, in order to preserve both the value of the building and its use, and avoid the situation where there are people who only think about the land, not the land. to the value of buildings on the land.
Mr. Quoc said that now, in order to "save" it back to the way it was before, it is no longer possible, only "save" each building, if it has a certain value according to the representative criteria, but should not be kept. all. Non-conservative places need to be rehabilitated to make effective use of both landscape and housing. As Hoan Kiem district has recently embellished and restored villa number 49 Tran Hung Dao with the desire to become a model of information and implementation experience for wider deployment.
"Conservation must be re-planned, first in terms of use rights. The State must organize for the person who is legally using the villa to have the best and fairest solution. Only one owner can do it. Then classified, the villas are of special value, typically try to restore them as they were. If it's not worth it, fine. I strongly support the fact that in the heart of Hanoi there are many old villas, as it used to have very beautiful areas such as near Thien Quang lake, Quang Trung street… It makes the city still seem ancient. Where else can take advantage of the space, it can be modernized to reflect the current social characteristics, not reluctantly raking in accommodation like in the past, so that they can choose their living environment and architecture. ", said Mr. Quoc.
At the same time, Mr. Quoc said that there should be a council, experts in architecture to evaluate and classify villas, specific regulations on appropriate construction proportions and density to avoid disrupting the landscape… "But don't be too fussy about having to restore it in the old style, because there are modern elements that will improve the living environment for people," Mr. Quoc asked.
"There is a time when we manage, we break everything, just find a living space. Sometimes according to the quota of how many people per square meter. Sub-projects are extensive. By this time, we have realized and implemented conservation, many villas have been lost, many places have been demolished and built buildings. But now, according to the law, the villas and villas are also old. The French strictly manage construction works. They have archives, so they still inform us, at this point your building is out of use, it must be restored," said Mr. Duong Trung.
You are reading the article
'Save' the old villa building by building

at
Blogtuan.info
– Source:
cafebiz.vn
– Read the original article
here