Gia đình
Stirring clip of father bringing 2 children to "cheat" mother with lover in motel: Action affects children for life!
On May 28, a clip appeared on social media of a husband catching his wife's adultery in a motel with his mistress. Notably, in this "cheat" there were two children witnessed.
The content of the 15-minute "cheat" clip with the quarrel and struggle before the wife's adulterous behavior. The husband saw that his wife said she was going to work but actually went to the motel, so she brought her two children and friends to fight with jealousy. He urged me to knock on the door and call my mother inside. Five minutes later the wife opened the door.
Adult quarrels witnessed by children. Most viewers laughed at the wife's unfaithful behavior and loved the two children who had to witness the scene not worth watching.
Many netizens think that adultery is unacceptable, but using children as a tool to punish each other like that is even more unacceptable. If a husband and wife can't stay together, they'll break up, whoever does wrong must be responsible before the family and the law, and the children are innocent and innocent.
Some netizens also analyzed, how can the second son be so old that he can't stand it, psychologically affected and later laughed at by his friends when he went to school. The father did not think about the childhood of the two children. "Poor kids, they have to go and catch their own mother", netizens commented.
Follow Dr. Vu Thu Huong (former lecturer at Hanoi National University of Education, now an independent education expert), in fact, the father in this case did not understand what he had caused to his son. The father's action was simply thinking that his mother would feel pity and pain when he saw his son in that situation.
But that action caused great harm to the children. The child himself will be conflicted about his love for his parents and his righteous benevolence.
When parents do something wrong, the children themselves see their parents' wrongdoing, they themselves want to make excuses for their parents' wrongdoings. But when they see it directly, there is no excuse, they are extremely hurt. There are children who almost go back to life carelessly, they are ready to do bad things because they themselves think that if their parents can do it, they can do it too.
Some children "anti" that action of their parents and become distrustful in life. The child always lacks confidence no matter what environment he lives in. They don't want to see their parents.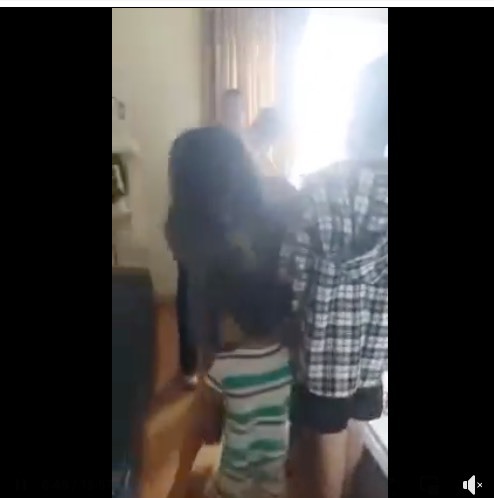 The image cut from the "cheat" clip caused a stir on social networks.
Dr. Huong said that in this story, the unhappiness is not their parents but the children. In families where their fathers abuse their mothers and beat their mothers, they have the idea of ​​"hating" their father, loving their mother and growing up very afraid of getting married. They almost do not accept any form of family with a wife and a husband. Children's lives are greatly affected since witnessing the actions of their parents.
"In this "cheat" case, the father may want to take revenge on their mother, thinking that the mother will have to pay for her actions. But in reality, the people the father is torturing are the children. young not his wife" – Dr. Huong said.
In cases where parents use their children to take revenge on each other, the child is mainly affected and the parents' goals are not achieved. There are many divorced parents and they "indoctrinate" their children about the image of a father and mother who are not good. They do everything to make the child hate the father or hate the mother, but this action can only be done when the child is young. Growing up, children tend to fall in love with their mother or father.
"There are many cases where children turn back to the 'anti' who instigated them. For example, a father divorced after adopting a child, he hated his wife and instilled in his child's head the image of an evil mother. But. When that child grows up, they know that they are being abused by their father, transmitting negative energy from the father's hatred and they turn to hate the person who is slandering, not the person being slandered.
Not only that, the child's life is also severely damaged psychologically. The child may get into a situation where they don't care or turn against their parents' actions, their life is not happy at all."- Dr. Huong said.
K.Chi
You are reading the article
Stirring clip of father bringing 2 children to "cheat" mother with lover in motel: Action affects children for life!

at
Blogtuan.info
– Source:
infonet.vietnamnet.vn
– Read the original article
here