After the denunciation happened, the school had a meeting with female teachers and some staff to get opinions on the behavior and ethics of Mr. T. – vice principal.
Previously, the police of Ben Cau district, Tay Ninh province were verifying and clarifying the content of the denunciation of many female students about being groped by Mr. NVT – Vice Principal of Long Khanh Secondary School, Ben Cau district right at the school.
Long Khanh Secondary School, where BC girls attend.
Out of 10 female teachers and staff consulted, up to 5 people said that Mr. NVT had inappropriate words and behaviors or heard of him molesting teachers and students.
What do female teachers say?
Ms. NTTV (teacher) said that Mr. NVT used to have some behaviors and words that "go too far" against the standards of a school leader.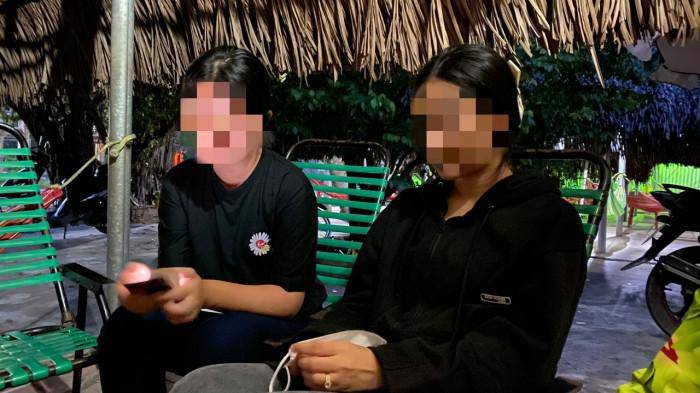 Female student BC on the left and HT on the right.
Specifically, in the school year 2021-2022, during a time when Ms. V taught 6th grade online, the computer's battery was damaged and she had to borrow the school's computer. Because she couldn't remember her password and username, Ms. V. called Mr. NVT to ask.
"Instead of reading the text to log in, Mr. T asked "which room are you in" and then said "I'll be right down". When I got to the room, Mr. T. read my account and password, but I couldn't log in.
Then, Mr. T. pressed his face to me, I dodged, then Mr. T asked "why are you so afraid of him". Although I was able to log in to my account, Mr. T. did not leave, but stopped to touch his head, stroke his hair, hold his shoulder …", female teacher V. wrote.
According to female teacher V., seeing that Mr. T did not come out, she turned off the mic and turned off the computer camera to prepare to leave.
Ms. V. said, the matter only stopped when Mr. Le Khac Chinh – the school's principal passed by, saw Ms. V and Mr. T. in the room and went in to inquire.
Female student AT told 2 times being groped by Mr. T.
In addition, during a recess, when Ms. V was looking at the phone, Mr. T came in and used inappropriate words with her.
Regarding the reason for not speaking up after Mr. T.'s unstandardized behavior, Ms. V. said, "I'm afraid I'll be banned if I speak out".
Also at this consultation session, many female teachers of the school said that they had heard about Mr. NVT's unethical behavior towards students and teachers.
Many female students also accused of being molested
At the consultation meeting, most of the teachers said that the TNBC female students were obedient, good at studying, and obeyed their teachers. The teachers expressed frustration, asked the authorities to investigate, clarify and handle the law properly.
Ms. NTTV said, after the incident between female students BC, a female student D.THT (grade 7) also came to find Ms. V and revealed that Mr. T. had groped her. HT said, the LTAT female student (grade 9) was also molested.
Working with AT, this female student continued to provide another name, a female student named V. (in 10th grade) who was also molested by Mr. T at the school.
According to Ms. PNHH, although she did not directly witness the incident, she was the first woman from BC to tell everything. This female student cried, panicked and trembled when she told about Mr. T's groping behavior.
Ms. H. said that during her work at the school, she once heard a music teacher recount how she had been molested by the vice principal.
"I request all levels and sectors to investigate and clarify this case, if there are any violations, please strictly handle them according to the law", Ms. H. said.
Similarly, Ms. NTTT said, in the school year 2020-2021, when the head teacher of an 8th grade in the school, she received information from a male student about the female student AT being "goat" by Mr. T.
Previously, as reported by Traffic Newspaper, for many days, Mr. NVT – Vice Principal of Long Khanh Secondary School was accused of groping by many female students.
Regarding the above case, the People's Committee of Ben Cau district temporarily suspended Mr. NVT's work for 15 days to verify and clarify the contents of the denunciations.
You are reading the article
The case of the vice principal being accused of molesting female students: Many female teachers speak out

at
Blogtuan.info
– Source:
Eva.vn
– Read the original article
here