Giải trí
Xem ăn chơi
A specialty fruit that is both sour and acrid, the price is up to 650,000 VND/kg, but customers still buy it
Every April, there are trucks carrying dark purple fruits, which are mangosteen from the Southeast region. The best mangosteen must mention the one from Binh Duong. Mangosteen has a sweet and sour taste, delicious, has succulent segments inside and costs from 45,000 to 80,000 VND/kg. But it is a ripe mangosteen, not many people know that green mangosteen can also be eaten, even the price is much more expensive than ripe mangosteen.
Green mangosteen has a green skin, a crisp white flesh, a mild sour and acrid taste. The price of green mangosteen is quite expensive, from 450,000 to 650,000 VND/kg, but it is sought after by many people. If ripe mangosteen is a delicious summer treat, green mangosteen is an indispensable ingredient in the famous salad in Binh Duong. Green mangosteen salad has a strange taste, is processed with a miracle and can not be enjoyed in every season.
In order to have a delicious green mangosteen salad, from the step of choosing green mangosteen to processing, it is necessary to be meticulous and elaborate. If you want a good salad, you must choose mangosteen fruits with green skin, but you must be old enough for the inside to be crispy, with a sweet, sour, and acrid taste. Green mangosteen, when sliced ​​to make salad, will form beautiful flower shapes, when mixed with salad, it will not be crushed, so the dish is guaranteed to be aesthetically pleasing and look much more attractive.
The preliminary processing of green mangosteen is also said to be a difficult step and requires the most experience and ingenuity of the maker. The green mangosteen peel is quite hard and has a lot of yellow latex. When the harvest is complete, people soak the fruit in dilute salt water to reduce the pus, it is easier to peel the skin, and ensure that the inside is still white and crispy. After that, the processor must peel the fruit under running water continuously to clean the pus and move the knife carefully so that the pus does not stick to the ivory white inside. The mangosteen "rice" has just been taken out and soaked in a bowl of ice water to keep its color, ensure its crispiness, and reduce its acridness.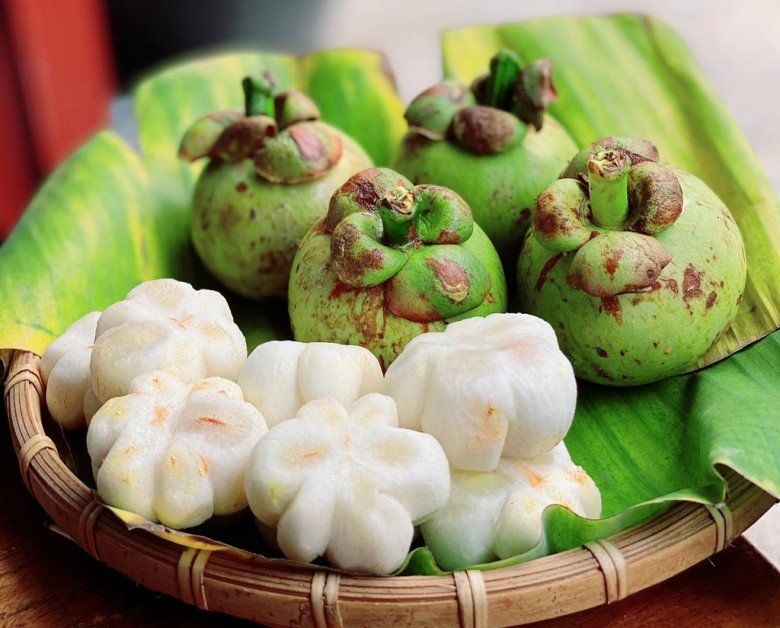 Mangosteen flesh is cut into circles, forming flowers that look very pretty. Then take it to soak with a mixture of vinegar, sugar or lemon to not darken. When eating, people take it out and mix it with other ingredients and spices to enjoy. Experiencing elaborate and meticulous preliminary processing stages, the flesh of the mangosteen fruit still retains its whiteness, crispness, and is not crushed or softened.
In Binh Duong, this dish is often combined with boiled chicken to make salad. There are also other ingredients such as shredded carrots, onions, roasted peanuts, fried onions, laksa leaves, etc. The ingredients after being prepared will be mixed with chili garlic fish sauce. The soft, sweet taste of chicken mixed with the sweet, slightly sour and slightly acrid taste of mangosteen melts in the mouth, making anyone who enjoys it for the first time have a strong impression.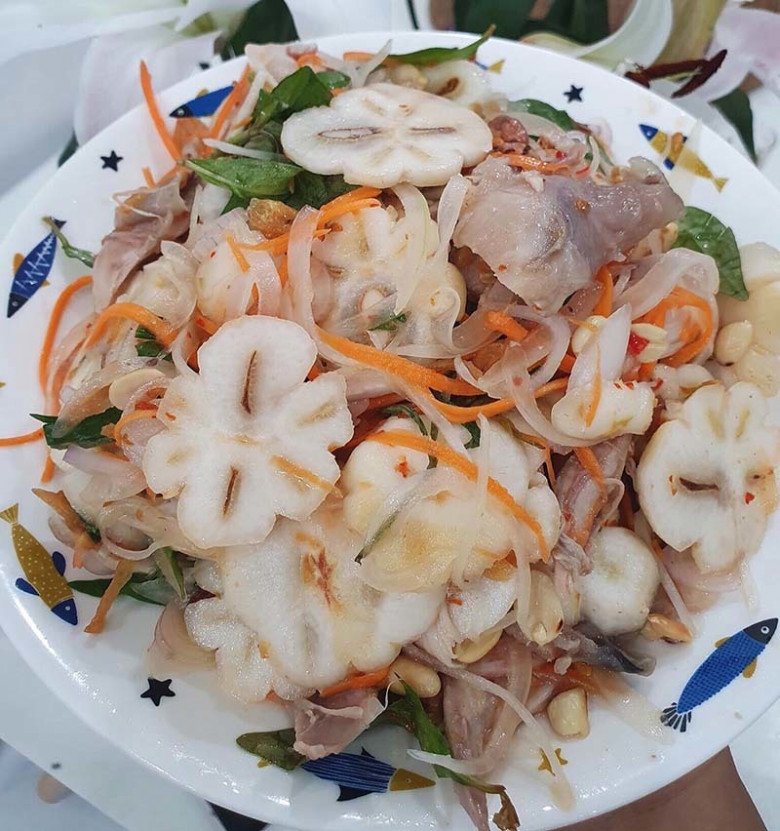 Previously, to enjoy the green mangosteen salad, visitors had to go to Binh Duong or to the Southeast provinces. But now, because it is loved by many people, this dish is shipped to many provinces and cities. In addition, the demand to buy green mangosteen for processing has also increased. But because the processing method is quite difficult and requires a lot of experience, small traders often pre-process green mangosteen, pack it in vacuum, and then send it by plane to diners everywhere. Therefore, even though the price is very high, housewives still buy green mangosteen to make this famous salad for the family to enjoy.
You are reading the article
A specialty fruit that is both sour and acrid, the price is up to 650,000 VND/kg, but customers still buy it

at
Blogtuan.info
– Source:
Eva.vn
– Read the original article
here