Phim
Cao Thai Ha's police role was reacted
In the TV series on the subject of criminal police "Underground Storm", Cao Thai Ha took on the role of second lieutenant Ha Lam.
Underground Storm is a TV series adapted from the novel of the same name by Dr. Dao Trung Hieu (also taking the role of deputy director). The content of the film revolves around the war between the police force and drug criminals.
On that journey, there were dramatic confrontations, sacrifices, losses, payments, and even corrupt and corrupt officials.
Playing the main role – Captain Hai Trieu – is actor Ha Viet Dung. Cao Thai Ha transformed into second lieutenant Ha Lam (Trieu's lover). She just graduated from the police academy, returned to work in the drug prevention team and participated in a major project. The role of the second lieutenant named Yen was played by Thanh Bi.
The film also features a large number of actors from the North and South such as People's Artist Nguyen Hai, Meritorious Artist Nguyen Trong Hai, People's Artist Tran Nhuong, Meritorious Artist Ta Minh Thao, Xuan Hiep, Kim Phuong, Nguyen Loan, Ha Huong…
The reason the character is reacting
Recently, the work on the VTV golden hour wave caused a lot of controversy about the content of the script, the details, how to build the character's psychology, acting… One of the most controversial characters so far is the heroine Ha Lam.
Initially, when participating in the project, Ha Lam was assigned the task of approaching Doctor Hung – brother of drug lord Quach Dai Duc – to probe and extract information.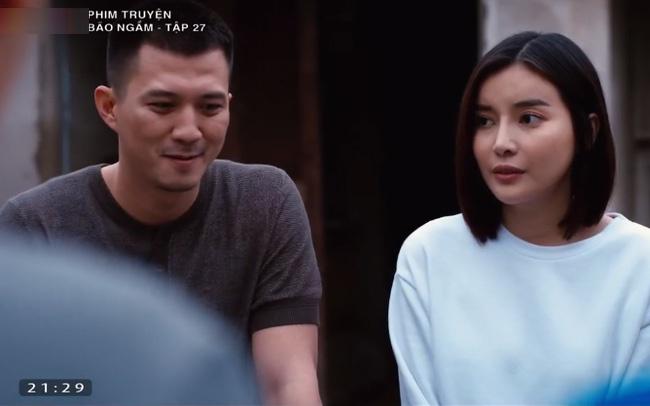 Ha Viet Dung and Cao Thai Ha starred in the movie Underground Storm.
But after a period of contact, Hung developed feelings for Lam. Lam also gradually fell in love with Hung's gentleness and sweet concern. At the same time, she and Hai Trieu had conflicts, jealousy, and let personal feelings interfere with work.
The culmination of the conflict was when Lam witnessed with his own eyes Trieu and Yen intimately cuddling in the next room in the common house. At this time, Trieu was in a drunken state, mistaking Yen for Lam. But Yen is different, she has secretly liked Trieu for a long time. Despite her co-worker relationship with Lam, Yen takes this opportunity to get Trieu.
As a result, Lam and Trieu officially broke up.
Because of this scene, the film was fiercely criticized. The audience thought that the work was about the criminal police, but it fell into the love of men and women. Yen's behavior is considered too instinctive and unacceptable. Especially after the incident, Yen did not appear shy or apologetic to Lam. On the contrary, she innocently considers Trieu as her boyfriend. Also from here, the audience gradually lost sympathy for the characters.
As for Lam, after the emotional turmoil, she continued to participate in the project with her teammates. She went to work at the drug lord's company and was urged to marry Hung soon. Everything is still in the plan because at this moment Lam cannot withdraw. However, Lam's mistake was falling in love with Hung. She even expressed her desire to withdraw from the industry to marry Hung and enjoy a luxurious life in the west.
Lam confided to his mother: "This profession does not know how to live and die, only dedication and dedication. In the end, there is nothing to be compensated for. I must have my life. What do you think if I become the bride of a rich family. If married him, I will quit my job."
It is not unreasonable for Lam to dream that he can live happily with Hung. Because of the fact that she did not know who Guo Dai Duc really was. When warning Lam not to let things go too far, Trieu could not reveal that Hung's brother was the drug lord.
Lam also intends to tell the truth about his identity to Mr. Duc and Hung, making Trieu angry.
Love Hung, but always worried about being discovered one day, Lam lives in fear and confusion. The deadlock caused her to have a psychological crisis. In the scene of finding Trieu, Lam hugged her face and cried: "I know what I'm doing is betraying my family and work. It's too late. Now there's another Lam that's stronger than me. It's dominating me.".
According to the latest episode, Lam discovered that she was pregnant with Hung. This detail once again sparked controversy. Many opinions expressed disappointment with scout Lam when she was reversely converted too easily.
"Can't understand the character Lam, always blabbering", "The underground police are broken like this", "It is recommended to cut this role from the next episode so that the movie won't be overdone. Watching this character is really boring. "… comments from the audience watching the movie.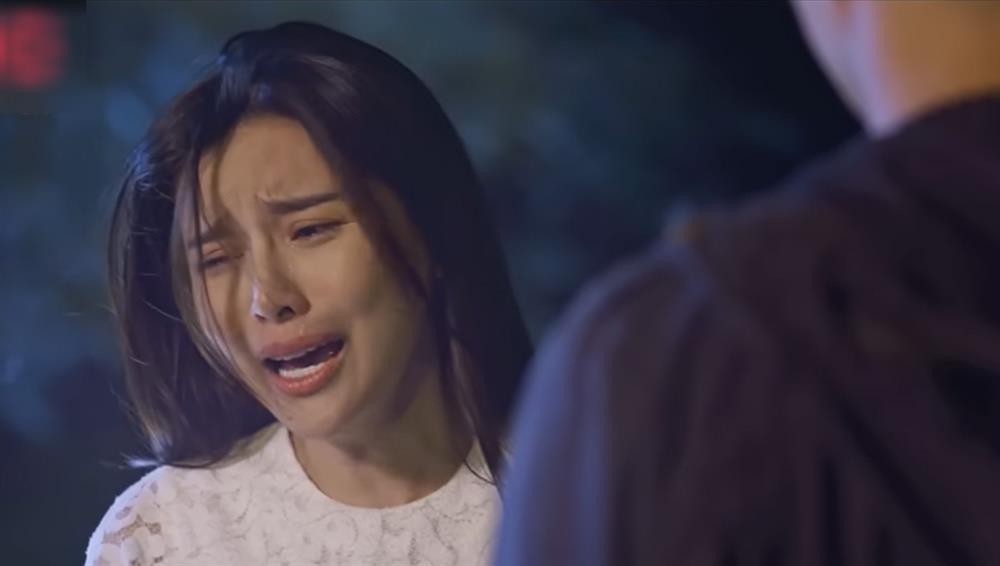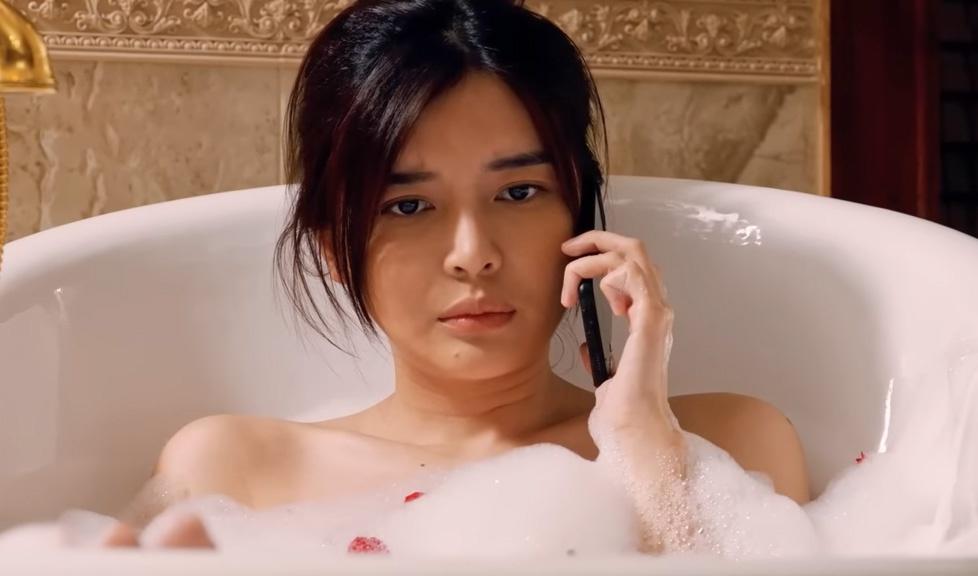 Cao Thai Ha's regretful acting.
Minus points for acting
In addition, another reason why Thai Ha's role of Ha Lam was reacted is that the acting is not good. The voice acting (from another actor) makes this character's dialogue in many scenes awkward and mismatched. Some viewers liken that they feel like they are watching the image of this movie, but the dialogue is in another work – disjointed and emotionally dry.
This is evident in the part where Lam panics and meets Trieu (in episode 59). This should have been a heavy psychological scene and maybe thanks to that Lam will be somewhat sympathetic to the audience. Unfortunately, Cao Thai Ha could not do that (due to both subjective and objective factors, of course). Or in the scene where Lam discovered she was pregnant, Cao Thai Ha's facial expression was also somewhat stiff.
The acting weakness also falls into the case of Thanh Bi. The role of Yen is not in the main line, but also appears a lot and is one of the two female scouts of the film. Thanh Bi is limited in both radio and facial expressions and eyes.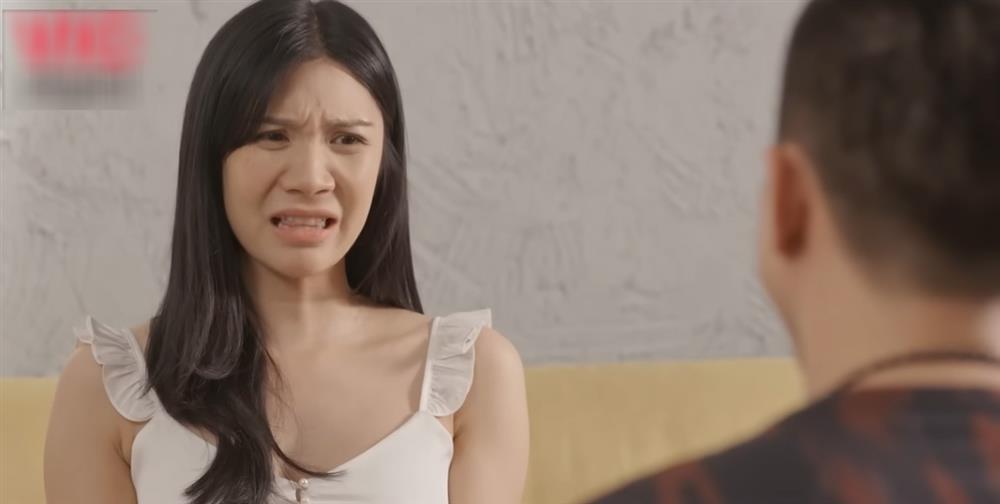 Thanh Bi is limited in expression and voice.
It is not clear how innocent and boring the script is to build this character, but the actor's performance is overrated and annoying. There are also opinions that Yen is not an ugly girl, but Thanh Bi's acting lacks sophistication and ingenuity, leading to a backlash.
General, Underground Storm There are two female scout characters participating in the project and up to now, both roles have encountered mixed opinions from viewers. As expected, Underground Storm will end in episode 75.
According to Zing
You are reading the article
Cao Thai Ha's police role was reacted

at
Blogtuan.info
– Source:
2sao.vn
– Read the original article
here