Tech
Nguyen Ha Dong – Talent ruined by the success of Flappy Bird to the expected comeback: "I was born not able to withstand pressure"
In 2013, a smartphone game written by Vietnamese people called Flappy Bird was born and quickly became a "sweeping" fever around the globe. By 2014, Flappy Bird was also one of the 10 most searched keywords on Google. In the face of this surprising success, the identity of its creator really intrigued the world.

Nguyen Ha Dong was born in 1985 in Van Phuc silk village, Hanoi. Having a father who owns a store specializing in selling equipment, his mother works in a government agency, his family is not too rich, so he never dreamed of becoming a world famous game developer.
However, from a young age, Nguyen Ha Dong showed an interest in technology when he was 15 years old when he started learning programming; 17 years old programming games by himself. In the second year of university, he studied while working for a game company. He graduated as an Information Technology Engineer with a major in Information Systems from Hanoi University of Science and Technology and then worked on his own since 2011.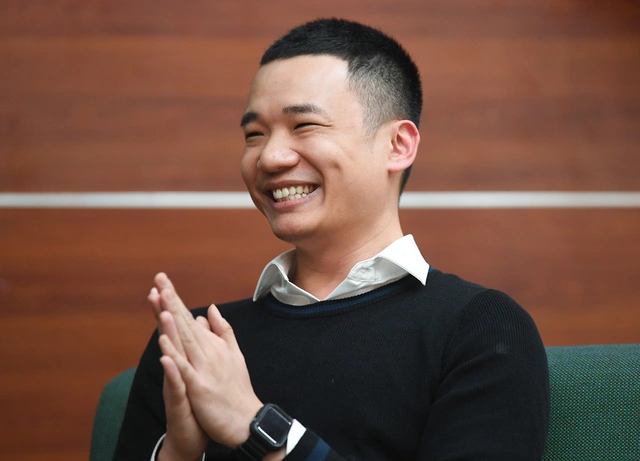 As a programmer, Nguyen Ha Dong sets for himself 3 standards when writing games that are the representative character, the context, how to play and then build the content for the game. After a period of relatively quiet operation, this guy's name suddenly emerged as a phenomenon around the end of 2013, when the free game Flappy Bird he released earlier in May 2013 received a lot of attention. great interest from the global mobile user community.
Accordingly, the "bird flapping wings" carrying Nguyen Ha Dong's desire to "do something fun" became a global fever when a famous Streamer while playing casually mentioned it with exasperation. vertical for "going crazy with this game".
By February 2014, this game became the most downloaded application in more than 100 countries and reached over 50 million downloads. In particular, in January 2014, Flappy Bird was the game with the largest number of downloads in the entire App Store system and this position lasted for 20 days. According to technology site The Verge, the author of Flappy Bird can earn about $50,000 (more than 1 billion) per day from in-game advertising, even though this is a completely free game. Even Mark Zuckerberg – CEO of Facebook, did not get rich so quickly at first.
Many people liken the Flappy Bird phenomenon to Korea's Gangnam Style because of its explosion and spread. There are about 200,000 videos about this game on YouTube and millions of searches. The Twitter network has had up to 16 million messages sent related to this game. Many game enthusiasts believe that the reasons why Flappy Bird attracts customers is the excitement and attraction if the player scores high.
In the style of games from the 90s, Flappy Bird forces users to continuously tap the screen to control the bird through obstacles that are blue sewers. For each time you pass a sewer pipe, the user will be counted 1 point. The game only ends when the bird hits the obstacle. It sounds simple, but Flappy Bird makes users smash their phones, mad because it is difficult to conquer. However, this is the "addiction" that makes many people like this game.
Few people know that before the "world chaos", the Flappy Bird version for Android devices was also put on Google Play just a month after it was released on the App Store. For more than half a year, Flappy Bird was an anonymous name mixed in hundreds of thousands of applications on the App Store and Google Play.
Before that huge success, Nguyen Ha Dong also had to admit that it was "largely due to luck" as he did not have any other marketing efforts for Flappy Bird other than a few tweets introducing the "simple new game". .
Rumor has it that it took Nguyen Ha Dong only about 2 to 3 days to write the Flappy Bird game, but in fact, the "father" of this game corrected that the Flappy Bird character was born in 2011, still confused. The scene and the right way to play is that he only completed it in a few days. He incubated the idea for about 2 years before introducing it to the public in 2013.
This unexpected success made Nguyen Ha Dong himself not expect that the game would have so many players. When asked if the purpose of Flappy Bird development is to make money, or simply create some value, he hesitated briefly: "In my case? I'm… uh… I'm actually… I don't know what my purpose is."

In the midst of the golden age of name and money that the game brought, Nguyen Ha Dong suddenly removed Flappy Bird in February 2014. However, the popularity of this game does not stop there. In 2016, Flappy Bird appeared in the Guinness book as the first game to be demoted after topping the AppleStore charts.
However, the act of going against the majority of the 28-year-old Nguyen Ha Dong made the world "crazy" once again. On the part of the creator of Flappy Bird, the reason he removed the game was because he saw that people took too long to play Flappy Bird and was a decision made by innate personality.
Accordingly, the success was so great and overwhelming that Ha Dong's life was disturbed. After Flappy Bird created a fever, the identity of Nguyen Ha Dong is still a mystery. He is especially sought after by the media, even leading newspapers in the world such as Forbes, Huffington Post, Times … also want to be contacted to interview this 28-year-old guy.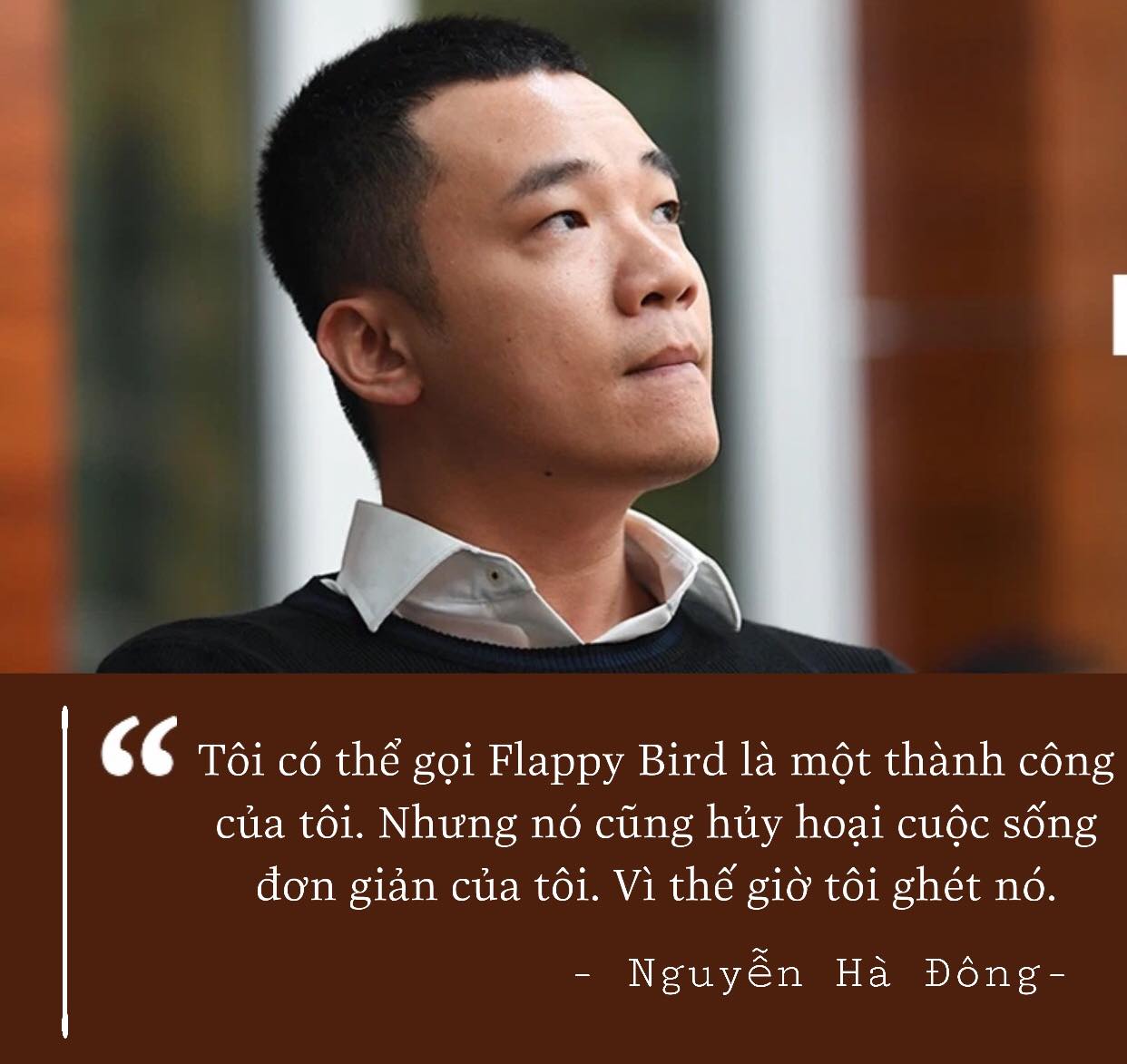 In addition to the popularity, the success of Flappy Bird also brought many troubles for Nguyen Ha Dong. Initially there were rumors related to piracy of images of blue sewers, or the General Department of Taxation began to pay attention to his income. Others questioned that Ha Dong cheated to achieve high rankings on the App Store.
And yet, in an interview on Rolling Stone, he said he often receives emails from people who have lost their jobs or mothers who no longer talk to their children because of Flappy Bird. The pursuit, criticism and accusations make Dong feel tired, sleepless and do not want to go out.
Ha Dong has also stated more than once on his Twitter account that people are overestimating the success of Flappy Bird and that he himself is overloaded with this sudden popularity. He once wrote on Twitter: "That's what I never wanted. Please leave me alone."
The "price" to pay for popularity and the large amount of money earned made Nguyen Ha Dong feel suffocated. By the beginning of February 2014, the full weight of the pursuit, criticism and accusations made the 28-year-old man, who was inherently quiet, timid, discreet and liked to live in a world of his own. felt like he couldn't take it anymore and decided to hit the delete button Flappy bird.
A tweet from the "father of Flappy Bird" admitted: "I could call Flappy Bird a success of mine. But it also ruined my simple life. So now I hate it."
Nguyen Ha Dong himself also affirmed that his removal of Flappy Bird had nothing to do with legal issues. He also won't sell his brainchild and will continue to make games. Looking back at the short but dramatic life cycle of the "winged bird" from Vietnam, one feels regret for the success it has brought, but also joy for its "father". because he was "master of his own destiny – an independent thinker".

After returning to the simple life that once made Nguyen Ha Dong feel "ruined by the success of Flappy Bird", he did not give up the game, but continued to release many other mobile games, but nothing has repeated the previous success. This made many people regret the resounding success he had ever had!
In the most recent re-appearance at the event organized by the University of Technology on the evening of November 18, 2019, the millionaire born in 1985 dressed simply, spoke little, appeared modest and sometimes shy when share in public. In the introduction of the associate professor of Polytechnic School, Nguyen Ha Dong is a very humble, timid and sincere guy. When learning about Dong, he admitted that surrounding this 34-year-old boy was a veil of mystery, "Because Dong doesn't like to be on the media, and that makes Dong even more sparkling."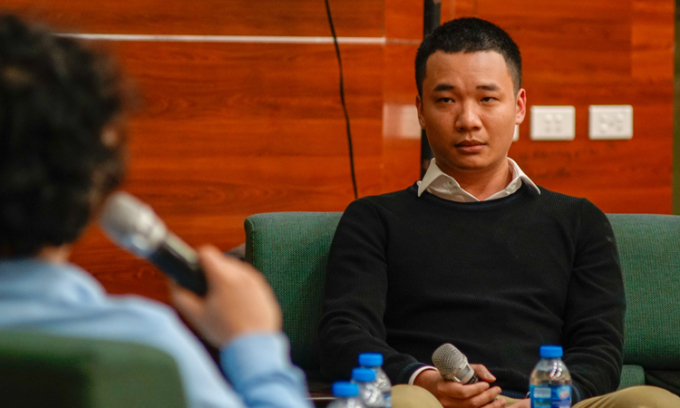 Also in this exchange, Nguyen Ha Dong clearly explained that he removed Flappy Bird that year, simply because "I'm not born with pressure, so it's best to …remove". The time of this event is 5 years after the death of Flappy Bird. At this time, Nguyen Ha Dong is running a game company with only 2 employees, he and "Flappy Guy" – a classmate of his K49 class of Polytechnic University.
Ha Dong also revealed that he is developing a new game product. Sharing more deeply about this new product, the millionaire born in 1985 frankly said that the probability to create something similar to Flappy Bird is 0.1%, he didn't want to say it first because it was difficult to say before. . However, he also shared that: "That game looks very simple, but the level of technology in this game has never been before, if you don't show the picture, no one will know"…
Besides making games, Nguyen Ha Dong also sponsors some students who need money for research. They need to prove to you what they've done, how feasible, how much money they need and what they spend it on. If it is reasonable, Ha Dong will sponsor the project.
Talking about his funding criteria, he said: "I don't invest in startups. There are some students who need money to do research, I will give money. What matters is how much you do, how much you need and what to spend it on, if it makes sense, I will give."
After the success of Flappy Bird, people still expect and expect a similar thing from Nguyen Ha Dong, although the probability of that happening is very low. Years ago after removing Flappy Bird from the app store, Ha Dong said to those around his home: "Please leave me alone!". Then, on this comeback, he told the group of reporters surrounding him: "Please don't disturb my private space".

https://cafef.vn/nguyen-ha-dong-nhan-tai-bi-huay-hoaai-boi-thanah-cong-cua-flappy-bird-den-man-tai-xuat-dang-ky-vong- baby
https://cafef.vn/nguyen-ha-dong-nhan-tai-bi-huay-hoaai-boi-thanah-cong-cua-flappy-bird-den-man-tai-xuat-dang-ky-vong- baby
You are reading the article
Nguyen Ha Dong – Talent ruined by the success of Flappy Bird to the expected comeback: "I was born not able to withstand pressure"

at
Blogtuan.info
– Source:
genk.vn
– Read the original article
here