Giải trí
Students and young workers "distort their faces" because of escalating prices-Young people
Petrol prices continuously "galloping" leading to the price of many necessities also increasing, affecting consumers, especially students and low-income workers.
From 3pm on 23/5, the price of E5RON92 gasoline increased by 680 VND/liter, from 28,959 VND/liter to 29,639 VND/liter; RON95-III gasoline increased by 670 VND/liter, from 29,983 VND/liter to 30,653 VND/liter. Gasoline prices continuously increased and had the highest increase in the past 8 years, since July 2014.
Meanwhile, gas prices also have a correction. From March 1, gas price increased by 3,500 VND/kg, equivalent to 42,000 VND/12kg bottle from March 1. Thus, the retail price of each 12 kg gas cylinder has exceeded 500,000 VND.
Gasoline increased, gas increased, leading to an increase in the price of essential items. Recorded in a number of local markets such as Phung Khoang market (Nam Tu Liem), Nghia Tan market (Cau Giay), Kham Thien market (Dong Da), … the price of meat and many kinds of vegetables, etc. fluctuates.
Returning to the "new normal" life, while many people's pockets had to be tightened because of the epidemic, the prices of goods increased simultaneously. This makes many consumers, especially low-income workers and students "distort their faces".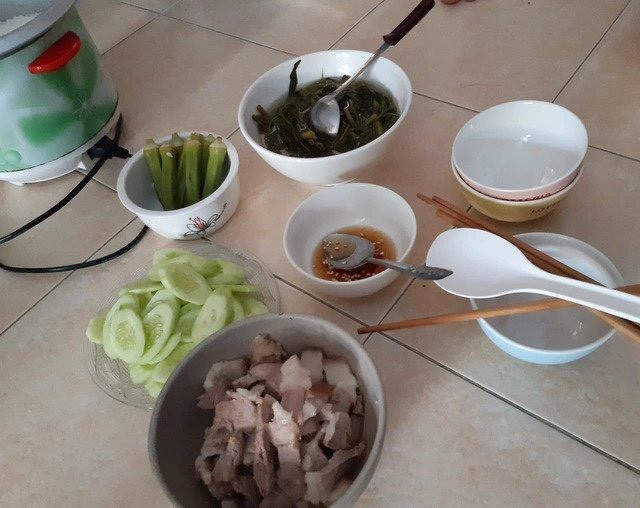 Meal of 3 female students
24 years old, a final year student at a university in Hanoi, from her parents' allowance and part-time job, Ngoc Khiem has 4.5 million VND/month to support her birth. active. In the past, if he calculated well and spent properly, this student could still save a few hundred thousand dong, but now, in the midst of a price storm, Khiem has to struggle to calculate enough to spend. Not to mention, this is the last year of school, so he has to bear many additional expenses such as gas money for internships, graduation meals, etc. To meet the expenses, male students have to overtime at night.
Also in a difficult situation like Khiem, Nguyen Thu Trang (2nd year student, University of Social Sciences and Humanities) also had a headache in calculating expenses. Trang rented accommodation with 2 friends. The student said: "Each person in the room has a living cost of only 2 million VND/month. At the end of the month, the rent for accommodation is 500,000 VND/month/person for accommodation, monthly meals are about 800,000 VND/person, gas now has to be at least 400,000/month and then pay for electricity and water. , gas money,…"
Not only students but also low-income workers also struggle when prices "escalate". Every time she goes to the market, Ms. Hoang Thanh Binh (Dong Da) has to list the things to buy first to balance: "Now the children like to eat braised meat, but my husband likes to eat fish, so I have to calculate it reasonably, especially while the price of food is like now, pork is also up to 130,000 VND/kg. Vegetables are not cheap anymore. Before 300,000 VND, I went to the market to buy food for 2 days, now it is only enough for a family of 4 people to eat.
In addition to the money for meals, the money for the couple's car and gas, the two children's school fees, and the family's living expenses from toothbrushes to bottles of dishwashing liquid also gave me a headache to calculate. Adding the income of both husband and wife is only nearly 10 million, but the market price is like this, I don't know how to handle it.
Tighten your belt
Tighten spending to adapt – that's how student Kim Lien applies to the current situation of escalating commodity prices. Now, every time she goes to the market, this 23-year-old girl has to consider every bit to avoid overspending. If in the past, she bought 5 ounces of meat to eat gradually, now she only dares to buy 2 ounces. In addition, Lien mainly buys vegetables and instant noodles to eat through meals.
With 4.5 million dong earned from working part-time, Lien has to calculate everything so that everything is just enough to spend, especially when prices escalate.
To solve the transportation problem, Minh Trang (2nd year student, Academy of Journalism and Communication) decided to use the bus to go from home to school. Unable to manage when the price of gasoline increased, Trang sent a motorbike to her hometown to choose a bus as a means of transportation for 100,000 VND/month.
"Riding the bus is indeed more economical than riding a motorbike. However, to be on time, I have to go 30 minutes to 1 hour earlier than usual, both waiting for the car and in case of traffic jams. Although it is more inconvenient, but with the current price of 30,000 VND / liter, I think this is the better choice."the student shared more about this decision.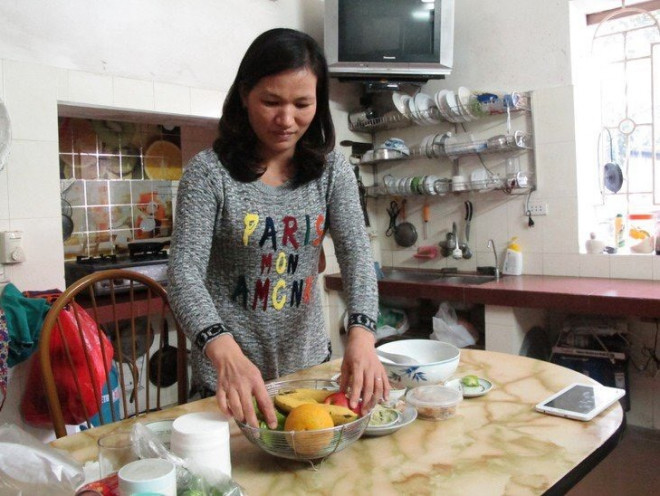 Expenditure balance is always a difficult problem for the "key boxers" in the current context
As for housewives like Huyen Anh (Cau Giay), "you can save as much as you can" is the motto she applies. "Food and drink can't be bought. So spending now must be calculated carefully and carefully. Every time I go to the market, I will make a menu first at home, then buy food for a few days as well as cook breakfast at home to save money and be safer." Huyen Anh shares her own way of saving.
Besides, boiled and fried dishes are preferred by Huyen Anh because they are both simple and save gas. "My family also applies many ways to save money such as: limiting going out, limiting snacks for children, not buying unnecessary items, not having luxury entertainment, …"the mother of two children added.
Fluctuating prices and post-pandemic effects still make the lives of students and low-income workers very precarious. Along with the market stabilization solutions of the functional departments and agencies, each consumer needs to develop a spending plan suitable to his or her own conditions and circumstances to overcome the current general difficult context.
You are reading the article
Students and young workers "distort their faces" because of escalating prices-Young people

at
Blogtuan.info
– Source:
24h.com.vn
– Read the original article
here