Business
The biggest difference between Vinasun and Mai Linh is now the debt story
Vinasun and Mai Linh have always been "rivals" against each other for many years. However, the emergence of technology taxis makes the traditional taxi industry difficult. Since 2016, both Vinasun and Mai Linh have entered a recession, their market share has been shrinking as the penetration of technology taxis is increasing.
In particular, in the two years 2020-2021, the Covid-19 pandemic broke out and spread on a large scale, causing a great crisis for taxi businesses. The Vietnamese government issued social distancing measures, 5K measures with the message "whoever is where, stay there" asking people to limit movement at the same time in many provinces, including Hanoi and Ho Chi Minh City. Minh issued a decision to suspend public passenger transport, causing the number of taxi passengers to decrease by 80-90%.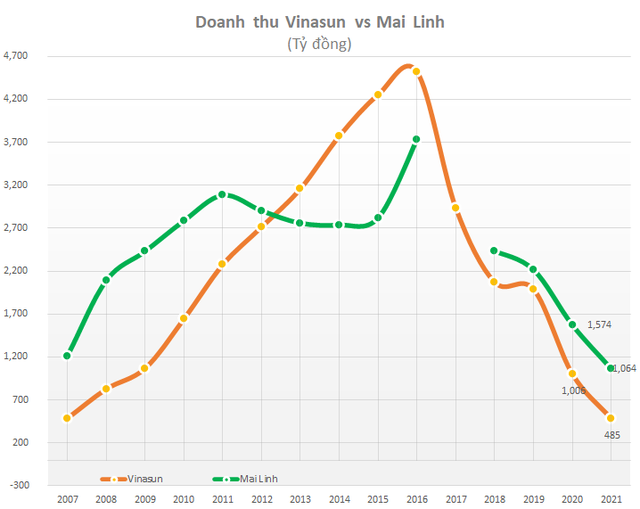 Vinasun's revenue dropped continuously after peaking in 2016, returning to the same level as in 2007
For Mai Linh, the business has been in loss for many years with the accumulated loss as of December 31, 2021 up to VND 1,419 billion while the owner's contributed capital is VND 1,246 billion.
In 2021, Mai Linh recorded the lowest revenue ever of 1,064 billion VND, gross profit margin narrowed to only 8.4%. Despite sharply cutting costs along with other profits of 103 billion dong, Mai Linh still had a net loss of 254 billion dong, the largest loss of the business in the history of its operation.
Mai Linh's difficulties come not only from the outside but also from the inside of the business from mistakes in the past. Too impatient to expand the business scale, Mai Linh's management then used short-term loans borrowed from people at an interest rate of 18-25%/year for long-term investment in taxis, which took 5-7 years to collect. capital recovery along with the spread of investment while poor financial management and cumbersome apparatus led to too high management costs, causing Mai Linh to lose many years early.
By 2018, Mai Linh decided to merge Mai Linh Group, Mai Linh Northern and Mai Linh Central into a single company, Mai Linh Group.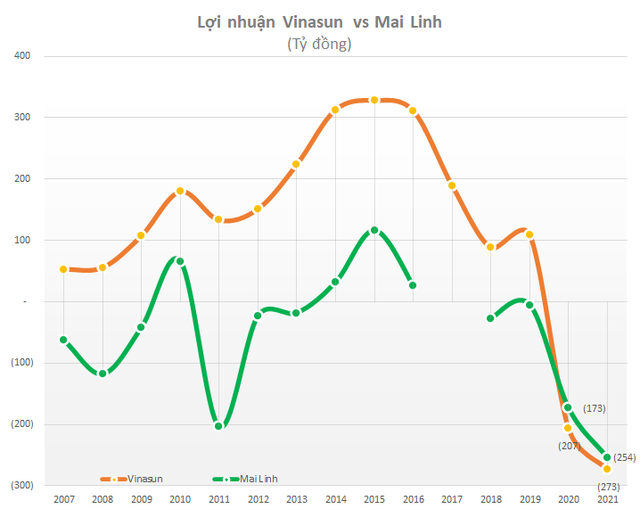 Both taxi companies lost more than 400 billion in 2 years of covid
Meanwhile, Vinasun in the period of Mai Linh's losses was still alive and well and growing well. However, the long-term difficulties caused Vinasun to start to grow negative and make a big loss in the two years 2020-2021, even larger losses than Mai Linh since 2016. In 2021, Vinasun's revenue is only 485 billion VND and net loss is 273 billion VND.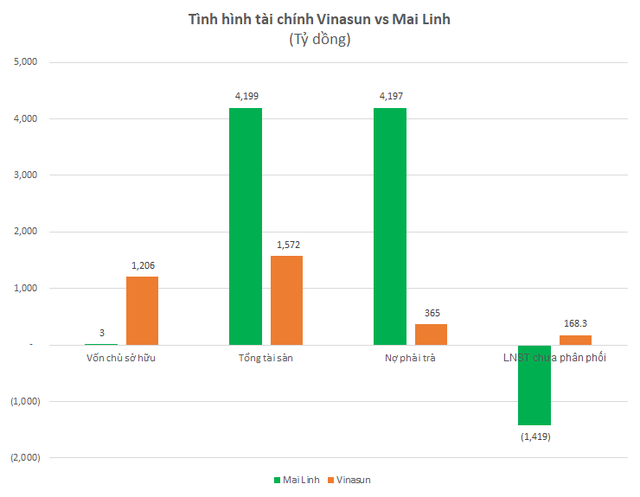 However, Vinasun's financial situation is still much better than Mai Linh's. Mai Linh's total assets are 2.7 times higher than Vinasun's but total debt is 11.5 times higher. Losing for many years with a large accumulated loss of 1,419 billion dong, Mai Linh's equity is only 3 billion dong while total debt decreased compared to 2020 but remained high at 4,197 billion dong. Therefore, Mai Linh's debt/equity ratio is extremely high at 1,399 while Vinasun does not have much debt, so this ratio is at a very safe level of 0.3.
Having suffered losses for two consecutive years, before worrying about the possibility of being delisted for three consecutive years, Vinasun said that the company's main task in 2022 is to end its losses and make a profit. To achieve this goal, Vinasun accelerates the liquidation of vehicles in order to reduce depreciation costs and minimize the number of vehicles lying in the parking lot. Therefore, the total number of vehicles of Vinasun by the end of 2021 is only 2,071 vehicles.
By the end of the first quarter of 2022, Vinasun was partially successful when it was profitable again with a profit after tax of VND 12.5 billion. In 2022, Vinasun aims to liquidate another 506 vehicles and invest in 156 vehicles, reducing the number of vehicles to 1,721 vehicles.
Currently, the number of Vinasun employees is only 1,764 people, when at the peak period in 2015 – 2016, the number of Vinasun employees had reached more than 17,000 people.
In 2022, although the epidemic has been controlled, traditional taxi companies are expected to continue to face many difficulties from competitive pressure with technology taxis, car ownership rate of Vietnamese people. As the cost of raw materials such as gasoline and oil increased, many drivers stopped working during the epidemic, making the car unable to operate.
https://cafef.vn/lo-tong-cong-900-ty-2-nam-covid-khac-biet-lon-nhat-giua-vinasun-va-mai-linh-gio-day-la-cau- chuyen-no-nan-20220526112625301.chn
You are reading the article
The biggest difference between Vinasun and Mai Linh is now the debt story

at
Blogtuan.info
– Source:
cafebiz.vn
– Read the original article
here