Cư dân mạng
World
The case that the parents of the International School of Ho Chi Minh City "accused" their child was beaten by a classmate, the school suffered a "super storm" with a 1-star rating
Recently, a case of school violence occurred at the International School Ho Chi Minh City (ISHCMC-AA) in An Phu, Thu Duc City, causing a stir in public opinion. Accordingly, Ms. THT has a daughter who is studying in grade 7 at the school.
According to Ms. T.'s share on social networks and the press, last week ISHCMC-AA students had a picnic in Ho Tram. When Ms. T's daughter was holding a chair for her friend to go get food, an 8th grade female student, temporarily called A., came to ask if anyone was sitting on the chair. T.'s daughter replied that someone was already sitting. The incident seemed to end, on May 25, T.'s daughter was assaulted, punched and beaten by female student A. on campus.
Some classmates who rushed to intervene were beaten by A. Not only that, the 8th grade female student also called someone, wanting to drag Ms. T.'s child outside the school gate to continue fighting. A person who was supposed to be a teacher, saw it but did not intervene.
T.'s daughter and 3 friends are currently traumatized, crying a lot, panicking, chest tightness, many scratches and bruises. Ms. T. said that she did not know the incident at first. When picking up her son after school, Ms. T. saw that his eyes were swollen and asked but he didn't say anything. When the parents of other students came to school, the school didn't accept them, so they encouraged her daughter to call her mother to work.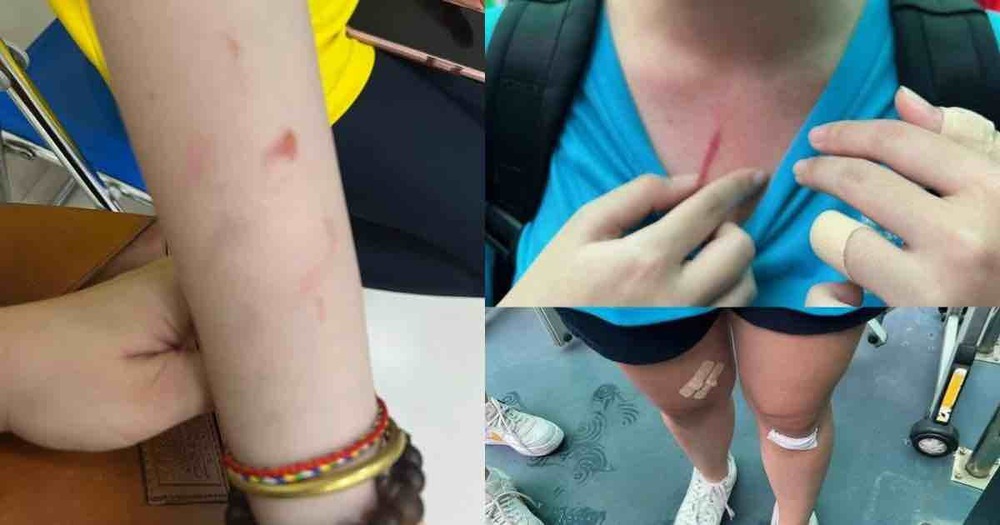 Ms. T.'s daughter was beaten by a classmate (photo: Ms. T. provided to Zing)
Ms. T also said that after a while, student A and her father were escorted out of the school and constantly challenged. It is known that Ms. T took her child to the doctor on the evening of May 26, her daughter had a wound on her hand, had difficulty breathing, and there was nothing abnormal in the chest X-ray results. Currently, Ms. T. has temporarily stopped sending her children to school since May 27 because of concerns for her children's safety. At this time, Ms. T. learned about the incident. Ms. T. shared: "When we went to school, we first wanted to get the school's opinion, but the school denied responsibility, blamed it and told the families the phone number to call each other to resolve. I was extremely frustrated. I can't stay calm now."
Currently, the incident is attracting the attention of many people, some people believe that female parents should work to the end and eliminate school violence from the educational environment.
However, some others think that this female parent is too hot-tempered, she should calm down to handle the matter properly instead of arguing loudly, which will only make things more complicated and the disadvantaged person is the child.
Regarding the incident, in Zing newspaper, Mr. Nathan Swenson, Principal of International School HCMC (ISHCMC-AA), confirmed the incident happened on the afternoon of May 26, after school, outside the school.
Mr. Nathan Swenson said that when he met students, some of them had scratches and bruises. So he sent the children to the school health room to check. The nurse determined that the student was scratched, there was no serious problem, so he sent them home.
According to the principal, the school follows the handling process, inviting relevant students to talk to find out before working with their families to resolve the matter. However, when they first started talking, parents came over, there was a dispute, they had to stop.
Due to the unresolved issue on May 26, May 27, the school continued to find out for a solution.
"Today, the school spoke to 14 students. We get the facts. The next step is to talk to the parent to resolve the issue. Normally, the school handles the incident smoothly to help the children resolve the conflict, but things become more difficult when the investigation process is hindered like that," added a representative of ISHCMC-AA.
When asked about parents complaining about having to suspend their children from school because of concerns about safety, Mr. Swenson refused to provide information on whether students attended school or not on May 27. However, he has repeatedly insisted that the school is still safe and that "other students are still going to school".
At the same time, he refused to share about how to deal with the students involved, saying that the school has regulations on disciplinary action but there has never been a precedent for students to fight like this incident.
Mr. Nathan Swenson admitted this was an unexpected incident, which happened when students were between the ages of 12 and 18, a time when they were still immature and prone to making mistakes. The school's position is that no matter who is right or wrong, adults should respect the privacy of children.
"No matter what happens, we need to give them the opportunity to develop and learn from the incident," he emphasized.
The principal of ISHCMC-AA said the school will also find out why the students involved did not report conflicts to teachers and staff before letting the matter become serious.
The school received a 'super storm' with a 1-star rating
Before this incident, on May 28, netizens flooded to search and evaluate ISHCMC-AA school on the Google platform. As of 11 a.m. on the same day, this school has received a total of more than 8,800 reviews.
As noted, out of a total of more than 8,800 reviews, there are only about 60 5-star reviews from many years ago. The rest are mostly 1-star reviews from netizens who are flooding in.
Currently, netizens have not shown any signs of stopping and are pouring in more 1-star reviews by the minute.
You are reading the article
The case that the parents of the International School of Ho Chi Minh City "accused" their child was beaten by a classmate, the school suffered a "super storm" with a 1-star rating

at
Blogtuan.info
– Source:
Soha.vn
– Read the original article
here