Giải trí
Xem ăn chơi
The old country fruit that few people noticed, now women rush to buy it, the price is up to 80,000 VND/kg
As a familiar plant in the Northern region, the vegetarian tree is perhaps more well known when it is associated with the areca nut, the piece of betel nut that mothers and grandmothers used to eat. The bark of the vegetarian tree is used to eat betel nut, giving the betel nut more fragrant and crimson color.
Vegetarian fruit when ripe is yellow
Those familiar vegetarian plants produce green and yellow vegetarian fruits. Vegetarian plants usually begin to bear fruit in March or April and harvest ripe fruit in the summer. Usually, the vegetarian fruit is quite small in size and has no definite shape. Vegetarian fruit is often used to cook soup and fish stock, but in the past, not many people sold vegetarian fruit. This fruit often falls full of roots that few people care about.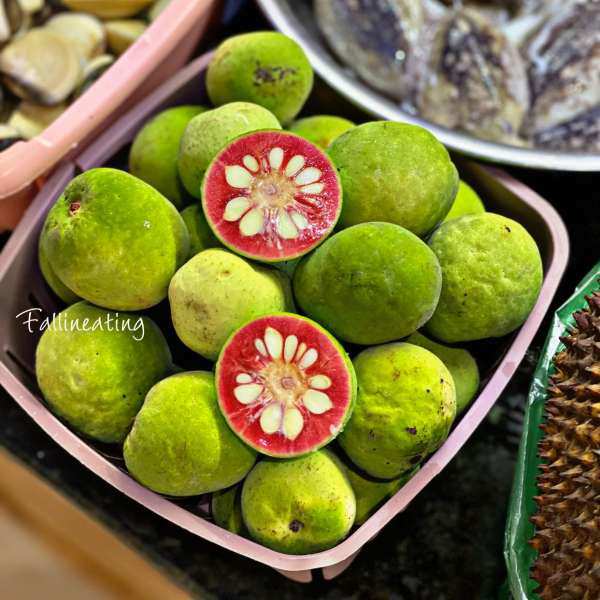 Green vegetarian fruit has a sour taste, pink intestine looks very eye-catching
When the vegetarian fruit is ripe, they turn yellow, the flesh is pink and taste sour. It is because of this feature that people often use vegetarian fruits to make some sour soups, or to make braised dishes. Vegetarian braised carp is one of the dishes chosen by many women to treat their families.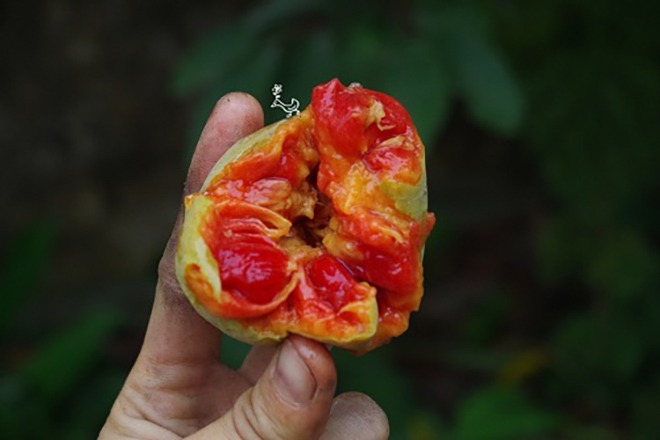 Vegetarian food when ripe, soft, sour and sweet, is an interesting snack
In addition to culinary applications, vegetarian fruit also works as a medicine in Eastern medicine. Vegetarian fruit contains many substances that have the effect of supporting food digestion, laxative and stimulating appetite such as amino acids, fatty enzymes, enzymes, malic acid,… Therefore, this is considered a fruit. Very good for the digestive system, should be added to the diet.
Because vegetarian is only available in the summer and is often difficult to preserve for a long time in normal conditions, when the fruit is still ripe (about to ripen), people are often cut off and then dried, or dried to use gradually and keep longer. .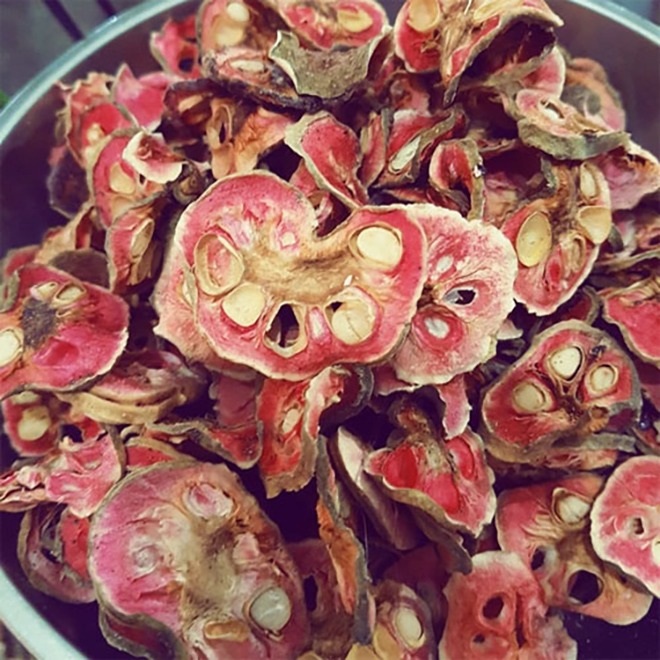 To use all year round, people often cut the vegetarian into thin slices and dry them gradually
In addition, the vegetarian fruit when ripe is also very interesting, the taste is both sweet and sour, can be dipped with chili salt to eat very "bond". The ripe vegetarian intestine is usually pink or orange, depending on the type. Therefore, in recent years, vegetarian fruit has emerged as a fruit that housewives love and hunt. The price of buying vegetarian fruit is very cheap, but not every season is available, so to "hunt" it, you have to wait for the right season. The average vegetarian price ranges from 40,000 to 80,000 VND depending on the time.
You are reading the article
The old country fruit that few people noticed, now women rush to buy it, the price is up to 80,000 VND/kg

at
Blogtuan.info
– Source:
Eva.vn
– Read the original article
here