Business
The opportunity to expand the "tiger cage" to prevent theft is to lock yourself in a fire
According to statistics of the Fire Prevention and Rescue Police Department, in the first quarter of this year, there were nearly 450 fires nationwide, killing 24 people and injuring 32 people. Material damage was nearly 60 billion VND. Particularly in Hanoi, although it is only the beginning of summer and has not entered the peak hot days, many large fires have occurred consecutively.
At the end of April, at Nguyen Hoang Street, Nam Tu Liem District, a fire broke out at an auto parts store, then spread to 6 surrounding households and affected the back of a number of houses in the alley. 20/80 My Dinh Street. Fortunately, those sleeping inside were able to escape in time, but the damage to property was huge.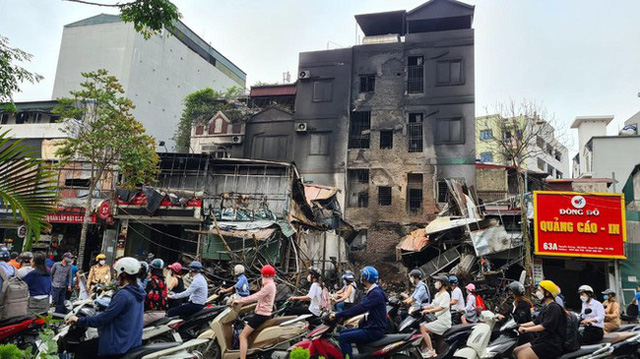 Burned down a series of shops on Nguyen Hoang Street (Photo: ANTĐ)
Before that, the fire at 43 Bat Dan, Hoan Kiem district or the fire at corner 197/37 Hoang Mai street, Hoang Mai district all had casualties, but the most serious and leaving the most obsessions was still the fire that caused the death. 5 people were killed in B9 Kim Lien dormitory, Dong Da district. A series of large fires occurred showing that the fire and explosion situation in the city was complicated.
In fact, fires that cause particularly serious consequences for people and property often occur in houses without fire protection equipment, especially without an exit route, with only one exit. Only enter through the main door. Worryingly, such houses are still very common in many old dormitory areas and many old quarters in Hanoi.
B9 Kim Lien collective area has 86 households, almost every household is expanding, the "tiger cage" is sealed with no exits.
At B9 Kim Lien collective area, almost all households here are expanding, making "tiger cages" to avoid theft. No internal output, no foreign entry, fight against crooks, but lock themselves up. Many collective areas in Hanoi city such as Thanh Xuan Bac, Thanh Cong, Giang Vo, Ngoc Khanh … everywhere, you can see iron cages, "tiger cages" sealed on balconies. The situation of people's houses without a backup escape route is also common in the old quarters with adjacent tubular houses, close together.
In fact, propaganda takes place regularly, but because the awareness of many families is still limited, many families make iron cages, even though they have considered the escape route and have a lock, but only after a while. Sealed and sealed to prevent theft.
In the face of severe consequences caused by fires in apartments with iron cages and solid "tiger cages", the implementation of the model "Propaganda and mobilization of households to open a second escape route and equip tools and means of fire fighting and rescue" is considered an important solution. Particularly in Thanh Xuan district, the district police said that in just one year of campaigning, more than 2,700 out of more than 4,700 households in two wards Thanh Xuan Bac and Thanh Xuan Nam opened emergency exits, even to multiply To expand this model, many wards also provide financial support for people to buy iron to make door frames, and pay to hire a mechanic to weld and cut open a second escape route.
You are reading the article
The opportunity to expand the "tiger cage" to prevent theft is to lock yourself in a fire

at
Blogtuan.info
– Source:
cafebiz.vn
– Read the original article
here