Đầu Tư
The provincial president must also have a dialogue with farmers
The Prime Minister stated that the pandemic has left very serious consequences that we must deal with every day. The world situation is very complicated and unpredictable, inflation pressure is increasing with the world economy in general and Vietnam's economy in particular…
Follow Prime ministerThe situation always has difficulties, the problem is how to approach and solve it. The Prime Minister requested ministries, branches and levels to coordinate more closely and effectively with the agricultural sector and farmers to solve existing and future difficulties that may arise. which we cannot predict.
The Prime Minister emphasized the need to continue to innovate technology; supply chain diversification, independent of a certain market; closely and effectively combine industry with agriculture, industrialization of agriculture; connecting value chains, developing circular economy, digital economy, adapting to climate change, reducing metal emissions in agriculture…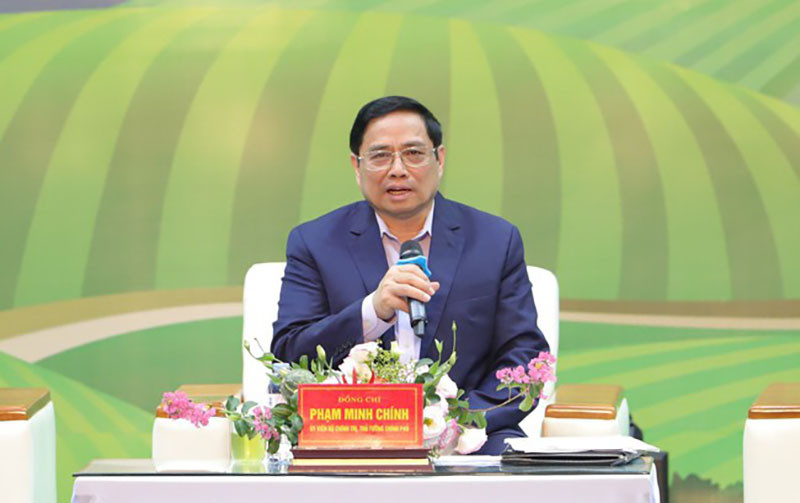 The Prime Minister suggested holding a dialogue with the spirit of democracy, frankness, innovation and responsibility to handle issues and ensure efficiency. Issues under the authority of any level must be handled and resolved by that level, each person in their position, authority and responsibility must do their best, not raise problems and leave them there.
Issues that are "ripe", clear, proven to be true by practice, effectively implemented and agreed by the majority, shall continue to be implemented; For issues that have not been regulated or exceeded, they are boldly piloted, learned while doing, gradually expanded, not perfectionist, not in a hurry.
The price of raw materials has increased too high, making it difficult for agricultural products to export to China
According to farmer Nguyen Van Thanh (Hanoi) over the past time, the prices of agricultural materials and animal feed have simultaneously increased, causing many farmers to suffer losses and have to hang ponds and barns.
"May I ask what policies and measures does the Prime Minister have to stabilize input prices, support and support farmers?" – Mr. Thanh asked.
Under the direction of the Prime Minister, Minister of Industry and Trade Nguyen Hong Dien stated that the high prices of agricultural inputs are a global problem and a disruption in the supply chain. The Government, ministries and branches have made efforts to control the situation and limit the export of strategic materials and supplies; strengthen inspection and control of the market to ensure that there is no congestion and price pressure; studying tax and fee adjustment policies; consider proposing the competent authority to subsidize some materials to reduce difficulties for farmers.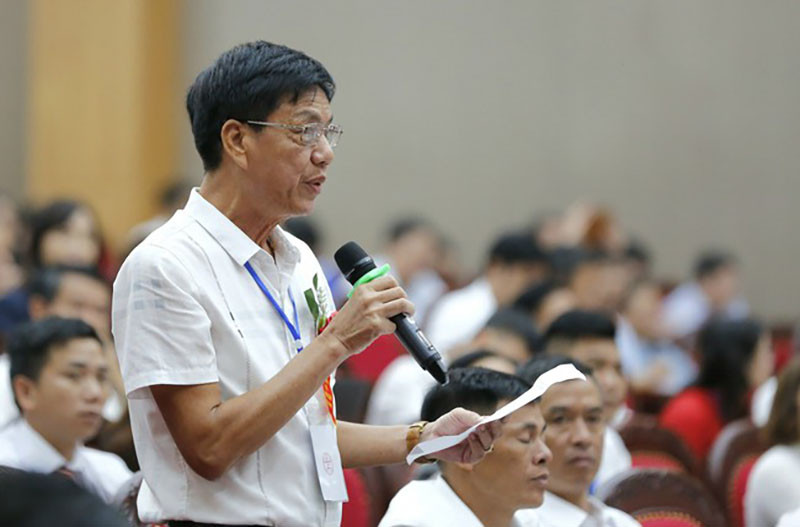 The functional ministries will continue to advise the Government to continue to limit the export of agricultural materials such as fertilizers, pesticides, and feed. However, at this time, businesses need to share benefits with farmers, save costs. production cost to reduce the price. The ministry will also study the adjustment of VAT.
Minister of Agriculture and Rural Development Le Minh Hoan mentioned a series of solutions to save production input costs. For example, in many localities, farmers know how to reduce input costs by choosing circular economic models, taking advantage of by-products in agricultural production to reduce the cost of buying agricultural inputs.
Or farmers can join the cooperative to buy together, buy all kinds of agricultural materials at a cheaper price, increase production efficiency, etc. In addition, it is necessary to gradually become self-sufficient in some raw materials in the production of animal feed and aquatic products. products, especially those that are being imported in large quantities from abroad.
Farmer Tran Nhu Kien (Son La) raised the issue of exporting agricultural products to China with many difficulties. He hopes that in the coming time, the Government will have solutions to support customs clearance and export activities to this market.
According to Minister Dien, for the past two years, China has applied the "Zero Covid" policy, so the customs clearance of agricultural products has faced many difficulties. On the other hand, some of our agricultural products, including fruits, have not yet signed the Protocol with the Chinese side.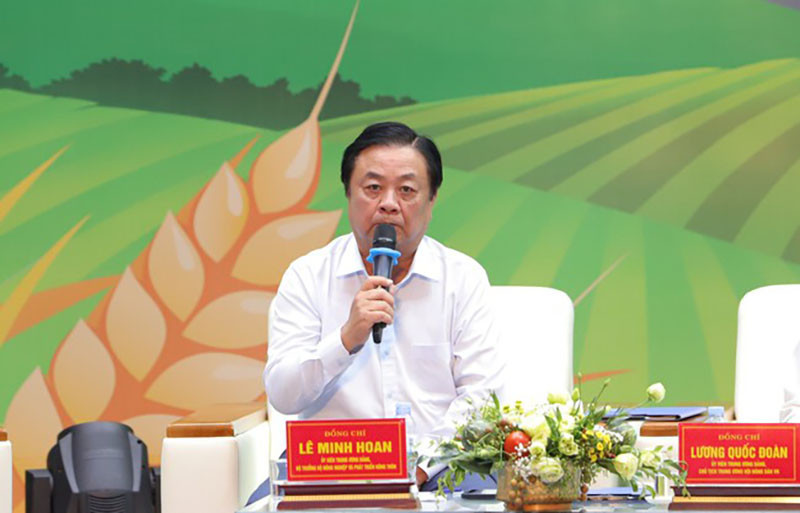 "In fact, a lot of our agricultural products have not yet met quality standards, so there are still bottlenecks," he pointed out.
Regarding the export of agricultural products to China, according to him, first of all, it is necessary to change the thinking of agricultural production, from thinking of spontaneous production to production according to market signals. For this, localities need a clear strategy.
According to the Prime Minister, China is no longer as easy-going as it used to be. They strengthen regulations and control goods more closely, especially related to food safety and hygiene. China wants to increase official import and export and limit unofficial exports.
Therefore, in order to export favorable goods to this market, we must increase official export, focus on making brands, improve product quality, connect businesses and people to jointly improve the quality of goods and services. high value of agricultural products, the Prime Minister stated.
Farmland fever everywhere
Farmer Hoang Dinh Que (Bac Giang) mentioned the fact that land prices in many places have increased rapidly, leading to the phenomenon that many farmers also participate in land trading. The increase in land prices leads to many negative consequences for agricultural production, security and order in many localities.
Deputy Minister of Natural Resources and Environment Tran Quy Kien admitted that recently, a number of areas have increased dramatically, causing a phenomenon of virtual fever, affecting the management of socio-economic development, order and security in Vietnam. local. The Ministry of Natural Resources and Environment and the Ministry of Construction have promptly sent documents to direct localities to rectify the management of land prices and the real estate market.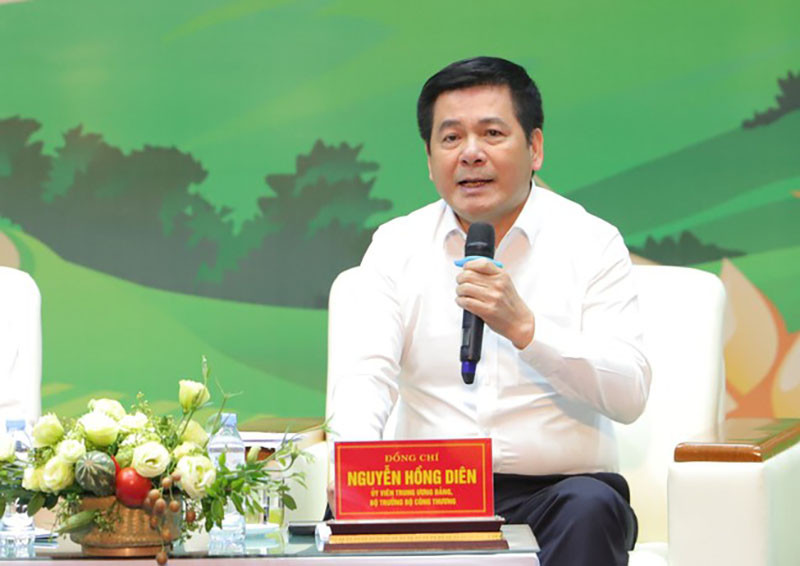 In the coming time, the Ministry will tighten management and strictly handle the act of not putting the land into use, or using the land behind the schedule stated in the project in accordance with the law. Publicize information on master plans and plans in general, including land use plans, so that people can access official information without interference to avoid being exploited by speculators to inflate prices and push up land prices. Real estate prices go up in order to gain illicit profits and take management measures after approved land use master plans and plans…
Mr. Le Quoc Hung, Deputy Minister of Public Security, said that in recent years, crimes against land use management are very common, especially emerging in the state of subdivision and sale of plots for agricultural land and land. planning, planting perennial trees, concentrated in provinces with rapid urbanization. This situation causes many risks for investors, land buyers, hinders investors, affects security and social order.
According to Mr. Hung, through research, a few tricks have emerged: The investor has sold it without a specific plan. Or for the planned land, build infrastructure and then illegally divide plots to sell the ground, especially trading on illegal trading floors, causing serious consequences.
Regarding solutions to this problem, the Ministry of Public Security has advised the Government to directly direct all levels and sectors to regularly update the tricks of the perpetrators, especially gangsters and gangsters. linked together draw up bogus projects to scam people.
Direct the local police to advise the authorities at all levels to settle from the beginning, from afar, to limit large gatherings of people to complain about land, to avoid complaints from afar or to focus on public authorities. to claim land.
The provincial president must also have a dialogue with farmers
Concluding the dialogue, Prime Minister Pham Minh Chinh said that the contents of the dialogue revolved around 10 issues: Consumption of agricultural products; state association, scientists, entrepreneurs, farmers; digital conversion; improve the competitive ability; the issue of small quota export; production according to market signals; contribute shares with land use rights; startup movement, innovation; mastering inputs of seeds and agricultural materials; employment in the agricultural sector.
At today's dialogue, we frankly exchanged, discussed, clarified, shared and agreed on many important issues from strategic orientation, difficulties, obstacles, solutions to agricultural development. , countryside, farmers. The issues and contents discussed and exchanged at the Dialogue Conference contribute to supplementing the practical basis for formulating a strategy for sustainable agricultural and rural development, improving the lives of farmers, the Prime Minister emphasized. .
The Prime Minister suggested continuing to maintain dialogues between the Prime Minister, and at the same time, chairmen of the People's Committees of the provinces and cities had dialogues with farmers in each locality in between the two dialogues of the Prime Minister to effectively solve the problem. rather than hierarchical problems, solving both urgent and situational issues as well as strategic and long-term issues.
Inner peace
You are reading the article
The provincial president must also have a dialogue with farmers

at
Blogtuan.info
– Source:
vietnamnet.vn
– Read the original article
here