Quốc tế
USA: Fear of shooting, father comes to guard daughter's elementary school
Mr. Ed Chelby told the local TV station KWTX that he could not sleep after the massacre of Robb Elementary School (Texas) on May 24, when only a few days were left before the school's students entered summer vacation. Mr. Chelby said: "I can't get over this. So I keep losing sleep."
Worried and restless, Mr. Chelby emailed the school at 1 a.m., asking if he could come and guard his daughter's Saegert elementary school in Killeen, Texas. Mr. Chelby said his wife also works as a nurse at the school.
Mr. Chelby told the radio KWTX: "I said I would stand there, unarmed, to let people know I was watching. To give parents some peace of mind." Mr. Chelby said he has 11 years of experience in the Army and worked as a security guard.
To Mr. Chelby's surprise, the school agreed, saying he could stand guard at the main gate. So in the last two days of the school year, many people see Mr. Ed Chelby patrolling outside his daughter's school, about a 4-hour drive from Uvalde.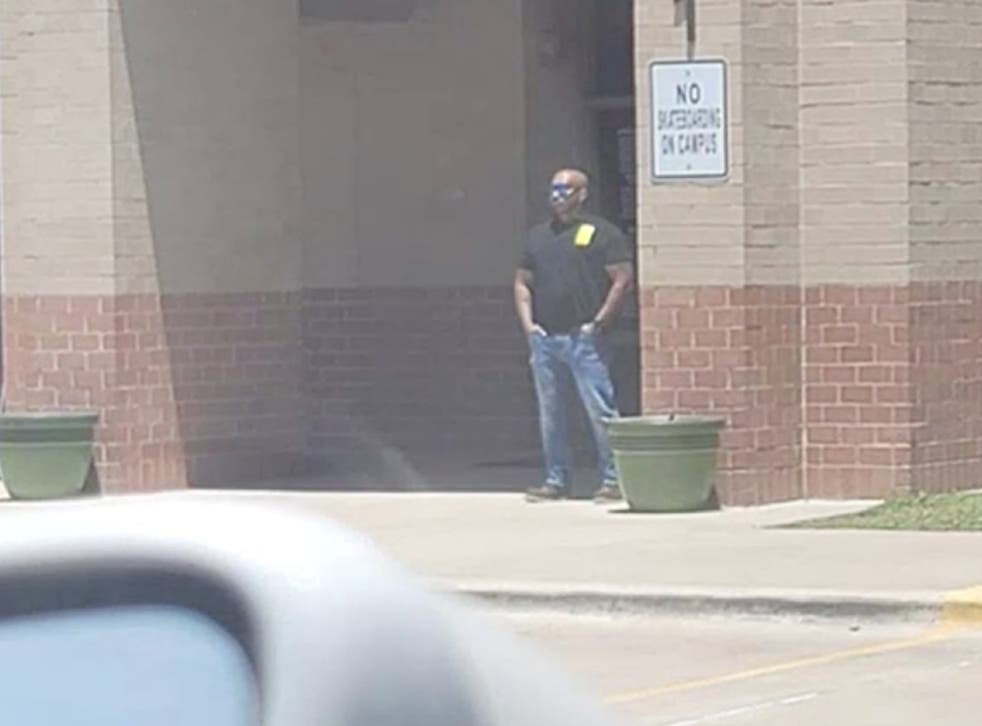 Mr. Ed Chelby stood guard outside his daughter's school. Photo: KWTX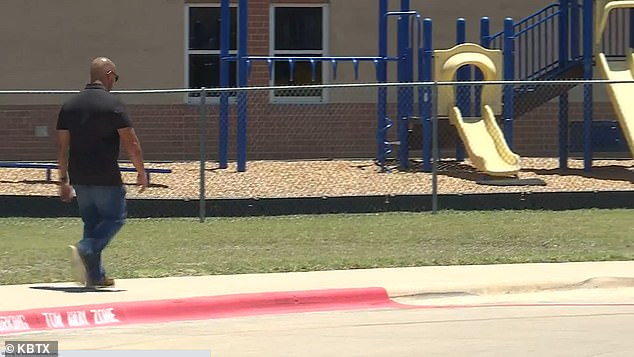 Mr. Ed Chelby patrolled around the school. Photo: KBTX
Mr. Chelby said: "Many people came to see me, very emotional. They didn't want to send their children to school. They pondered and thought about it without knowing if they should send their children to school. I told them let me take care of it. ". "People want their children to get an education and get through the end of the school year, so they're going to try to protect them as much as possible," Mr Chelby said.
Samantha Longfeather-Locke, a mother whose children attend Saegert Primary School, said she was relieved to have Mr Chelby standing guard. "Having him standing guard at the school gate makes me feel secure," said Ms. Longfeather-Locke.
A photo of Mr Chelby standing outside the school quickly went viral on social media. Eli Lopez, the school's principal, said Mr. Chelby's efforts were appreciated by parents and students for bringing a sense of security to many. The principal said a mother approached Mr. Chelby with tears in her eyes, saying thank you for helping her and her child feel safe at school.
After Mr. Chelby's actions, another parent, also an ex-soldier, volunteered to guard the school. Many parents volunteered to participate in a safety program for the coming school year.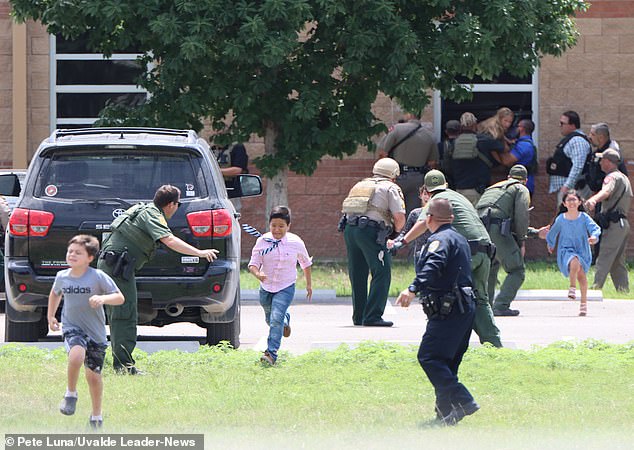 Students run to safety after exiting the classroom through a window at Robb Elementary School, Texas, US on May 24. Photo: Uvalde Leader News
At noon on May 24 (US time), Salvador Ramos (18 years old) burst into Robb Primary School with an AR-15 semi-automatic rifle, fired more than 100 bullets into the classroom, killing 19 students and 2 teachers. pellets. At least 17 people were injured in the shooting, while all the victims were inside a classroom. Police shot Ramos down at the scene.
You are reading the article
USA: Fear of shooting, father comes to guard daughter's elementary school

at
Blogtuan.info
– Source:
nld.com.vn
– Read the original article
here