Giải trí
Bao Han: It's not because he's early that he's negligent and irresponsible when he's doing his job
He soon became famous for his role as Duong "Go home, son" when he entered the first year of the Hanoi University of Theater and Cinema. True to his promise to put his popularity aside, Bao Han has just completed his graduation exam. The young actress affirmed to Tien Phong that she "doesn't dare to be negligent when doing her job".
Bao Han completed the performance of the graduation play from the Drama-Film-Television Actor class, Hanoi University of Theater and Cinema, you can share more about the work plans for the upcoming journey. ?
After graduating, Bao Han wants to find an environment where she can continue to study and practice many skills, and participate in films to gain experience in her profession.
"Father Son" People's Artist Trung Anh congratulated Bao Han in the graduation performance.
Did having an impressive role right from the first year put Han under great pressure during her studies?
Being famous in my freshman year made me very pressured to balance my studies and acting. But instead of seeing it as pressure, Han also considers it a joy. When I became famous, I had to try harder not to disappoint the expectations of my family, friends and especially the audience – who gave Han love.
To be able to balance between studying and acting, I only have one secret that is straightforward. Whenever I have a class schedule, I ask permission from the crew to arrange filming and scenes so that I can go to school. After each session I immediately go back to the classroom so as not to miss the knowledge at school.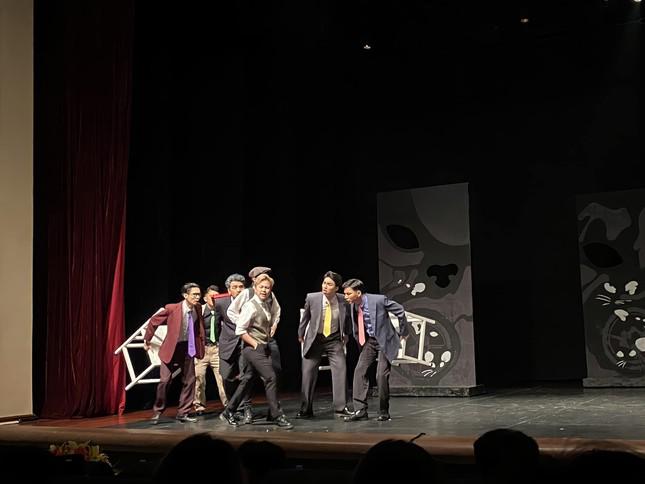 Bao Han in the graduation performance. Photo: FBNV
Actor Bao Han, whose real name is Pham Bao Han, was born in 2000. In 2019, when he fell in love with a TV series in the role of Anh Duong (Go home, children), Bao Han immediately made a strong impression on the tomboy image. The role brought an Impressive Actress nomination at the VTV Awards. Bao Han won the Promising Actor award at the Kite Awards. After this role, Bao Han announced to consider acting in order to focus on studying at school. She then went on to star in Unforgotten Days. In 2021, Bao Han accepted to play a small role in Let's Say Love.
It has been three years since the movie "Going home, children" aired, what changes has the popularity brought to Bao Han?
The first thing Han wants to say is that fame has brought Han the responsibility of doing the job and being strict with himself. I always remind myself not because of early fame but to be negligent and irresponsible when doing my job.
Many actors and singers choose Nam Tien to develop their career, but did Bao Han ever consider going South to develop his career after graduation?
As for the South advance, if there is a good chance I will try it. But I also don't want to be too hasty, because too haste may not bring good results. So every step Han needs to take slowly but surely, must be carefully planned.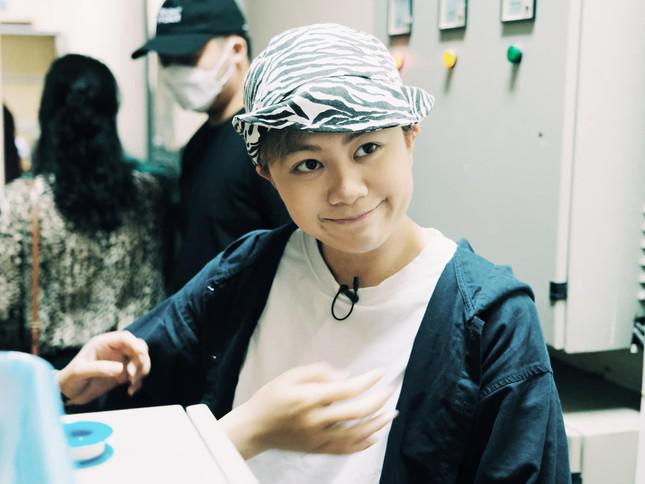 Bao Han fulfills his promise to focus on perfecting the study program. Photo: FBNV
Bao Han wants to have the opportunity to play roles with more complex psychological developments, such as playing a madman.
In the current TV cast, Bao Han is one of the young faces expected to break through. Are you under pressure and what do you think you need to do to meet the audience's expectations?
It is because of the audience's expectations that I have to strive to constantly learn and improve myself. With each role assigned, I just try to do the best.
After the role of a young Sa-woman who volunteered to drive Truong Son in the movie "Red Dawn", what does Bao Han expect from future roles?
It can be said that my previous roles were all about family people. In the future, Han wants to have the opportunity to play roles with more complicated psychological developments, such as playing a madman (laughs).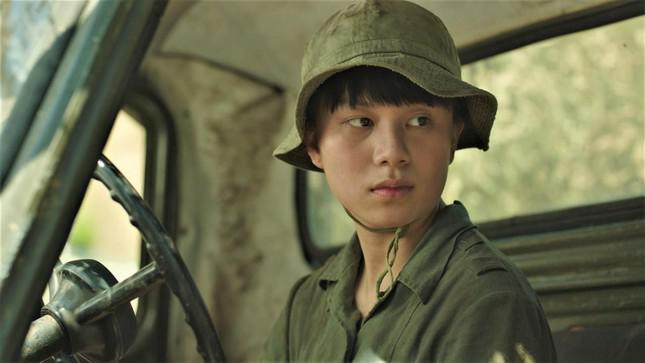 The role of Sa in the war movie "Red Dawn" – Bao Han's first movie.
Are you afraid to change your image to transform into other types of characters, such as a "banh beo" girl?
I don't mind changing the image to be immersive. And with such roles, Han will have to learn a lot from gestures and words to best perform the role.
The movie "Red Dawn" is Bao Han's first film, how do you feel when you have the opportunity to participate in a movie?
As a young actor, I feel very honored to be able to participate in a movie, especially this is also a movie about revolutionary war talent. The filming time is also an unforgettable memory of Han. I also had no problem when impersonating the character Sa, because Sa is a strong, brave girl who never gives up. This is also a similar personality trait that makes it easy for Han to transform into the role of Sa.
My other co-stars and I were shown by the crew to watch documentaries of the war in the past. Director, People's Artist Nguyen Thanh Van also organized many exchanges for everyone to meet to exchange and contribute to the role.
In the process of preparing for filming, the group was allowed to practice driving a gas car. The gas cars are very heavy and everyone has to learn to drive well on difficult roads.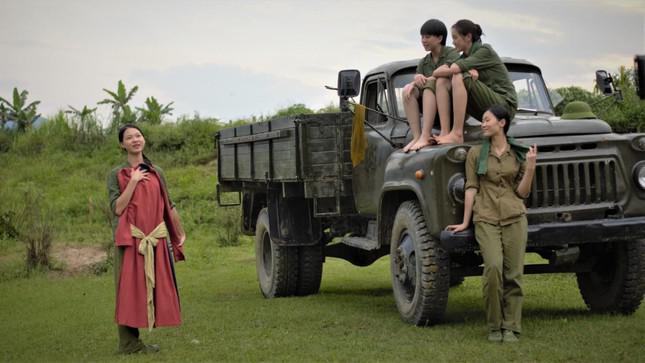 Bao Han and his co-stars had to practice driving a gas car very hard. It is known that to complete the scenes in the movie "Red Dawn", the crew spent a long time in the forest, how do you feel during that time?
When participating in war movies, everyone worked hard and sweated, especially in the harsh weather conditions of the summer in the Central region. But everyone is trying to complete the scene in the best and fastest way.
The 2 months of filming in the forest every day is a memory. But the memory that Han remembers the most is the scene under the lake at night. The water is very dirty and cold. This is also the scene that makes Bao Han have to be naked to perform.
Bao Han wants to have the opportunity to try more "crazy" roles. What about the difficulties and hardships when making scenes of war movies such as shooting bombs and bullets…?
Most of the bomb blast scenes are one-off shots, with the entire cast having to concentrate hard to complete the shot. There was a scene of a bomb exploding right next to Han, the dirt, mud, and heat directly hitting her face made Han feel shocked.
Is the role of Sa in the movie "Red Dawn" the beginning of Bao Han's upcoming film career path?
After the role of Sa in the movie "Red Dawn", Bao Han wishes to have the opportunity to continue participating in other movies. Because becoming a professional movie actor is my dream. And if given the opportunity, Han hopes to have a movie role with a modern direction, closer to the public.
Thank you Bao Han!
You are reading the article
Bao Han: It's not because he's early that he's negligent and irresponsible when he's doing his job

at
Blogtuan.info
– Source:
24h.com.vn
– Read the original article
here