Giải trí
Children of the Capital enjoy a vibrant and meaningful summer-Travel
After more than two years of disease, especially last summer "who stays put" because of the stressful COVID-19 situation, this year, Hanoians and especially the children of the capital will be flocked to a Summer is exciting and meaningful when we have repelled the epidemic and welcomed a peaceful life back.
Interesting programs for children
At the Hanoi Drama Theater, children will enjoy the plays "Two magic pearls", "The legend of the field"; "Full moon mission", "Ice Queen".
The "Summer of Love" project of the Youth Theater also brought 3 works that captivated the children, namely "Swans", "Virus War", "Vaxilixa and the Wicked Witch". The circus play "Lord of the Jungle" directed by People's Artist Tong Toan Thang of the Vietnam Circus Federation also jubilantly performed to serve young audiences and families.
Pictures from the play "Flock of Swans" by the Youth Theater
Meanwhile, the play "Dragon Ball" with the appearance of two artists Xuan Bac and Tu Long also promises to explode the Star Galaxy stage in early June.
Drawing workshop themed "I love nature" at Carp Bookstore, the children were also guided by two talented young artists of Lion Books, Han Pham and Hau Phan, how to draw a picture according to the theme. above. Children do not need to have special talents to participate in this activity, but just need to have a love for painting, or simply love to play with colors, like to pick up brushes and draw pictures. own.
In addition, the children will also learn about the natural world through stories and images from unique and age-appropriate publications. The books used for this activity are provided by two bookmakers specializing in children's picture books, Dong A Books and Lionbooks.
These activities are aimed at children who love drawing and books, with the hope that they will have a fun, creative and rewarding session. Thereby, not only conveying love and sense of protecting nature from an early age, fostering healthy hobbies and interests, but also stimulating thinking, creativity and love of art for children under the supervision of children. led by professional painters.
Children are excited to experience at the Vietnam Women's Museum
The XXIII World Childhood Day was held at the Vietnam Art and Culture Exhibition Center (No. 2 Hoa Lu, Hai Ba Trung, Hanoi) with many rich and attractive activities for children. The capital and the whole country.
The exhibition "Vietnamese children – Proudly growing up with the country" introduces visitors to images, artifacts and documents showing the interest of President Ho Chi Minh and other Party leaders and leaders. State with the children, teenagers, children; The images of Vietnamese children actively participating in patriotic activities, contributing to the victory of the cause of national liberation and reunification.
The exhibition of paintings with the theme "Uncle Ho with children, children with Uncle Ho" aims to encourage children to study and follow Uncle Ho's teachings by concrete actions for them to strive for. practice and study in the future to become a virtuous and talented owner, contributing to building a powerful Vietnam.
The exhibition area "Experience science, technology, creativity with you" and environmentally friendly green products with the following contents: Magic science, unlimited creativity, conquering educational technology, exploring space exploration, invention studios, greetings from the future will definitely be extremely interesting destinations for children and students who are passionate about creativity.
They are guided to experience scientific models, invent inventions, are guided in some simple experiments, have access to creative handmade products, art with high aesthetics and application. In addition, the children were introduced to the development of robots, practical applications of robots, assembling robots, etc., heard about the vast universe, explored the galaxy, earth and planets. planet and solar system…
Special art programs were also organized on this occasion such as: the program of exchanging music groups for students, students and children with the theme "Dream green season", variety art program "Festival night" Childhood", the art program of Water Puppetry and children's cultural exchange "Welcome a happy summer"… and outdoor play areas: Floating house, ball house, train… will definitely be the destination. meaningful experiences for children on the occasion of summer.
Besides, there are activities to experience science at the Vietnam Women's Museum, watch free cartoons at the National Cinema Center… also bring an interesting and useful summer for the children.
Enjoy a precious summer
Remember on this occasion last year, the sun was like a fire outside, in every house, street, life and rhythm of life, "security was tightened", maximum exposure was minimized to ensure room safety. , anti-epidemic. If in previous summers, children could hold a children's festival, summarize the school year, perform art performances, receive jubilant gifts, then it would be like being swung by the evil fairy's magic wand, the epidemic would have ended. make all operations impossible.
Children have suffered a disadvantaged summer because they are absolutely not allowed to interact, interact, play in public places, crowded places, even more cannot go to school. travel, go home or go out, enjoy cultural and artistic activities. For children, every summer is a memorable season, preserving memories in life.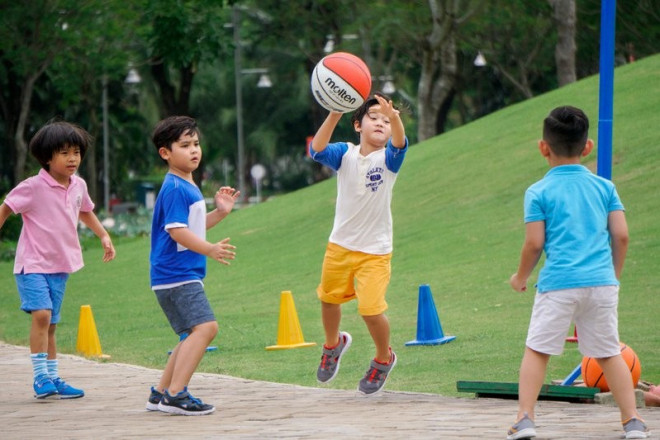 Children need to be active and experience fun (Illustration image)
Therefore, this year's summer has brought a great meaning. The students were able to close the school year in a joyful and exciting atmosphere, prepare to go out, especially enjoy the summer vacation with a variety of programs for themselves and their families. useful.
It is the effort of the whole society to control the epidemic well, to restore the economy, to bring safety to everyone and especially to the children and kindergartens of the country. Therefore, every family, every child in Hanoi should welcome a summer with lots of excitement.
Besides, children and their families should pay more attention to safety in all areas, from illness to drowning, traffic, etc. With that, the new summer will be complete, ushering in a normal period again. after the epidemic.
You are reading the article
Children of the Capital enjoy a vibrant and meaningful summer-Travel

at
Blogtuan.info
– Source:
24h.com.vn
– Read the original article
here