Elon Musk advises Jeff Bezos to party less and work more, if he wants to win the race for space billionaires.
Tesla CEO – Elon Musk and Amazon co-founder – Jeff Bezos have long been considered arch-rivals, often "coffeeing" and competing fiercely in many fields.
In September 2021, when Elon Musk surpassing Jeff Bezos to become the richest person in the world, he told Forbes that he sent a giant 2-digit statue and a silver medal to Jeff Bezos, to poke fun at the Amazon co-founder with his position. second place.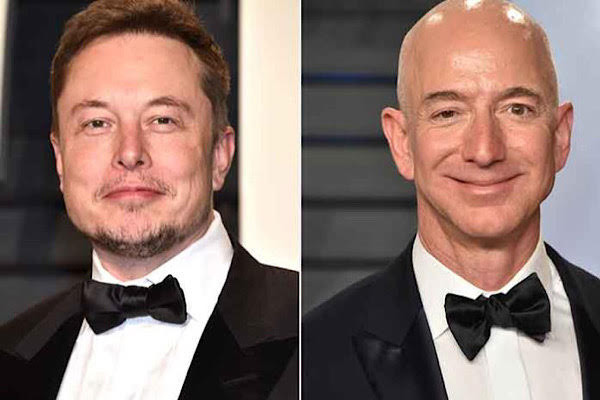 Recently, on May 28, Elon Musk gave an advice on Twitter for Jeff Bezos. He advised fellow billionaires to party less and work more, if they want to gain an advantage in the race to orbit.
When Twitter users asked Musk, do you think the Amazon founder is a good person? The Tesla CEO replied: "Oh, I think he's fine, he seems to be spending a lot of time relaxing in the hot tub, instead of working lately."
Elon Musk's tweet comes as Bezos' aeronautical space company Blue Origin continues to delay its fifth tourist flight into space. The flight was originally scheduled to start on May 20, but was ultimately not made possible due to vehicle problems.
In an interview with the Financial Times in December 2021, Musk shared that Jeff Bezos doesn't seem to spend much mental energy working out the technical details. "Although he has a pretty good technical aptitude, he's a bit self-centered," Musk said.
Earlier, Elon Musk also wrote on Twitter, calling the Amazon founder a "copycat" (imitation) when he copied his space projects.
Not spending as much time enjoying life as Jeff Bezos, Elon Musk said, he spends most of his time running two companies Tesla and SpaceX. He works 80-90 hours a week and sleeps only 6 hours a night.
Recently, the Tesla CEO ran into a series of issues related to his Twitter acquisition deal and faced allegations of sexual harassment. These controversies have caused Musk's net worth to "evaporate" $10 billion, down to $202 billion.
Before, Musk postpones Twitter acquisition worth $44 billion to accurately calculate the number of spam accounts and bots on this platform. He also actively denied all allegations of sexual harassment against him. The world's richest billionaire continues to express his thoughts and views on Twitter despite all the controversy.
Similarly, Jeff Bezos' net worth has also dropped significantly this year. According to Forbes estimates, as of May 20, 2022, billionaire Jeff Bezos has a net worth of $133.3 billion, down more than $59.3 billion compared to December 31, 2021. Amazon's stock has also dropped 35% in that time period.
Huong Dung (Synthetic)
You are reading the article
Elon Musk 'coffee' Jeff Bezos lazy

at
Blogtuan.info
– Source:
vietnamnet.vn
– Read the original article
here