Business
Famous for getting tattoos to heal wounds, was ridiculed at the beginning of his career
Recently, Forbes announced the list of 30 Under 30 Asia 2022 (Outstanding faces under the age of 30 in Asia in 2022). The list includes 300 young individuals (under 30 years old), selected from 4,000 applicants across the Asia-Pacific region. They are inspiring change, driving innovation across many fields amid the challenges posed by the Covid-19 epidemic. Criteria for the honorees included leadership, how they demonstrated entrepreneurship, and their potential for success in their industry.
Among the participants, tattooist Tran Thi Bich Ngoc (nicknamed Ngoc Like, born in 1993) was named in the Art category. She is one of six representatives of Vietnam honored to appear on the list of business magazine Forbes.
Tattoo artist Ngoc is known for healing body scars and turning them into art since 2013. Although tattooing in Vietnam is still not approved by many, she believes that covering up the scars. Tattoo art can be part of the healing process, helping to empower women, especially women, to begin a new journey in their lives. Ngoc completed her Master of Arts in Film and Television at Hanoi University of Theater and Performing Arts this year.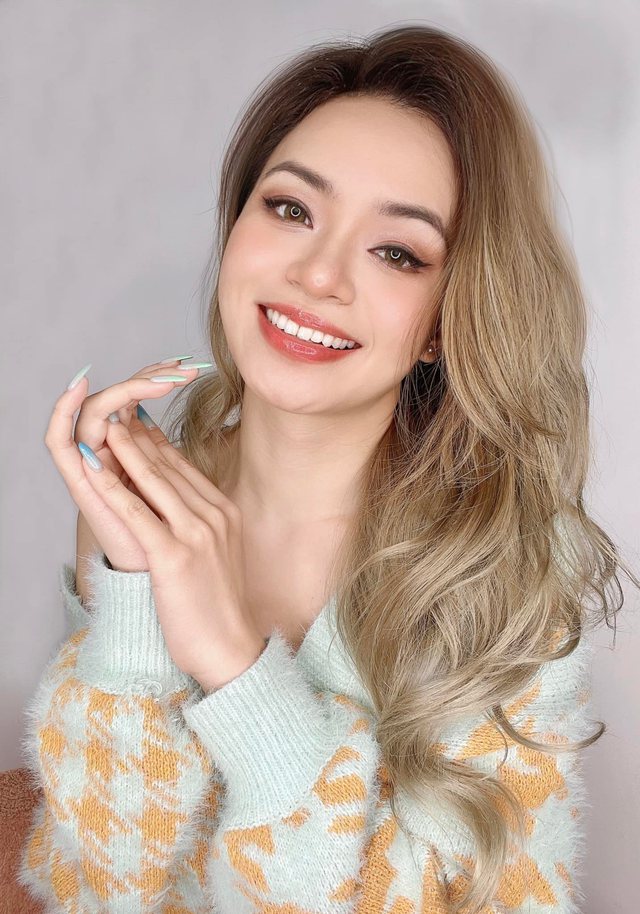 Female tattooist Bich Ngoc is famous for tattooing to cover scars and heal wounds. Photo: Tran Bich Ngoc.
From the entrance runner-up, the output valedictorian of SKDA University to the tattooist to break the stereotype
Before entering the tattoo world, Bich Ngoc used to be a bright athlete of the Taekwondo club in Hoan Kiem district. She was also a teaching assistant for the Taekwondo Thanh Cong club at the age of 17. Due to an injury, Bich Ngoc was unable to continue pursuing this subject.
When she stopped practicing, Bich Ngoc pursued her passion for painting. Thanks to her passion and talent in this field, Bich Ngoc became the entry runner-up and the output valedictorian of the Faculty of Fine Art Design, Hanoi University of Theater and Cinema. She also studied for a Master of Cinematography at the school.
In an interview, Bich Ngoc said that painting and tattoo art have a close relationship and complement each other to create works of art. The knowledge about tattooing is self-study by Bich Ngoc. She bought machines and tinkered with how to assemble and use them… Then Bich Ngoc practiced tattooing on pig skin and artificial skin. When she felt stiff, she began to receive tattoos for acquaintances, gradually got customers, became a famous tattooist in Hanoi.
At the beginning of her career, Bich Ngoc did not think of becoming a "scar-covering witch". But because of a lot of exposure, she gradually became passionate about getting used to tattooing on scars. Many customers report that thanks to Bich Ngoc's cosmetic tattoos, they feel more confident and attractive.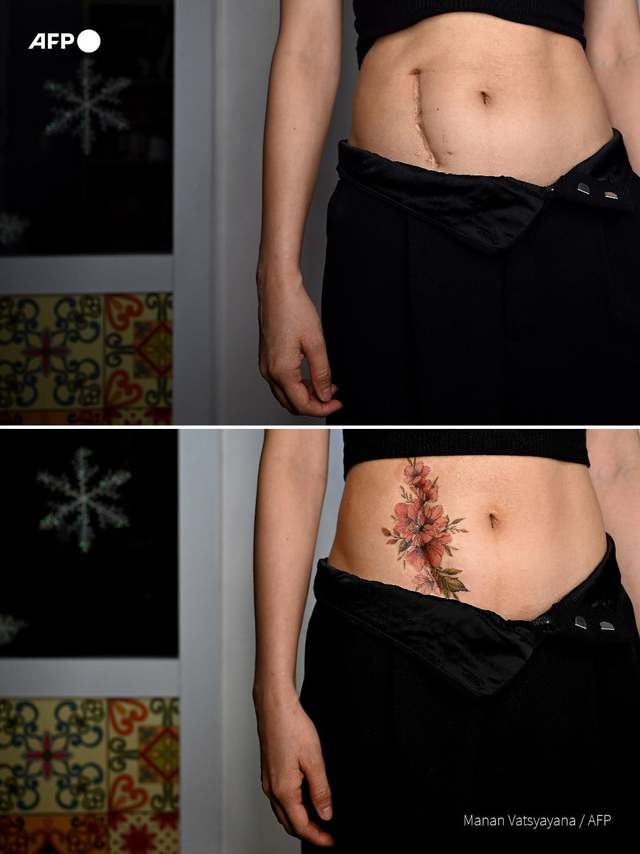 Vietnam's "scar-covering witch" reached the top of Forbes Under 30 Asia. Photo: AFP.
Although successful in the present, Bich Ngoc was ridiculed when she first started working as a tattoo artist. Sharing on her personal page, Bich Ngoc said that 10 years ago, she faced many pressures and difficulties because tattooing was not considered an official art and was subject to many prejudices. Bich Ngoc's achievements and good career goals make her parents trust and support her daughter to pursue this artistic path.
Bich Ngoc believes that each tattoo has its own story. Workers need to have creativity and flight to create unique works of art on the body. During the tattoo, she and the client chatted to create a relaxed atmosphere. Thereby, she knows more about each person's life, feels this work is more meaningful.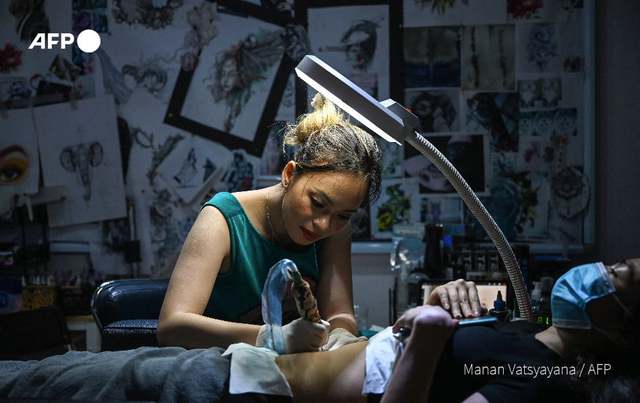 Bich Ngoc is one of 6 representatives of Vietnam in Forbes' top 30 Under 30 Asia. Photo: AFP.
Female artist specializing in tattooing on scars, contacted for interviews by many foreign newspapers
"My passion is tattooing on scars, burns, birthmarks or any body defect. I believe that a well done and beautiful tattoo will not only change a person's image but also a person's image. improve self-confidence, help that person overcome insecurities," Bich Ngoc shared with Bored Panda.
The female tattooist believes that by covering up wounds, she can help clients forget past trauma, erase bad memories, and feel confident and comfortable about their bodies.
The art of tattooing requires extensive experience, patience and knowledge of the craftsman, especially tattooing on complex skin areas. The artist needs to choose the most suitable shape, color and position for the tattoo to cover the marks effectively.
Each scar has different characteristics and requires tattoo artists with a lot of knowledge and experience to create aesthetic works, exactly as the customer's wishes. Depending on the location, the skin that has had a wound is usually thicker or thinner than normal skin. Each stroke needs to be done precisely because it is not easy to fix the tattoo, which can cause more damage to the skin.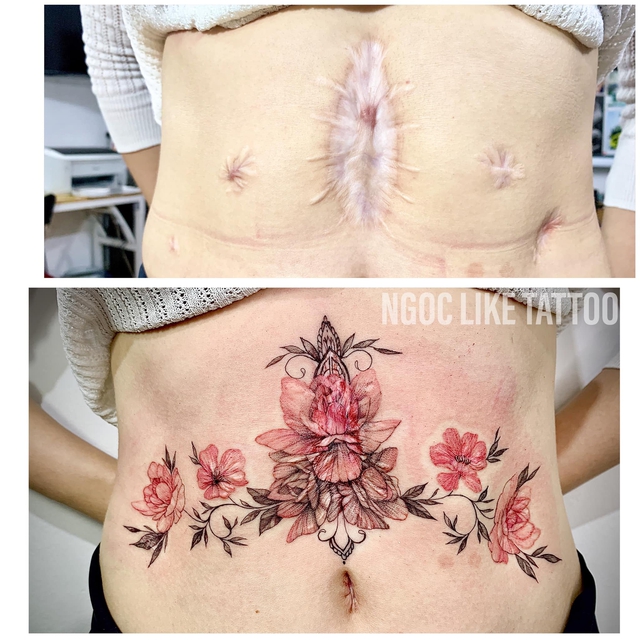 The rose tattoo covers a large surgical scar. Photo: Tran Bich Ngoc.
Bich Ngoc has met many customers who like tattoos, but they have no support. They see body art as a way of liberation from some rigid social norms in society. They have overcome their fear of social prejudice and have a personal desire to renew themselves, to open a new chapter in life.
Confiding to the French news agency AFP, a customer (high school teacher) of Bich Ngoc, said that the tattoo is an act of celebration after divorcing her "conservative and rigid" husband. "My ex-husband is vehemently opposed to any tattoo on my body. I am also afraid that I will lose my job if I have a tattoo on my body" is the customer's share. This person chose to have a chrysanthemum tattoo on her thigh, high enough that no one could see it, unless she was wearing a bikini. "It's just a small tattoo, but I feel like I've found my true self."
Another case came to Bich Ngoc because she wanted to preserve the image of her late husband. The nearly 50-year-old woman has two tattoos, including a rose over a scar on her stomach and the words "Forever in your heart" on her arm, in memory of her husband who died of cancer. The person later said the tattoos gave her strength and confidence.
Thanks to the attention of foreign media, Bich Ngoc attracted more foreign visitors.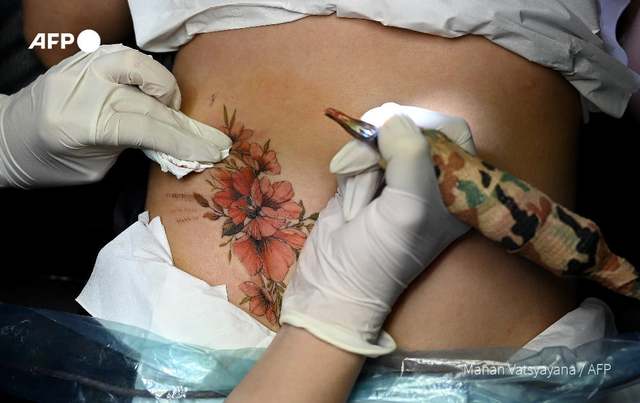 Tattoo work requires high concentration, technical expertise… of the craftsman. Photo: AFP.
Synthetic
https://cafef.vn/phu-thuy-che-seo-viet-nam-lot-top-forbes-under-30-chau-a-noi-tieng-nho-xam-hinh-de-chua-anh- vet-thuong-tung-bi-che-gieu-khi-moi-lam-listen-20220530134437078.chn
You are reading the article
Famous for getting tattoos to heal wounds, was ridiculed at the beginning of his career

at
Blogtuan.info
– Source:
cafebiz.vn
– Read the original article
here