Business
If you get used to it, it's very normal!
The days of April and the beginning of May last until now, people in some areas of India have been experiencing a record heat wave in centuries. In some places, the temperature reached 45 degrees Celsius at midday when the intense sun poured down, combined with the hot steam rising from the road surface, making people feel suffocated. The water coming out of the faucet was so hot it couldn't be touched.
In the capital New Delhi, there are times when the temperature reaches 44 degrees Celsius, not less than 30 degrees at night. According to the Indian Meteorological Department (IMD), the country recorded its hottest April in 122 years. The national average temperature is at 33.1 degrees Celsius, nearly 1.86 degrees Celsius higher than usual.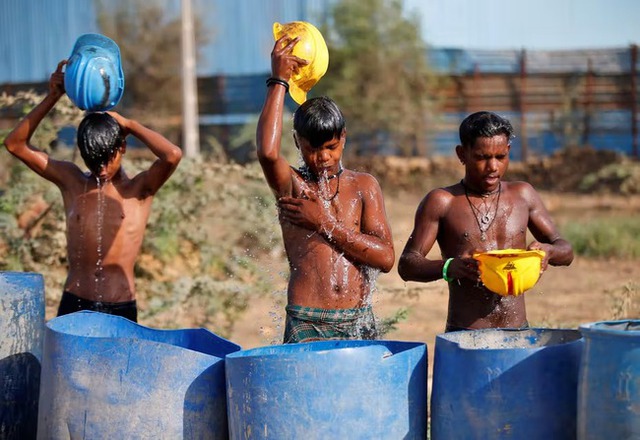 Indian construction workers pour water to relieve the heat on hot summer days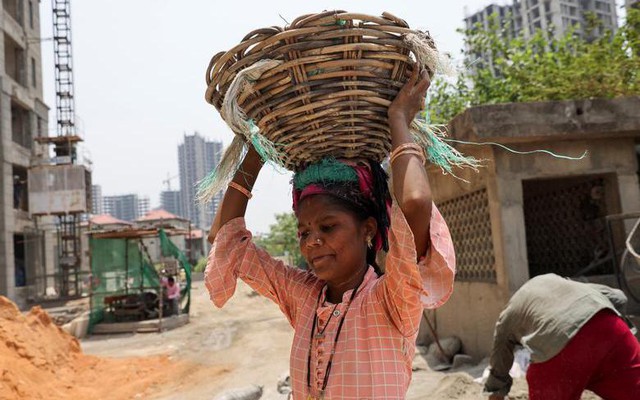 Demand for electricity spiked in the heat of the day, leading to power outages lasting up to eight hours in some parts of India.
Ms. Pham Yen (currently living and working in the state of Tamil Nadu, South India) shared some practical information about the situation of life in what is known as a "pan of fire".
Ms Yen said: "In my opinion, it is true that this year seems to be hotter than usual. I live in Tamil Nadu state, the heat starts from April, lasts until May. Now, the temperature has decreased. This heat wave is late April, early May. Sometimes the temperature is up to 38-39 degrees Celsius, now it's about 33 degrees Celsius. People in our area prefer air conditioners, fans and most households. they all have those cooling devices."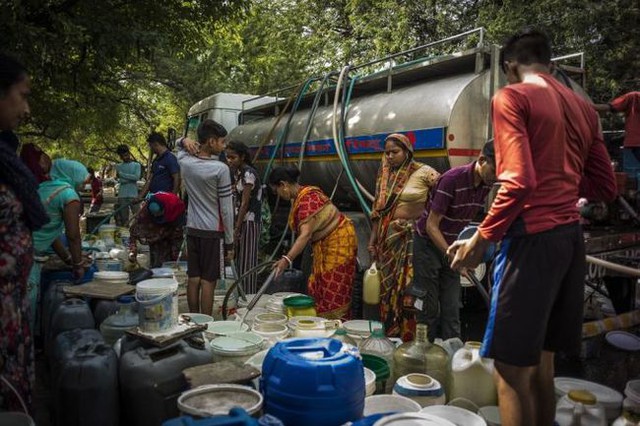 When asked about the lack of electricity and water, and even the lack of air conditioning, Yen said that there is actually a rotating power cut to ensure enough electricity for everyone. However, everyone prepares their own generators, so almost daily life is still maintained normally, maybe it is necessary to save more than usual.
"Almost every house has a generator. My house has a small generator that can generate 8 hours (using 1 fan and 1 light). My area is less populated (less than big cities like Chennai, Madurai) so it doesn't take much. There is a lot of electricity. Every week there is a power outage about 1-2 times, once about 3-4 hours.
In addition, there is a water cut. Water must have a reserve tank, cut off 1-2 days of water/week. Normally, people here have to watch when there is water and fill the tank to feel secure."Yen said.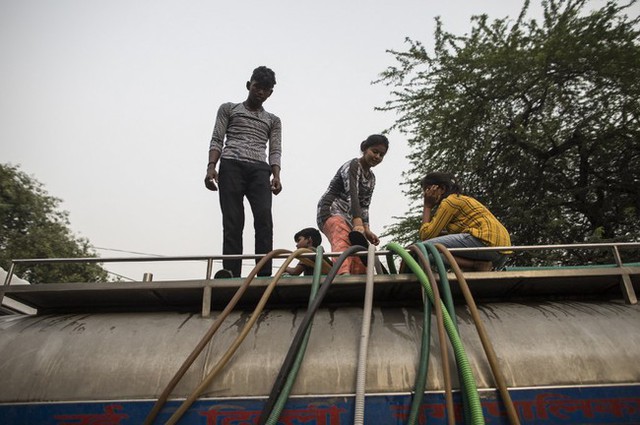 People wire fresh water from a tank truck to a residential area in New Delhi on May 3
"Besides, I also find a quite practical activity that in my place, the authorities have prepared water in front of the house for the wandering animals to drink."
Meanwhile, people's work is also affected more or less by the heat. Government agencies or private enterprises still maintain normal working hours, but freelance workers also postpone working hours. People only go out at 10 am, then they work until evening.
Yen herself said: "I stay at home, with air conditioning. When I go out, I go by car. Cars here are quite popular, second-hand cars are cheap and plentiful. However, my family only goes out in the afternoon and evening."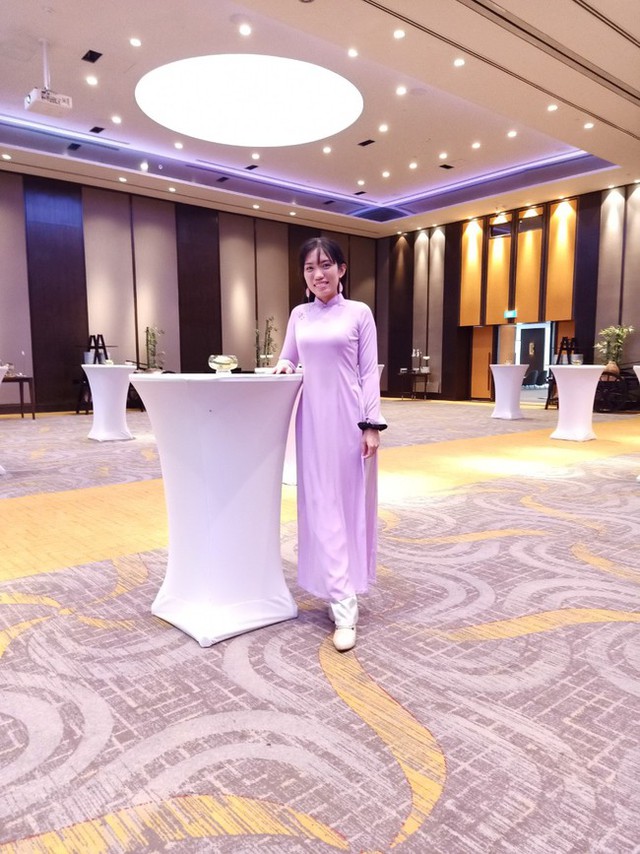 Pham Yen is currently working as an interpreter in India
Yen works as a freelance interpreter in India, so she has the opportunity to travel to many places. She says: "I just went to New Delhi to translate for a Vietnamese company through cooperation with India. My area in Tamil Nadu is close to the sea, hot but still steamy and humid. In New Delhi, it's cooler, the temperature is higher. In the hot season, there is also more dust on the road".
People in New Delhi are also used to the heat, so people still go out as normal. Yen took guests away, but she could only stand for a while in the open air and then had to sit in the car again. If you're not used to it, you won't be able to stay out in the sun for long. "In India, people are not used to wearing hats, or wearing sunscreen like Vietnam. Maybe they are used to it."she says.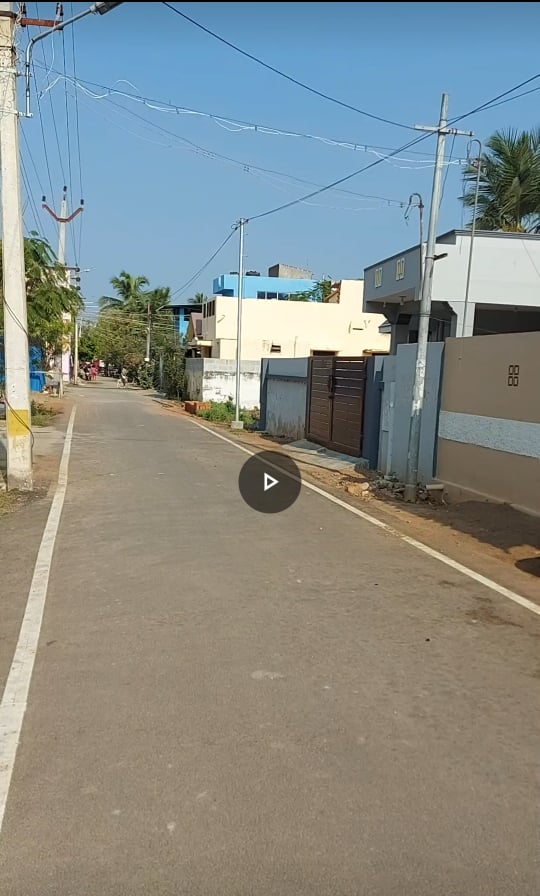 Photo of the residential area where Yen lives. At noon, it was sunny, almost no one went out
Yen also took a practical example that, even at noon at 12:30, she ordered food and bought food online, but still had a shipper working. Food was delivered quickly with no delay.
Thank you for sharing Yen!
You are reading the article
If you get used to it, it's very normal!

at
Blogtuan.info
– Source:
cafebiz.vn
– Read the original article
here