Life Style
Need to create a "vaccine" to protect children in cyberspace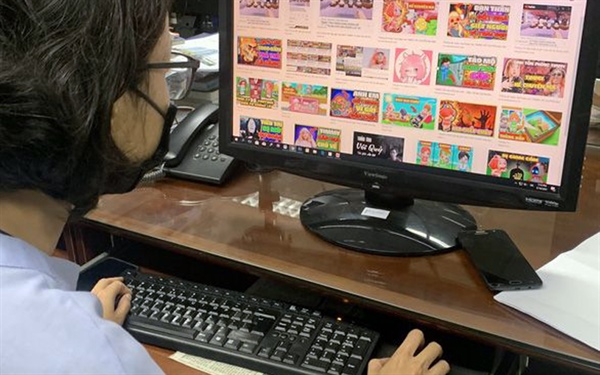 Faced with this situation, "Protecting children on the internet" is one of the key contents of Action Month for Children 2022.
Increased online risk
At the seminar "Communication orientation on Action Month for Children and Child Protection on the Internet" held on May 25 in Hoa Binh province (by the Department of Children, Ministry of Labour, Invalids and Social Affairs in collaboration with Plan International) Organized by Vietnam) with the participation of reporters from many press agencies, the delegates shared about Vietnam's efforts in child protection; listen to media experiences attracting young people on the topic of protecting children's safety in the online environment.
Information at the seminar showed that, as of February 2021, Vietnam had 72 million social media accounts and 68.72 million internet users (accounting for 70.3% of the population). Due to the Covid-19 epidemic, more and more people, including teenagers, are using the internet to study, work, communicate, entertain and access services. This increases online risks for children and young people including cyberbullying and gender-based cyber-violence.
Speaking at the workshop, Mr. Dang Quoc Viet, a representative of Plan International Vietnam, shared that a survey conducted by Plan International Vietnam showed that only 10% of children have safety knowledge and skills when use Internet. That context requires a deep understanding of the situation and identification of gaps in capacity, legal corridors, and socio-cultural environment to propose appropriate interventions to ensure the safety of children. children in cyberspace.
Sharing the same opinion, Mr. Dang Hoa Nam, Director of the Children's Department, said that there are many large gaps that have not been filled in the communication and awareness of children's safety in the online environment. The issue of children is no longer a human rights issue but also a matter of economic integration and development, many countries are ready to set up trade barriers for economies that exploit and exploit children. "The Children's Law clearly stipulates the responsibilities of each level, ministry, branch and organization in child protection. In which, the media must play a pioneering role in raising awareness and responsibility of stakeholders in child protection. In addition, the media and authorities also need to respectfully listen, consider and respond to children's opinions and aspirations. The press and media also need to help the society, parents to be well aware and update their knowledge and skills to care for and protect children because parents are the factors that play the most important role in protecting children. children. In addition, it is necessary to propagate the skills of organizing a safe living environment. The prevention of domestic violence and sexual abuse requires skills and the cooperation of the whole community, authorities and families", emphasized the Director of the Department of Children.
Ingenious methods are needed
Adolescents are the age group with the most access to the internet, but also the most vulnerable and negatively affected. Invasion of children's privacy and security can lead to physical and mental consequences such as shame, low self-esteem, insecurity, fatigue… As a father of 3 children, Journalist Hoang Anh Tu (Chanh Van of the Newspaper) Students' flower) believes that parents must not let go, need to have ingenious methods, find out about child monitoring services when using the internet. "Children's use of the internet is very different now than adults. They often visit landing pages, groups, not surfing, walking around information like adults. Moreover, they operate incognito, do not use pictures, real names, delete history on websites… making it very difficult for parents to want to control and protect their children online. Therefore, the media needs to provide parents with skills to help children stay safe online. The press also needs to help parents eliminate and identify "junk" information and content on social networks that adversely affect children, thereby condemning and preventing these phenomena. In fact, over the past time, some press units have been busy chasing after information that brings a lot of followers and reads, but forgot about their responsibility to protect children in cyberspace", journalist Hoang Anh Tu shared. .
It's time to need "vaccines" from authorities, media, families, and schools to help children "immunize" against potential risks in the digital world, bringing a civilized environment. , active on platforms so that teenagers can unleash their creativity and share personal views. Nguyen Thi Nga, Deputy Director of the Children's Department, said that children under the age of 18 cannot be held responsible for their own behavior and do not have enough knowledge about these security and privacy issues, so they need help. Support from parents as well as teachers, responsible adults around to help children. Making friends with children on social networks is a delicate and moderate thing so that they can see themselves as "friends" who can easily confide and rely on, not "afraid" of me. Instead of controlling and banning, parents can regularly remind their children to protect their accounts and share documents about privacy. In addition, parents need to supplement their knowledge so that when their children need help, they can troubleshoot problems for them.
In order to accompany the implementation of the Program "Protecting and supporting children to have healthy and creative interactions in the online environment for the period of 2021-2025", Plan International Vietnam has mobilized a budget for the project "Protecting children in the Internet environment". protect children and young people safely in the online environment", implemented in two provinces of Kon Tum and Quang Binh. The project was started in early 2022, it is expected that after three years of implementation, more than 9,000 children and young people aged 10-18 years old will be supported to increase their knowledge and skills to protect themselves and others. from other forms of bullying and gender-based violence in the cyber environment.
You are reading the article
Need to create a "vaccine" to protect children in cyberspace

at
Blogtuan.info
– Source:
Afamily.vn
– Read the original article
here