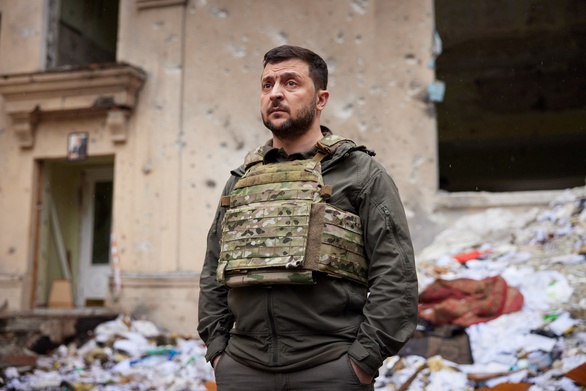 President Volodymyr Zelensky visits the Kharkov region, Ukraine on May 29 – Photo: REUTERS
After the phone call, Putin announced that Russia was ready to find a solution to unimpeded grain exports, including Ukrainian grain, from ports in the Black Sea.
Blame each other
Russia and Ukraine together produce nearly a third of the world's wheat consumption. Russia is also one of the world's largest fertilizer exporters, and Ukraine is the world's fifth largest grain producer in 2020.
Ukraine also produces wheat, sunflower seed oil and other agricultural products. As a result, the fighting continued into the third month, making the global food crisis worse.
According to the Kremlin, Putin made a condition to the leaders of France and Germany that Russia was ready to increase exports of fertilizers and agricultural products if a series of anti-Russian sanctions from the West were eased.
According to Reuters news agency, the Russian leader made a similar request in recent talks with the leaders of Italy and Austria.
During the call, both Scholz and Macron called on Putin to engage in "direct and serious negotiations" with Ukrainian President Volodymyr Zelensky on a ceasefire and withdrawal agreement, the German chancellor's office said. Russian army. In response, Putin said Russia was ready to resume dialogue with Ukraine, but blamed the Ukrainian side for not cooperating.
Adding to the progress of the peace talks, Kremlin spokesman Dmitry Peskov said Ukraine was the cause of the stalled peace talks because "Ukrainian leaders repeatedly gave conflicting messages, makes it impossible for us to fully understand what the Ukrainian side wants."
President Zelensky hit back at Peskov's comments. In his message to the world on May 28, President Zelensky said that he had repeatedly tried to arrange a peace meeting with President Putin, "but Russia does not seem ready to participate in peace negotiations." serious".
Zelensky affirmed that the Ukrainian side wants life to return to normal: "We want to regain the life of a sovereign state with its own territory."
There will be famine, if…
During his speech at the World Economic Forum in Davos last week, President Zelensky accused Russian forces of preventing Ukraine from exporting 22 million tons of food including "cereals, barley, sunflowers and more." again".
Zelensky concluded that if Ukraine cannot export grain in the coming months and if political agreements with Russia cannot be reached through intermediaries, the world will go hungry.
According to the Food and Agriculture Organization (FAO) of the United Nations, before the COVID-19 pandemic began, hunger and food insecurity increased in the world. In 2020, the number of people without access to adequate food increased by 320 million to 2.37 billion.
War broke out in Ukraine and mutual economic sanctions between the parties involved further worsened food shortages. The Russia-Ukraine conflict has had a ripple effect across the globe, disrupting supply chains and contributing to fuel prices as well as grain and fertilizer shortages.
FAO estimates that one-third of Ukraine's crops and farmland may not be harvested or cultivated by 2022, which combined with a shortage of fertilizers from Russia could lead to food shortages and affect affect the famine later this year and next year.
On May 30 and 31, leaders of the 27 European Union (EU) member states attended an extraordinary summit in Brussels (Belgium) with the main purpose of unifying the implementation of the sanctions package. 6th for Russia since it began its special military operation in Ukraine.
Although some countries such as Hungary, Bulgaria, Slovakia, Czech… complained that the deadline for phasing out Russian crude oil within 6 months and refined oil products within 9 months was not enough for them to find alternative energy sources. However, Brussels will certainly have a satisfactory solution to reach the consensus of 27 countries to increase pressure on Russia.
At least, Putin's move to raise "food weapons" in exchange for easing some sanctions in a phone call with the leaders of France and Germany shows that the Western sanctions package on Moscow has partly worked. be effected.
Ukraine waits for more "good news" about weapons
On May 29, Ukrainian President Volodymyr Zelensky said he hoped to receive more good news from the West this week after receiving many heavy weapons last weekend.
"Every day we are getting closer to the point where our military will surpass Russia in terms of technology and firepower. Of course this depends a lot on our partners, their willingness to aim. give Ukraine everything it needs to defend its freedom. And I expect good news about this next week," Zelensky told the Ukrinform news agency.
Earlier, Ukraine's Defense Ministry confirmed that it had begun receiving Harpoon anti-ship missiles from Denmark and US self-propelled guns capable of hitting targets at long distances.
On the ground, the situation in the Donbass region in eastern Ukraine is growing increasingly tense as Kiev rejects Russia's claim to have captured the city of Lyman and besieged the city of Sievierodonetsk. Ukraine says its forces are still fighting in Lyman and Sievierodonetsk.
Also on May 29, Russia said it had destroyed a large Ukrainian arsenal in the city of Kryvyi Rih, in the central part of the country, with long-range missiles.
TRAN PHUONG