Chuyên đề
School violence in international schools: What should parents do when their children are bullied?
In recent days, social networks have been stirred up by the school violence incident that happened at the ISHCMC – American Academy international school with expensive tuition fees in Ho Chi Minh City.
Many people believe that the reason why the matter is going too far is that the school has not solved the case satisfactorily and has not taken measures to prevent school violence.
Therefore, many people believe that a mother should do her best to protect her children from school violence, however, only if the matter is not resolved clearly and thoroughly, speak up to avoid offending the children. hurt.
However, many people ask, so what should parents do when their children are bullied at school?
According to psychologist Nguyen Phuong Anh – Hanoi National University of Education, parents should first find out the matter and listen calmly, then it is not too late to judge and act.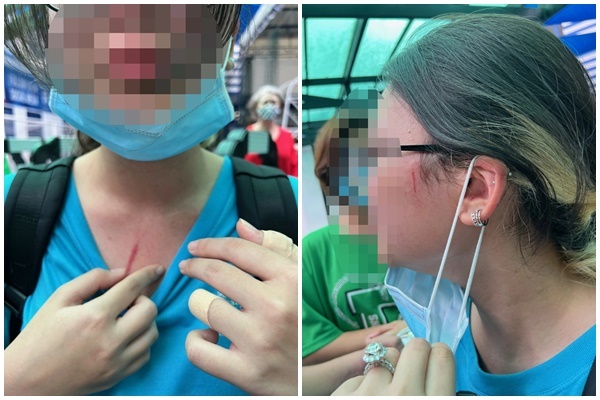 The image of students fighting at ISHCMC – American Academy international school caused a stir on social media
"Of course, when your child is bullied at school, parents can also immediately contact the school to ask the school for information about the incident. Along with that, parents can ask the school to set up a disciplinary committee to review the case, parents can participate in meetings with the school to exchange information and resolve the matter to the end.
I think that when a child is bullied, the general mentality of parents is that everyone feels sorry for their child and is angry, that's why they have to stay calm.
At this time, parents should not meet with your parents who bullied your child because each side will certainly have their own arguments, so it is most reasonable to ask the school as well as the police to intervene. .
In fact, there are many cases of children being bullied, parents of children being bullied actively seek out the other parent, and the two sides have a very tense argument, making the matter go further, even entering into a fight when the child is bullied. I can't control my anger," psychologist Nguyen Phuong Anh said.
As for the child, children often do not talk to their parents about being bullied, so parents need to follow the signs closely to detect things in time. Be friends with your child to listen to their feelings, then reassure them and ask how they want to handle the situation.
If your child is showing signs of depression, parents should take them to see a doctor for the best psychological support.
The most important thing parents need to do is encourage, show their children their own strengths so that they forget about being bullied. Also, don't spend too much time talking about being bullied.
Doing so only makes them focus on the negative, instead, help them see that there are other happy things in life, such as sports activities…
If the above measures are not effective, your child will continue to be bullied at school, it is best for parents to change schools for their children. Although this is not a good method, it will help children feel more comfortable and no longer have negative thoughts. Because, after all, everything parents do makes their children happy.
ISHCMC International School – American Academy officially announced on the night of May 28
After more than 2 days since parents reported the school violence incident, ISHCMC – American Academy International School officially issued a notice on the night of May 28.
Accordingly, Ms. Kim Green, school leader, said that "it is very disappointing that an issue related to ISHCMC's discipline has been brought up in the media and the public domain in a way that harms children." related".
Ms. Green affirmed: "All situations are handled in a private way to ensure the protection of students" and "all cases where students need assistance to deal with situations will be subject to the following guidelines: values, policies and practices of our school". The school "will continue to seek the active participation of all stakeholders to address the current situation."
ISHCMC also urges "anyone who is publishing or participating in sharing material related to this issue to stop and cooperate with us to protect students". At the same time, it continued to assert that "at this time, we will not be making any public comment on this matter".
Hoang Thanh
You are reading the article
School violence in international schools: What should parents do when their children are bullied?

at
Blogtuan.info
– Source:
infonet.vietnamnet.vn
– Read the original article
here