Giới trẻ
The 'brightest' man on social media after the rain flooded Hanoi: I just 'buy time', consider it a memorable memory!
"Actually, no one can be happy to fall into that 'half-cry-and-laugh' situation. But because I was standing alone like on an island, in the middle of deep water, my legs were too tired, so I took out my phone to check-in", Mr. Minh shared with Infonet.
After a torrential downpour on the afternoon of May 29, many streets in Hanoi were flooded with water. The street "turned into a river" causing the vehicles participating in traffic to face many difficulties and jams because of slow moving. In many places, the car stalled, people had to walk in the flooded water up to their hips, looking like a "wading mouse".
In the countless scenes people shared about the rain that caused local flooding yesterday afternoon, the most notable was the image of a man standing on a Mercedes truck of more than 2 billion to check-in. There was a lot of water around him, the water level had flooded through the car's wheels.
The guy wears a white suit, standing out on a black car. Although the car stalled, unable to move, he stood in the middle of the water like he was on an island, but he still smiled optimistically.
The above image has received "like storm" from netizens. The heavy rain caused people's lives to be severely affected, but seeing this picture of this man, everyone had to laugh.
It is known that the man in the above situation is Mr. Nguyen Cao Minh (now he is doing real estate business in Hanoi).
Share with Infonet About his photos, Mr. Minh said: "Yesterday, when I moved to Duong Dinh Nghe section, the water was too deep. I didn't pay attention because I was not used to that road. So the engine stopped. Then I called an ambulance.
While calling for an ambulance, it was still pouring rain, the water flooded inside, so I went out of the car to signal to the rescuers from afar, so that they could easily see me because many people around there had the same problem.
Actually, before that it rained heavily and flooded, but I didn't think the flooding was deep, so I kept going, until I couldn't go anymore, it still rained. About 20 minutes later the car was flooded.
I stood in the middle of the rain for about 2 hours, then the rescue came to help me. It's raining less now.".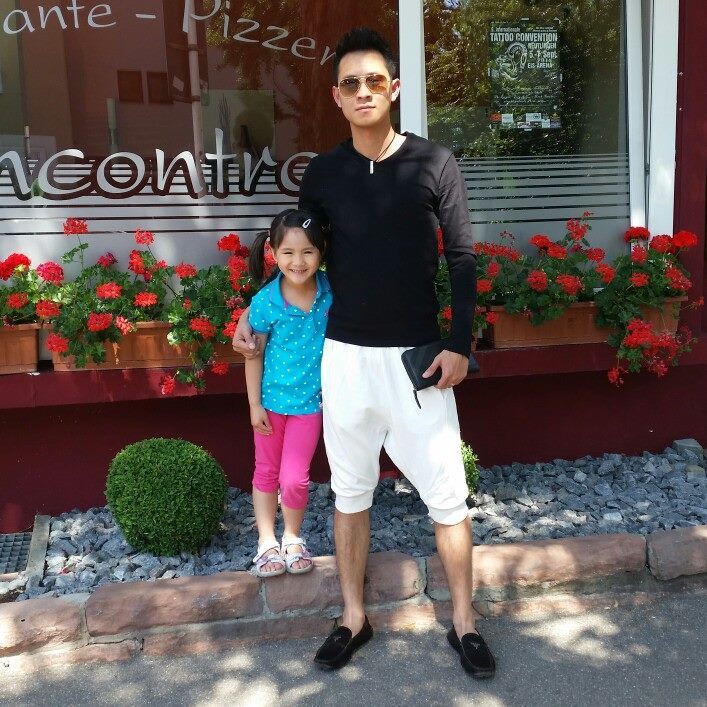 Mr. Nguyen Cao Minh is inherently optimistic in daily life.
Being commented by everyone as being optimistic in all circumstances, Mr. Minh just laughed and shared that, in fact, falling into the situation of "bad crying and laughing" was not happy, but because he stood alone like on an island, in the middle of an island. The water was deep, and his legs were too tired, so he took out his phone to check-in to "buy time". This is also a happy and memorable memory for Mr.
"This is the first time I have been in this situation, so I am confused as to how to handle it. Currently, my car has been handed over to the repair company. I have not received any information about the car's condition.
When the car was flooded, I also turned off the engine so I'm sure there was no major damage. I'm a bit sad today because I don't have a car to go to work. This was a natural disaster, so I don't blame myself. Now that people make fun of me for being famous, I find it funny." Minh confided.
Netizens commented under Cao Minh's photos:
– People walking with money will often think differently from pedestrians like me, optimistic in adversity.
– Someone brought him another coconut and he went to the beach.
– The car was flooded, but he was still as happy as swimming in the sea.
– The most optimistic man on social networks.
– The rain that caused flooding brought a lot of frustration but also a lot of joy. Depends on people's point of view.
Aries
Photo: NVCC
You are reading the article
The 'brightest' man on social media after the rain flooded Hanoi: I just 'buy time', consider it a memorable memory!

at
Blogtuan.info
– Source:
infonet.vietnamnet.vn
– Read the original article
here