Thế Giới
The Russian-Ukrainian war through the diary of a Vietnamese woman, part 25: Haunting memories of a 75-year-old woman running around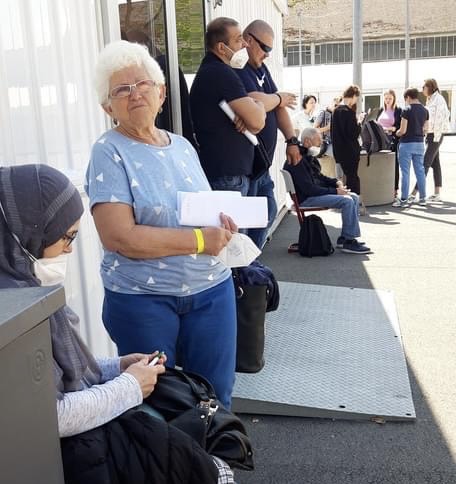 In the Czech Republic with the children's family for 8 full days, in the love and care of the children, my wife and I had to nostalgically part. My sister-in-law packed us a lot of Vietnamese food and spices, especially made me carry a few bottles of cooking oil back to Germany. The Czech Republic can still buy cooking oil even though the price has increased more than 2 times, but in Germany it is even harder to find a bottle of cooking oil than going to heaven…
At first we planned to take the train back to Germany, but then, considering the bus schedule was more reasonable, we changed our mind. So my sister-in-law drove me and my wife to Dresden again, from there took the bus at 22:44′ to Dortmund at 5:30 am the next morning on Saturday 7/5. Although buses are not as spacious as trains, they do not have to transfer many times.
The bus runs all night, stops for 2 stops to drop off and pick up passengers, arriving in Dortmund on time. It was morning, but the air was still wet with night dew, making me shiver. I asked for the way to the train station to go home. So, "going to the place, coming back to the place", if not going, how to experience the interesting journey and learn more experiences?
When we got home, we got a letter on the morning of May 9 to gather at the camp to go to the Department of Foreigners to take pictures. I kept wondering "why are you taking pictures again?" But if there's a call, let's go check it out.
On time, the car picked up 5 of us Vietnamese to the gathering place with a large number of Ukrainians full of new faces. Camp staff prepared documents for us to declare. Fortunately, the declaration was printed in German and Russian, so there was no problem. A blue numbered band is worn around the wrist. They also very thoughtfully prepared water, bread and apples to distribute to each person. Our translator is still the Chechen girl.
The car started to a place about 80km away from us, through fields of bright yellow canola flowers, proud wind-powered fans in the distance, and grasslands and hills. When we got there, we were given another numbered yellow band to wear on our wrists. Do not understand by accident or arrangement that the two bands worn on the wrist have the symbolic color of the Ukrainian flag…
In the yard of the Department of Foreigners, there was a bus coming first, adults were sitting awkwardly and children were running around. The sun rose higher and higher, the bright sunlight pushed us to seek shade. It takes a long time to take pictures with your hands, but the people of the first bus are not done yet. To kill time, I listen to the stories of the western women that have just passed in my ears. There was an old lady standing alone asking about the translator. I inquired and learned that she fled from Kharkiv after 2 weeks in the bunker.
She said that she lived in a 5-storey house, the bunker was actually a tool cellar and stored canned fruits and vegetables, so it was small and had many different flavors. feeling like suffocating. When it was quiet, she ran up to the house to cook and prepare for the next alarm. Just like that for 2 weeks running up and down, her daughter in Germany urged her to take refuge, so she and a friend decided to contact the evacuation buses.
According to the appointment, everyone went to the parking spot near Kharkiv station, only a few dozen meters away when the sirens wailed, followed by a chilling hiss in the air. She quickly ran into a nearby apartment basement, heard that there were casualties but also many people were lucky to escape. Then report the quiet, she found the car that was contacted to go on the road. Normally, the car runs on the highway very quickly, and at that time, it has to go around the woods and villages, making everyone in a state of panic. Time passed slowly, and until she reached the Polish border, she boarded a train across the border, and her daughter and son-in-law came to pick her up and take her back to Dortmund.
At first, the daughter and her husband planned to take the train to Poland to pick her up, but were worried about her, so they took turns driving for more than a day and night with a distance of 2,700 km both back and forth, and thank God all were well. safe… After hearing her story, everyone around was touched, congratulating her and her family on reuniting. She said: "I'm 75 years old, I don't want to go anywhere, but when I stay, my daughter is not secure so she has to go. There are many people who are paralyzed in my place, their children are determined not to evacuate, but they insist. decided to live and die with his parents".
There are many families with children coming to the Department of Foreign Affairs, each with a different situation, but there is one more point that they have to break up when their homeland is engulfed in flames.
It was only 4pm when it was our turn, they entered personal information into the computer and said that you have already registered, so we had to wait for those who had not completed the procedure to return to the same bus, which took a day and quite a while. Tired of having to stand all the time.
The next days are waiting for a general check-up, taking a Ron-gen scan and those who have not had all 3 vaccinations must complete it.
On May 23, there was a letter calling the Social Center to complete some procedures related to benefits and job counseling. The days are long and long, sometimes I don't want to think and write a few lines, but I feel discouraged…
Today, May 29, Kyiv turns 1540 years old. I remember when my daughter was in kindergarten participating in a Kyiv Day performance on the main street – Khrasatik Street running through the center of the capital. That day, my daughter as the little turtle Ninza and her friends jubilantly welcomed the anniversary of the capital. And I, along with the parents, the citizens of Kyiv, are also in a state of emotion, joy and great joy. Those days are long gone, and when will they return? How is the beautiful capital now?
Ukraine is still at risk and although the city wants to return, the city government still advises people not to return at this time. Many areas have been planted with mines and many places are still under shelling, the fighting has not stopped…
When will there be peace? Who can answer this question? Millions of Ukrainians and foreigners in Ukraine are red-eyed, anxiously looking forward to one day returning with a stinging heart…
You are reading the article
The Russian-Ukrainian war through the diary of a Vietnamese woman, part 25: Haunting memories of a 75-year-old woman running around

at
Blogtuan.info
– Source:
danviet.vn
– Read the original article
here