Business
Vietnam has a species of "wild fruit" that grows all over the tree, Chinese netizens invite each other to eat once
"Wild fruit" in Vietnam
"The fruits after flowering often grow on the branches, but this fruit grows near the base of the tree, very close to the ground, so it is very convenient to pick. Well, how good would it be for any fruit to be like this", on some media channels like Sina, Chinese internet users whisper to each other about strange, unknown fruit in Vietnam. They call this fruit "wild fruit".
"From a distance, this fruit tree doesn't look like it's bearing fruit, but when you step closer, you will find that there are many fruits under the tree, they cluster in bunches, like bunches of grapes.", shared a Chinese internet user.
Another account compares, these bunches of "wild fruit" are like bunches of longan but think that their growth position is too special, not on the branches but under the tree, "Very strange indeed!".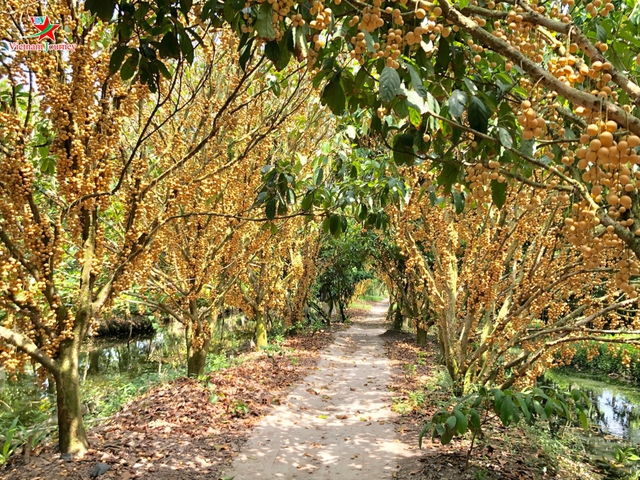 Strawberry garden full of fruit in the West. Photo: VOV
However, many netizens living in southern China, after looking at pictures of the "wild fruit" in Vietnam, found that this fruit is similar to the mulberry fruit distributed mainly in the southern provinces of China.
Strawberry skin is a wild fruit that only Southern Chinese can eat. This is a fruit tree, growing around the trunk, after picking it must be eaten within 24 hours or it will be damaged, so only Southern Chinese can enjoy it.
Western strawberry
In fact, if you live in western Vietnam, locals won't be too far away from what the Chinese call "wild fruit". That is the strawberry skin.
Mulberry has the scientific name Baccaurea ramiflora, is a small tree, harvested from March to September every year. The berry has 3 compartments, each compartment has a seed, surrounded by a lean fleshy layer 2.5 – 3.5 cm in diameter, oval or elliptical in shape hanging long on old branches and trunks. Pale yellow, when mature turns red or light purple.
This plant grows in many countries such as India, Myanmar, China, Laos, Thailand, Cambodia, Vietnam or the Philippines.
In Vietnam, mulberry trees are grown in many western provinces with large gardens such as Can Tho, Tien Giang, etc.. They also have many varieties such as blue-skinned strawberries, bonbon berries, Ha Chau berries.. .
"Vietnam does not export this fruit, normally we can't eat such a fruit. If you travel to Vietnam and see this fruit, you must definitely buy it and enjoy it. It's really too rare. Eating is also a kind of happiness, "a Chinese internet user marveled at the bunches of fruit-laden berries in Vietnam.
Phong Dien, Can Tho City is considered as the strawberry and leather barn of the West. As noted by Can Tho Newspaper, this year's price of green-skinned strawberries in Phong Dien is sold to traders and fruit collectors at between 8,000-9,000 VND/kg.
Compared to the beginning of the crop a month ago, this price has decreased by about 2,000-4,000 VND/kg, but compared to the same period in 2021, the price of blueberries is still higher at least 3,000-4,0000 VND/kg.
Especially, not only strongly consumed in the domestic market, green-skinned strawberries grown in Can Tho are also exported to Cambodia.
In addition, according to the Women's Newspaper of Ho Chi Minh City, in the past few years, many garden owners have turned to business tourism services in the form of visitors to the garden instead of making profits from selling fruit to traders. drive.
At one of the most beautiful strawberry gardens in Phong Dien with more than 100 7-year-old mulberry trees, the garden owner will sell tickets 20,000 – 50,000 VND/person, guests will be able to visit, take photos, eat fruit freely in the garden. . This tour model is very well received by tourists.
https://soha.vn/viet-nam-co-loai-qua-dai-moc-kin-than-cay-cu-dan-mang-tq-ru-nhau-phai-an-1-lan-cho- biet-2022052616224021.htm
You are reading the article
Vietnam has a species of "wild fruit" that grows all over the tree, Chinese netizens invite each other to eat once

at
Blogtuan.info
– Source:
cafebiz.vn
– Read the original article
here