Life Style
Tiêu dùng
Bewilderedly looking at a Vietnamese girl's hundred-fruited chayote in Germany
See the truss tree laden with branches, 1 year 200 fruits of a Vietnamese girl in Germany.
Mai Tram currently lives in the city of Stuttgart, in the South of Germany. Ms. Tram went to Germany to study abroad. After graduating from school, she bought a house with a small garden. Because of her passion for planting trees and eating Vietnamese vegetables, Ms. Tram spends a little bit of yard land to grow crops. It is known that her garden has an area of ​​​​8 square meters.
"Ever since I was a child, I have been very passionate about growing flowers, but I did not have the conditions to do so. Now I have a small garden, but I like to grow all kinds of things. In particular, my rubber rig is only about 1.5mx1.5m, but every year I get nearly 200 fruits. Many large fruits are about 700 grams.
Eating is not much, but giving it to friends around is also very fun. My friends near me often tease me that I'm a su su breeder because most of them are given as gifts by me to breed", Ms. Tram shared.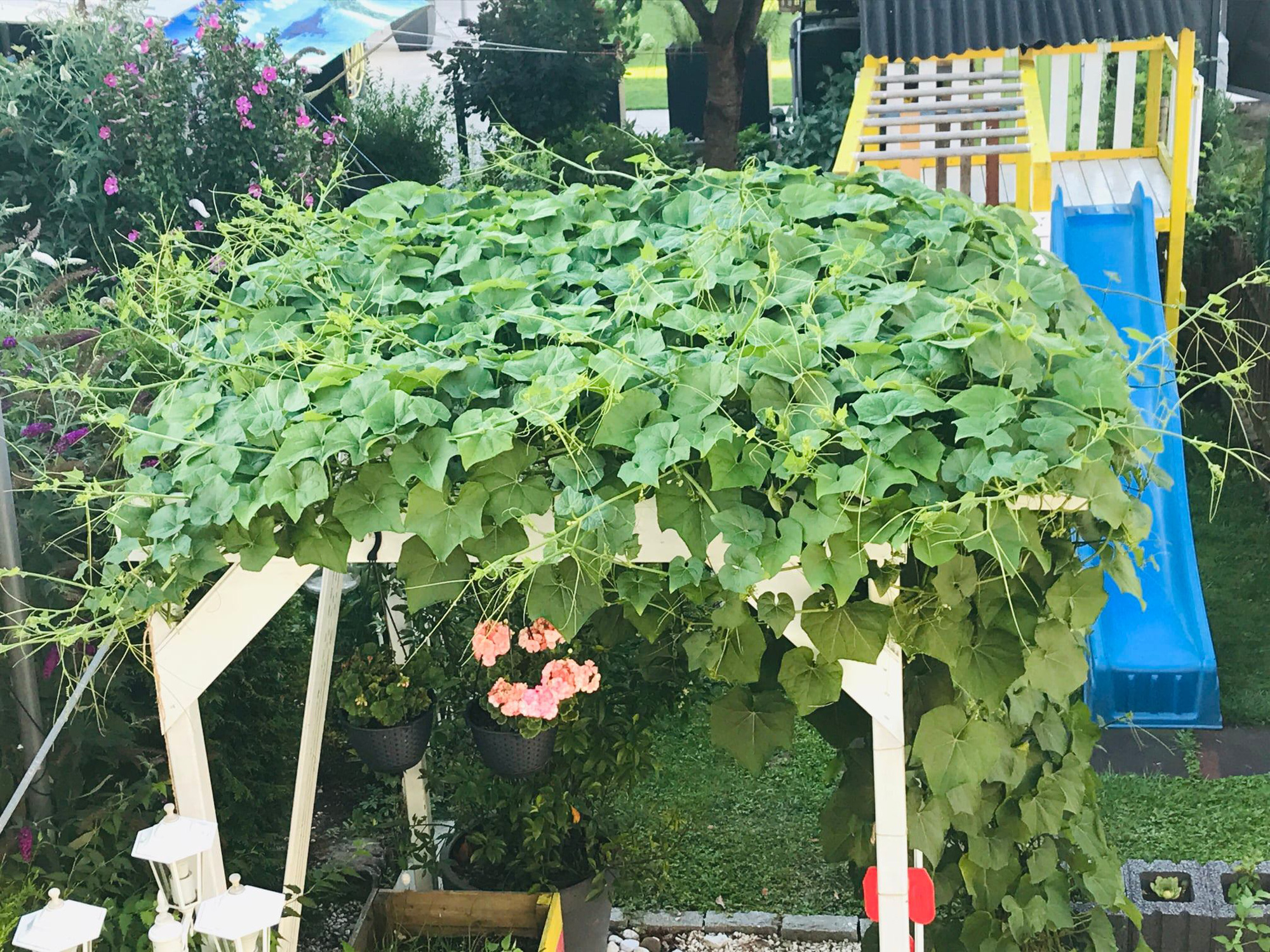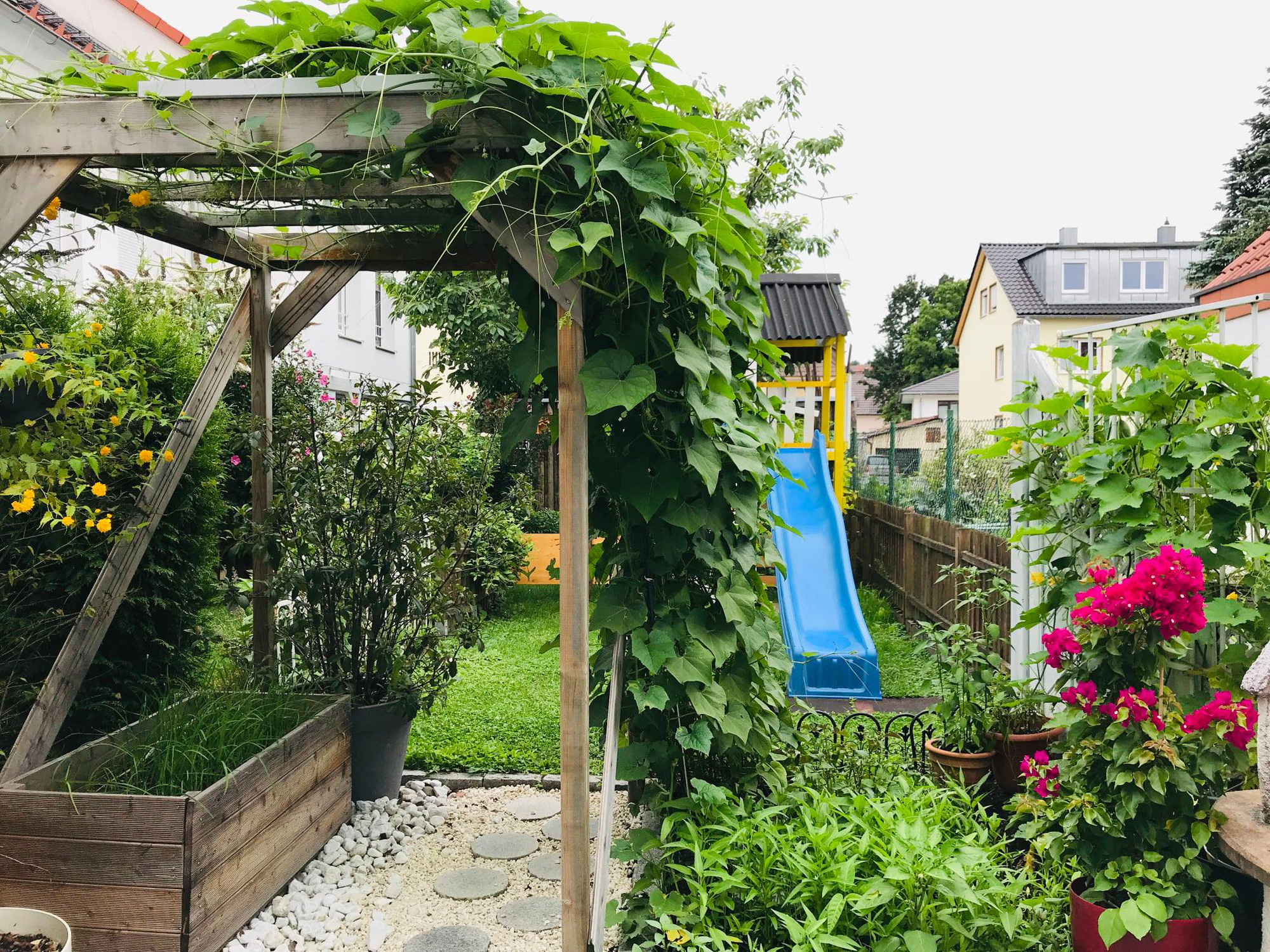 According to Ms. Tram, it is not difficult to grow chayote, but in Germany the weather is harsh. In winter, the chayote tree cannot survive. So before winter comes, she has to harvest and leave a few fruits for the next year's seed. She often keeps it in the refrigerator because if it is kept in a warm and light place, the fruit will germinate very quickly.
Around the beginning of February, Ms. Tran will take out the su su to keep the weather warm outside. This is the right time for the fruit to germinate. When the green sprouts begin to appear, she buried the chayote in the ground in a pot and left it in the house until the weather is really warm and the temperature does not drop below 0°C, then it will be planted in the garden.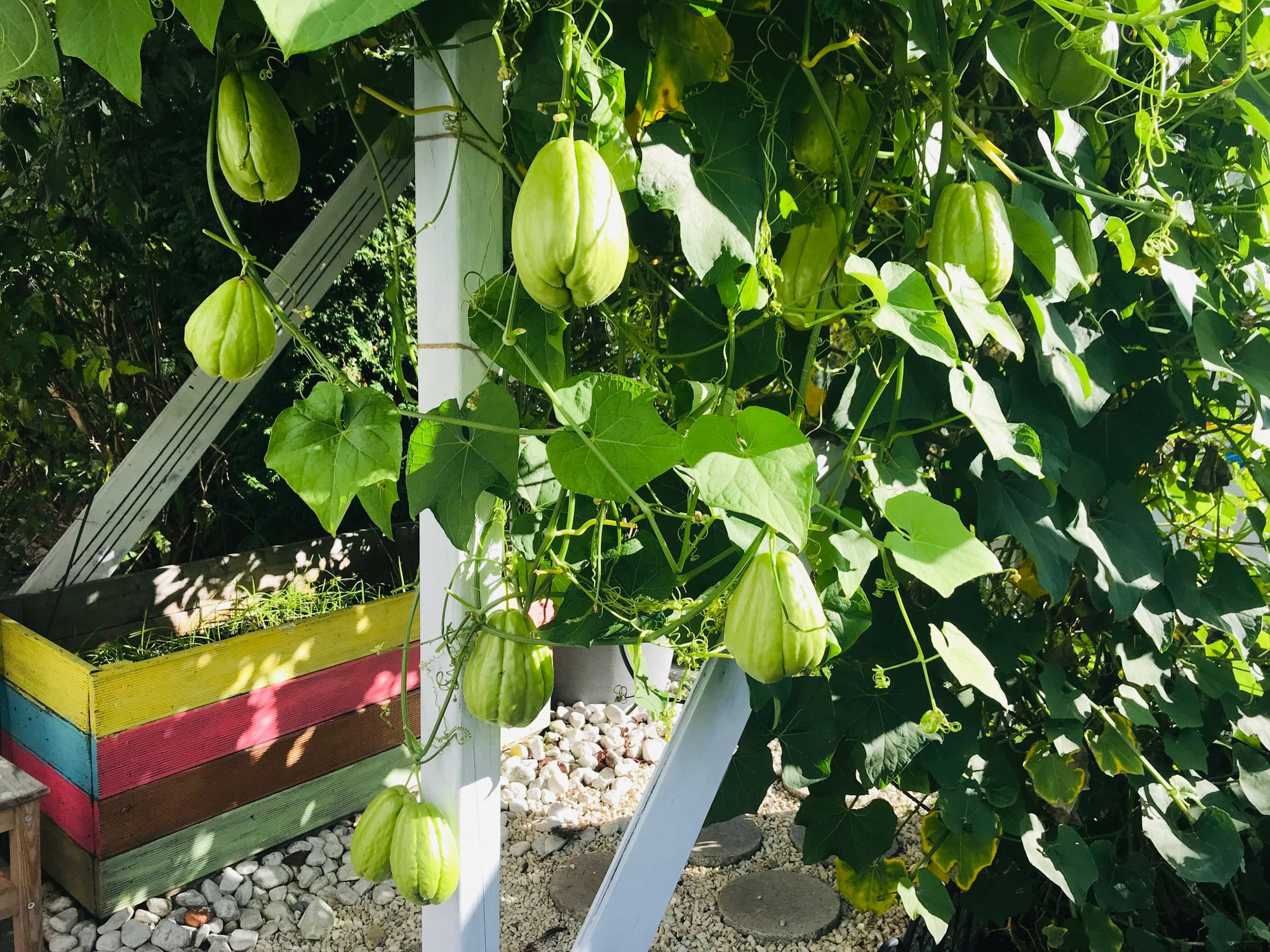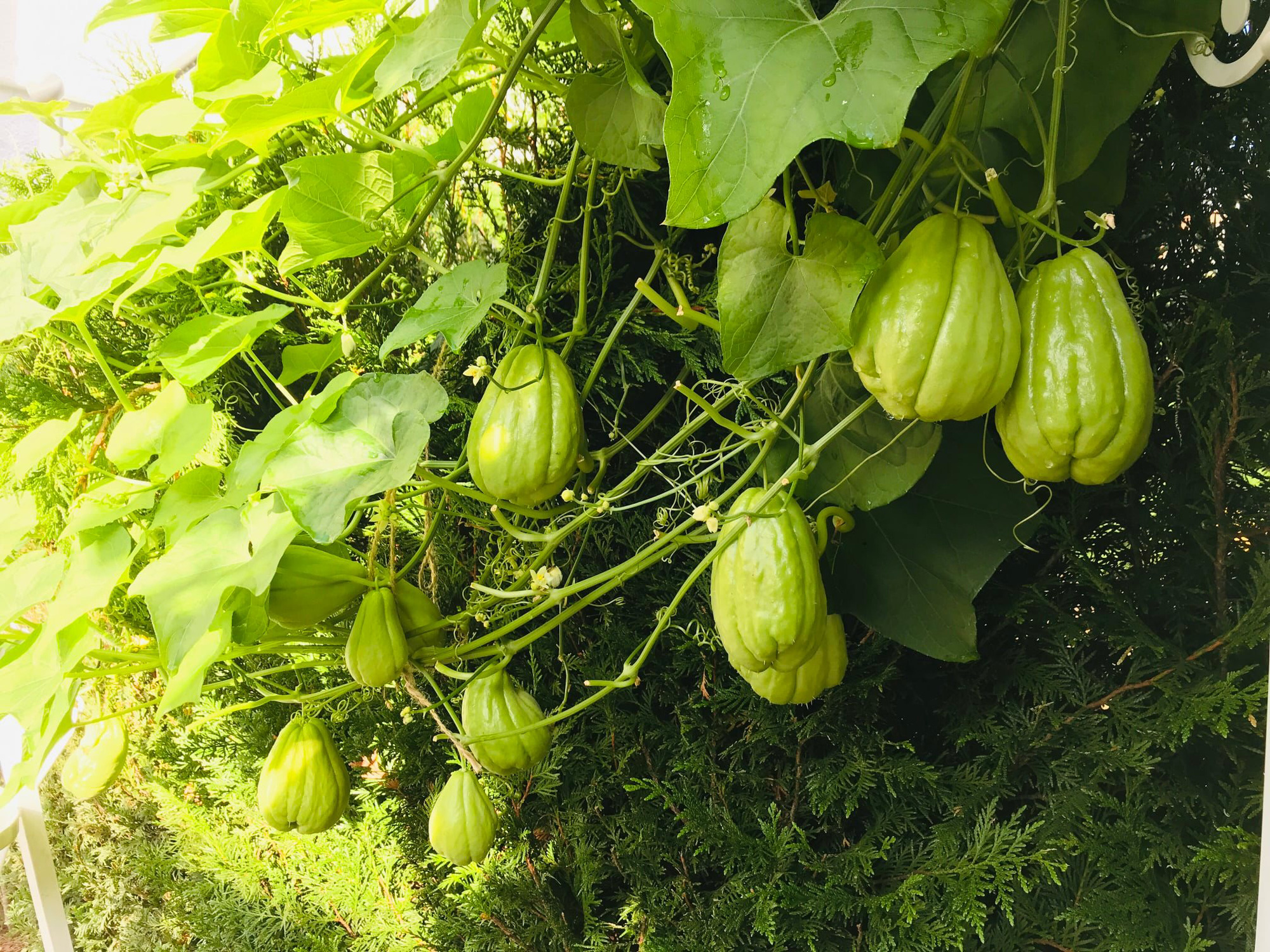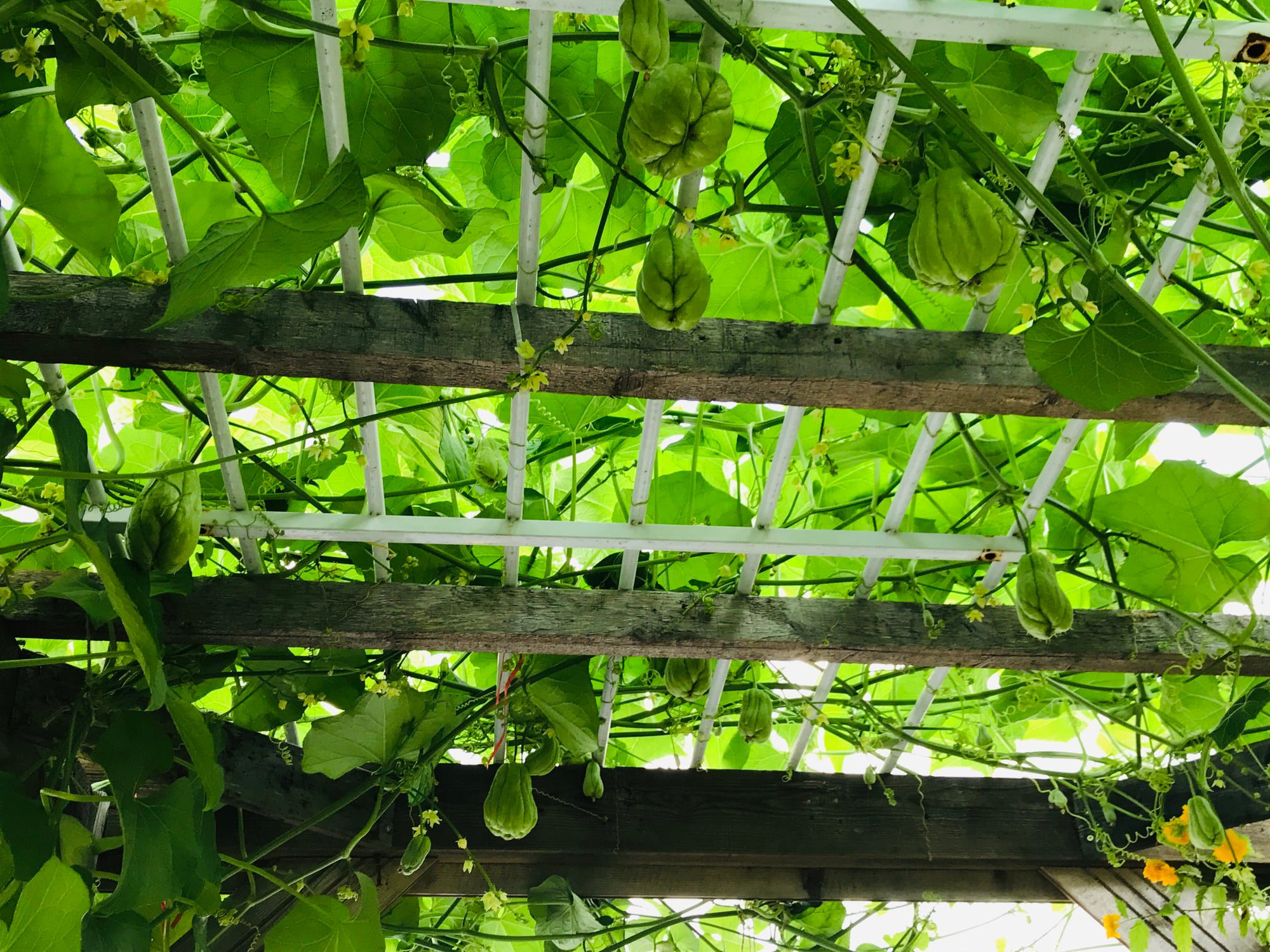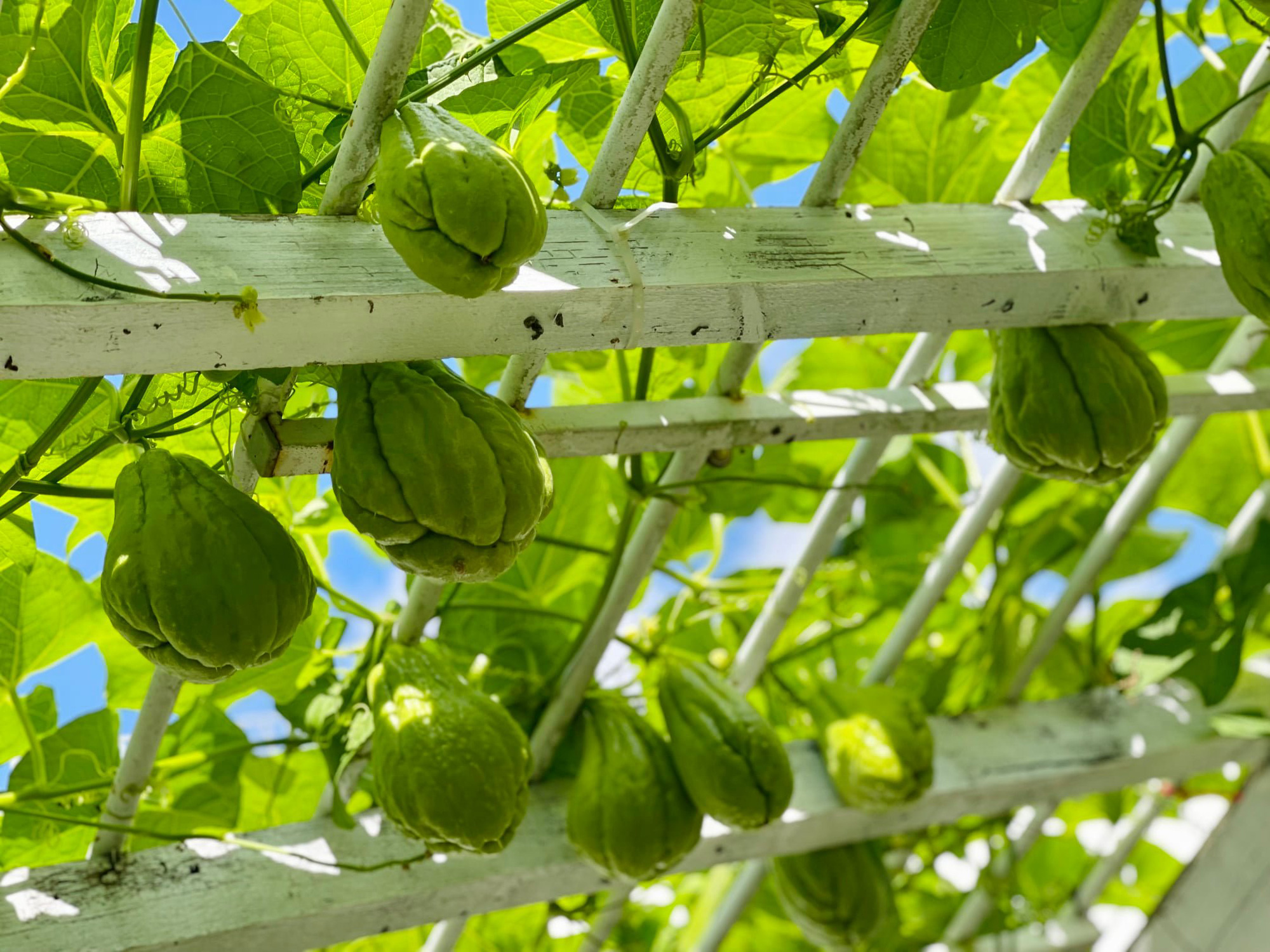 In the past, Ms. Tram did not have any experience in farming. An acquaintance gave 2 chayote as seeds and she tried to grow it. She chose to plant it in the most sunny spot in the garden. In February, it is necessary to plant chayote in the ground so that it can sprout, but since February is still cold in Germany, Ms. Tram will plant it in a pot and keep the pot indoors. In April, the weather is often unlucky, sometimes it is sunny, sometimes it can snow, or it is windy and cold, so to be sure, in May, it will be planted in the garden.
Before bringing chayote to the garden, the garden land must also be rehabilitated. Since the old soil was planted with last season's crops, there are not many nutrients left. At that time, I will buy new land, mix with old soil and a little organic fertilizer into those two types of soil. Occasionally, once every 3 weeks, apply a little organic fertilizer to the base of the tree. Water evenly and keep the soil moist.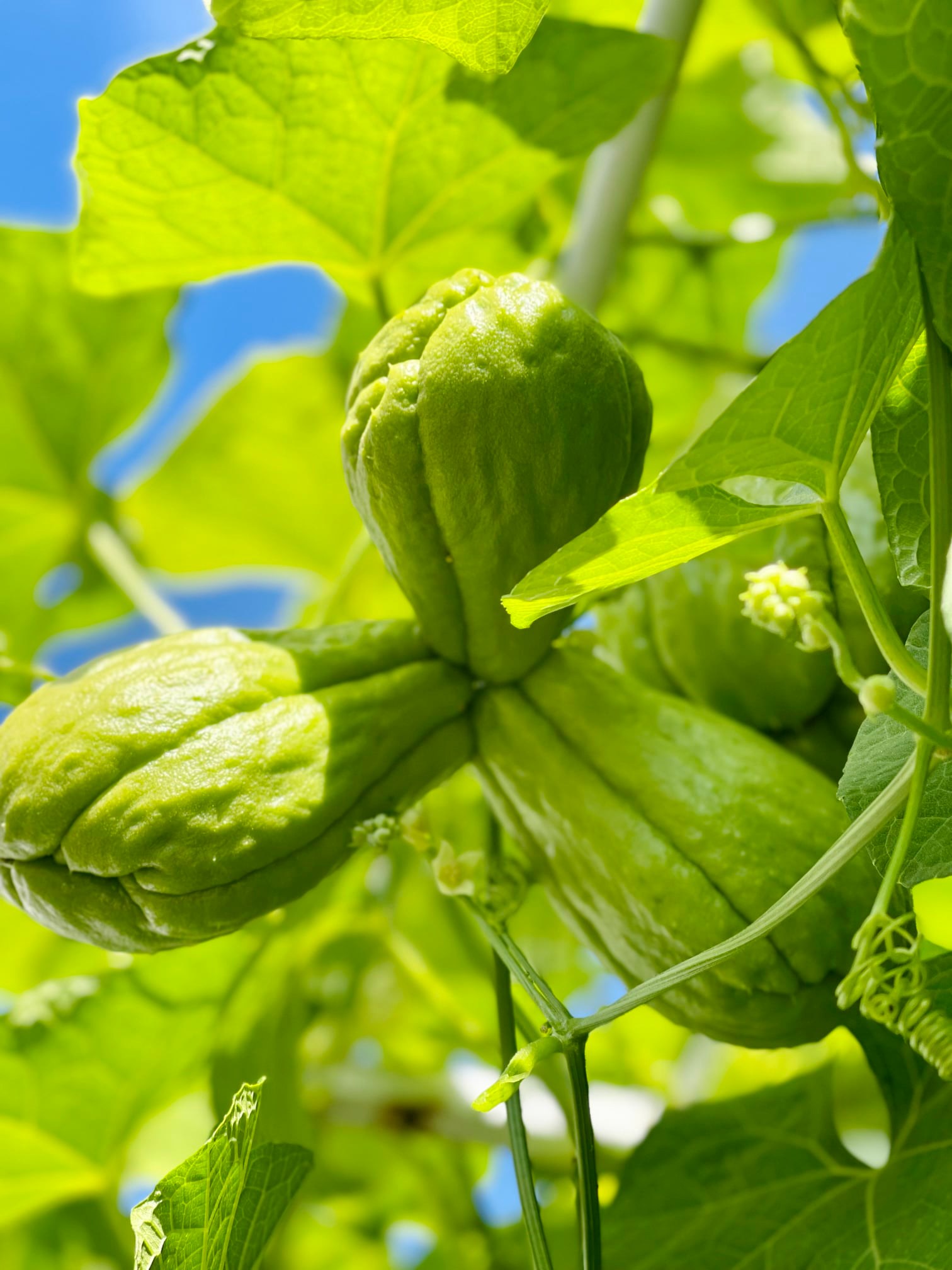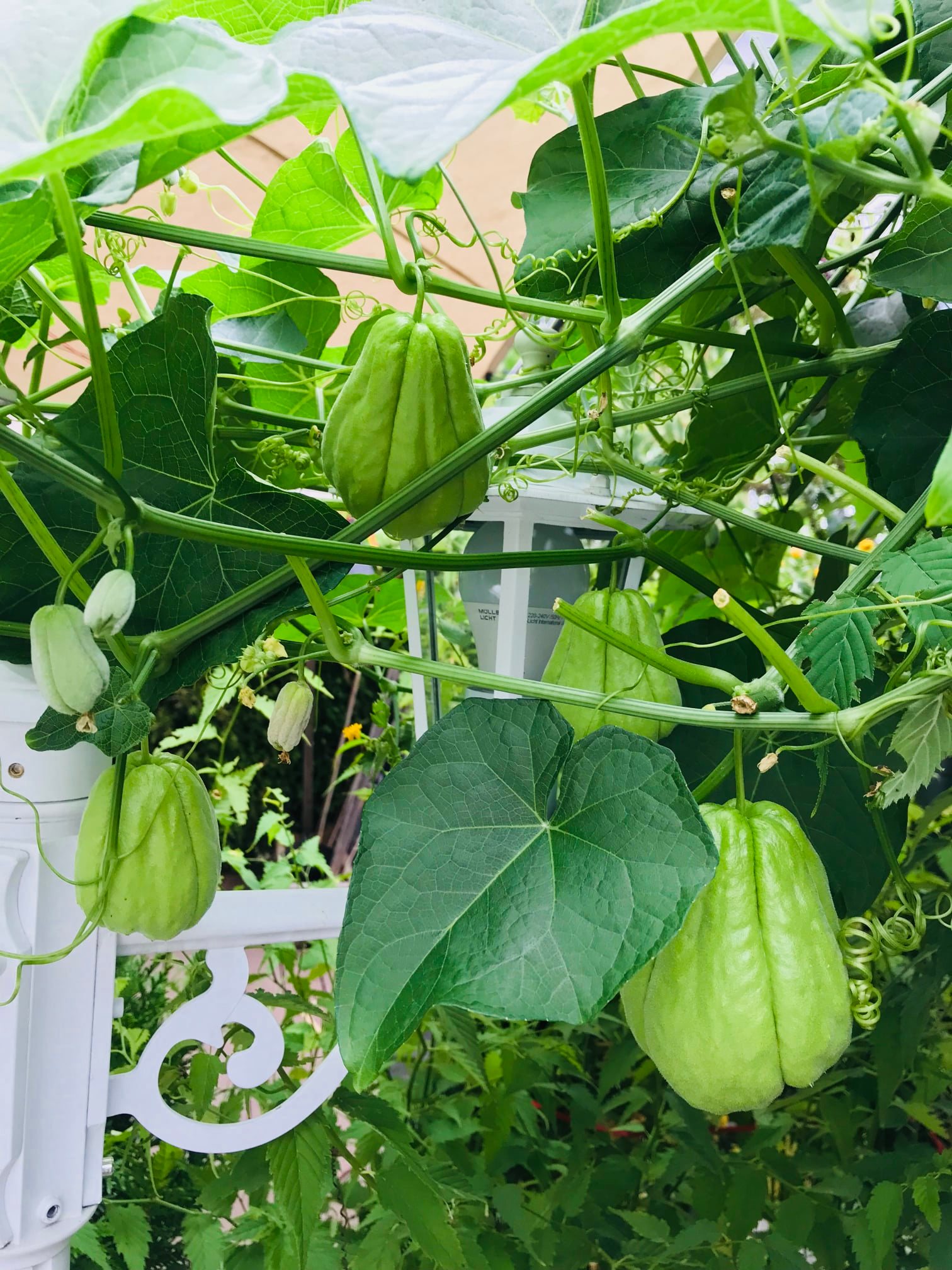 Su Su has many young roots, so when planted, it should be planted straight into the ground. If you plant chayote in a pot, chayote will still bear fruit but very little, the rest of the fruit will turn yellow, wilt and fall off due to a lack of nutrients from the soil. Another important thing is that su su needs a lot of places to climb, wherever you go, go left. So if you have a wide rig, that's also an advantage.
Tram's house is small, so many times when the tops are growing, they have to be cut because the fruit goes out there. Ms. Tram said that in recent years, the rig has produced false results. Last year, the summer in Germany was cold and rainy, but the rig also produced nearly 120 fruits.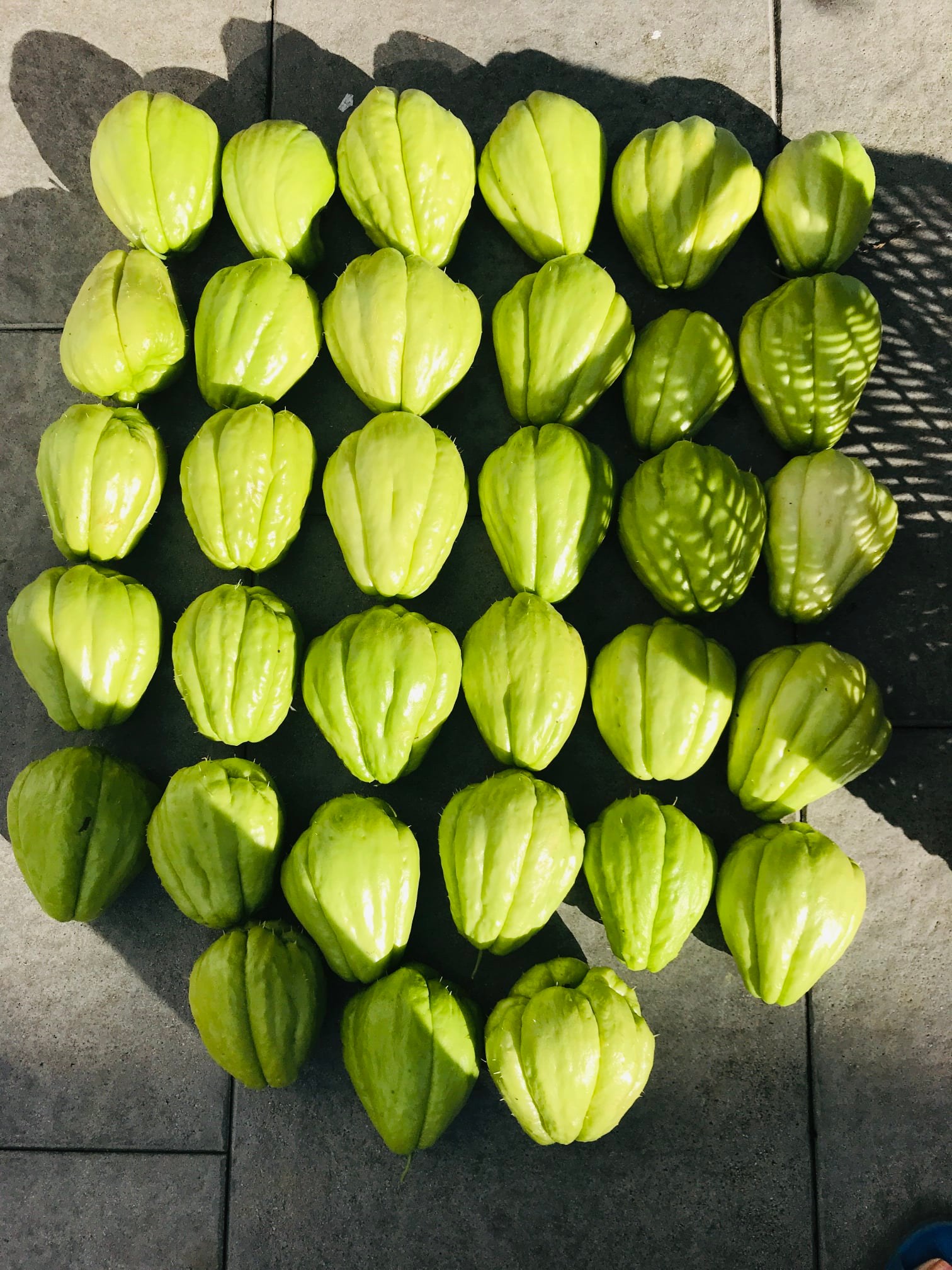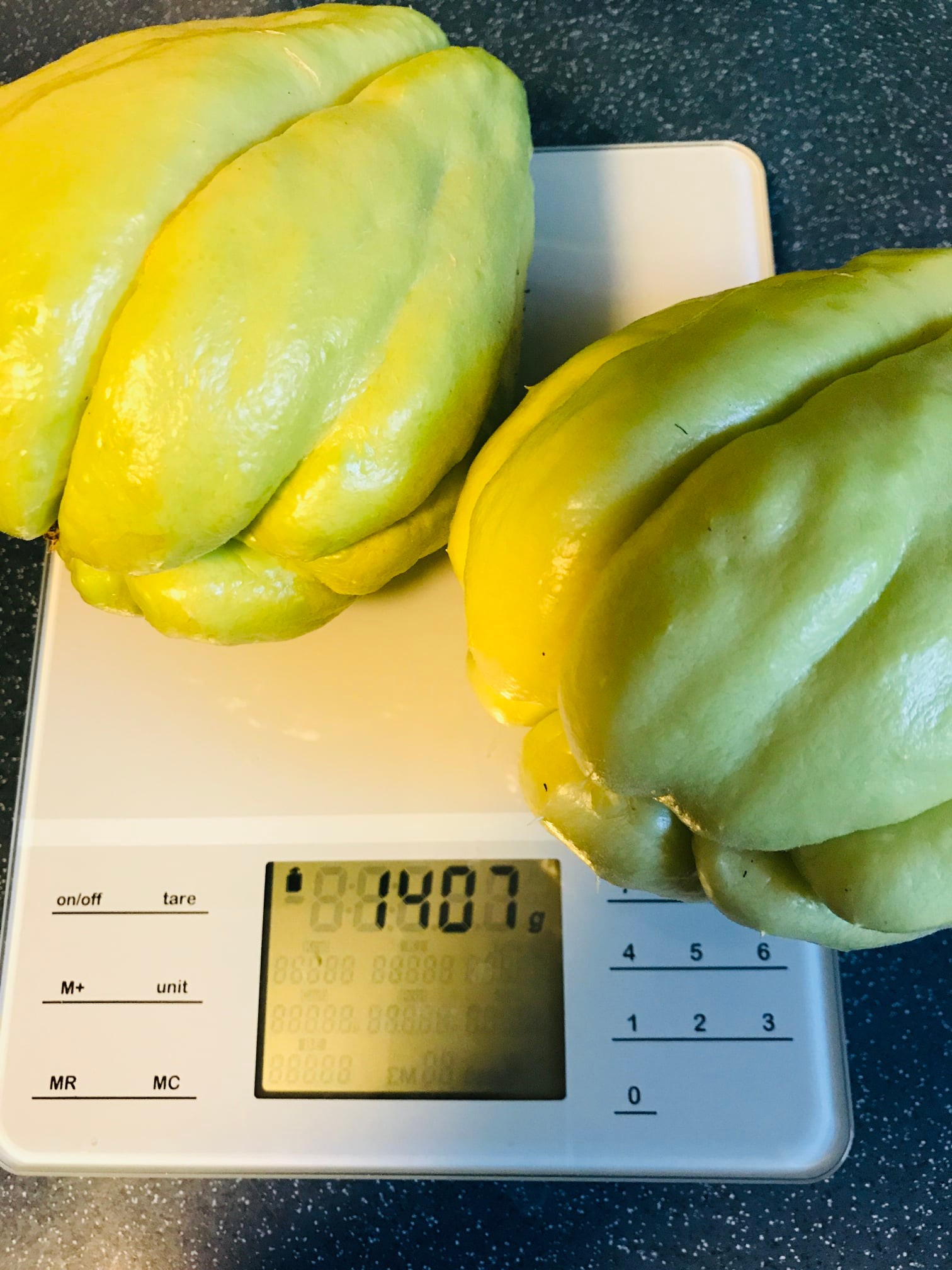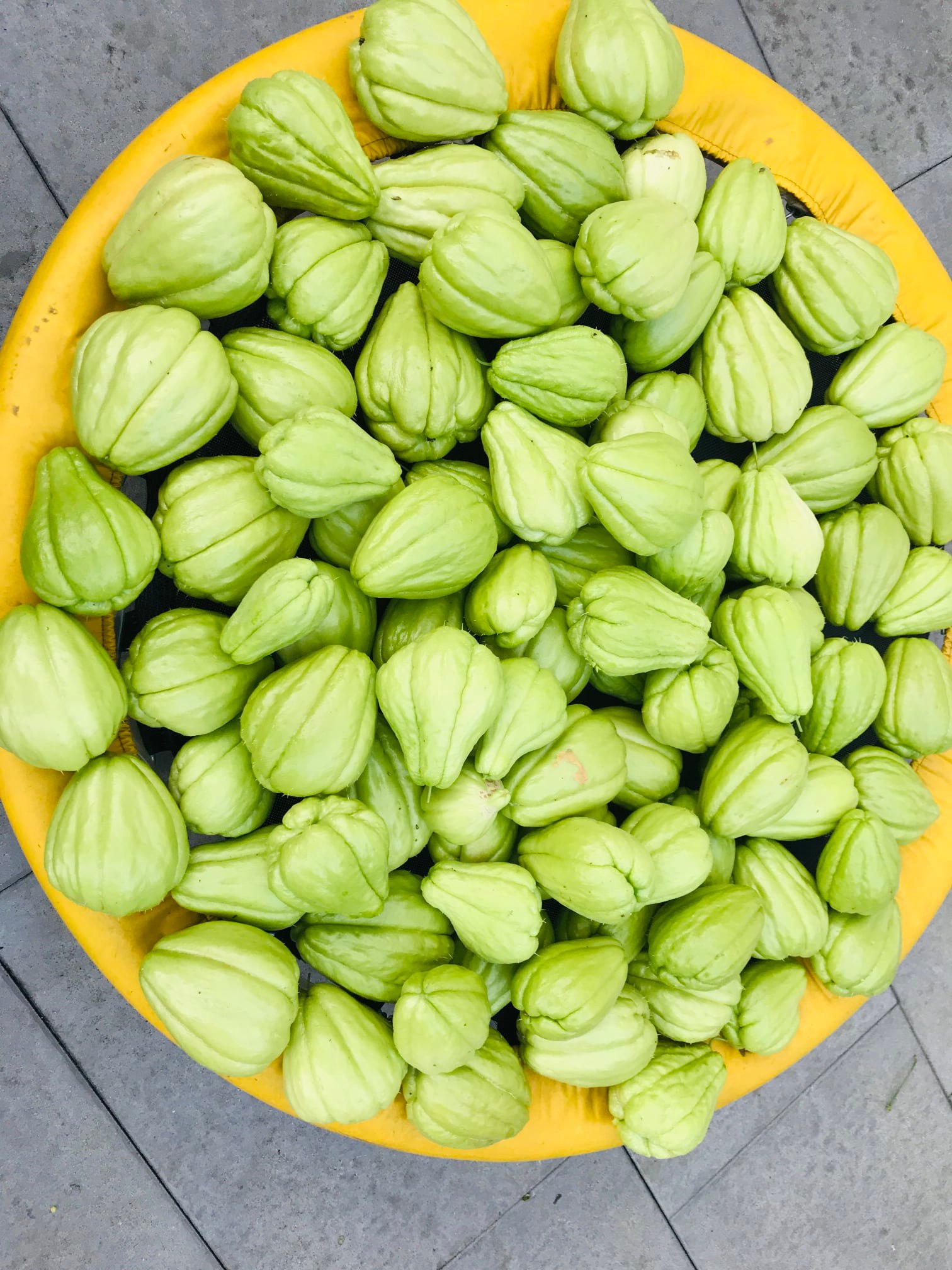 Photo: NVCC
https://afamily.vn/ngan-ngo-ngam-gian-su-su-tram-trai-cua-co-gai-viet-tai-duc-2022031617263551.chn
You are reading the article
Bewilderedly looking at a Vietnamese girl's hundred-fruited chayote in Germany

at
Blogtuan.info
– Source:
Afamily.vn
– Read the original article
here