The cryptocurrency market is entering the longest gloomy season in a year. Many investors have been split in half, divided into three accounts compared to less than a month ago. However, some others are still not negatively affected by placing their faith in Bitcoin.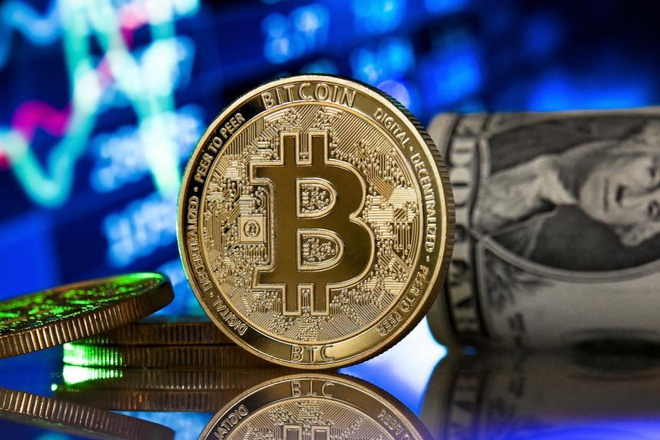 Mr. H., a small cryptocurrency player in Ho Chi Minh City, said that his account is holding Bitcoin, GMT, Dogecoin, Solana, Near. Even though the cryptocurrency market crashed, his account still only lost about 25% from its peak, not halved or tripled like some friends.
"It is all thanks to Bitcoin holding back the momentum of the account decline," said Mr. H..
Most other coins are plunging uncontrollably, but Bitcoin has only lost about 25% of its value since $40,000, so long-term investors who hold most of BTC are still struggling.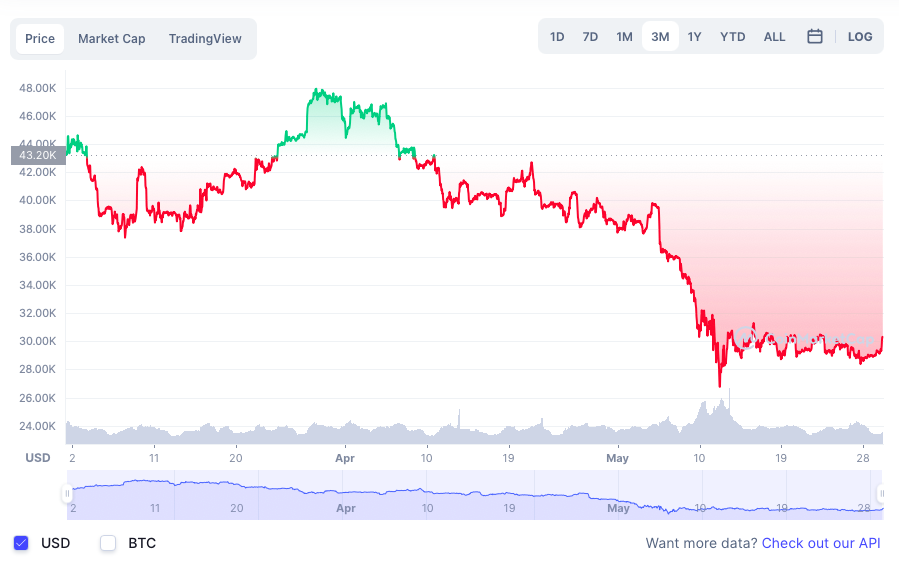 Despite entering a prolonged bearish period, Bitcoin has not lost more than 25% in value. (CoinMarketCap screenshot)
When GMT hit $2.8, this investor quickly took profits, selling more than three-quarters of his investment. "I still regret it because a few days later GMT jumped to 3.5 USD, sometimes to 4 USD," said Mr. H.More than a month ago, Mr. H.'s portfolio was about 30% for Bitcoin, a similar part for the emerging GMT coin, the rest for some potential projects like Near, Solana.
Although inclined to long-term investment, this investor could not escape the FOMO (Fear of Missing Out) mentality when jumping in to buy Dogecoin at the time when billionaire Elon Musk closed to buy Twitter. Expecting that Doge could go up to $ 0.16 but the coin supported by the Tesla boss then plummeted without stopping with the general market.
At the present time, Doge is only half of the expected price, GMT lost 1/3 of the price, Solana is also split in half, but Mr. H's account is still held by half invested in Bitcoin.
Because before that, the profit from GMT was all invested in Bitcoin by Mr. H. at the time the world's most popular coin was at the $29,000 mark. As of this morning, Bitcoin increased slightly to 30,312 USD, Mr. H's account "green" increased a bit.
Similarly, Ms. U. (District 1, Ho Chi Minh City) spends more than half of her investment money on Bitcoin, 25% on Ethereum, the rest is used for "surfing". When the market entered hibernation as it is now, most of Ms. U.'s surfing and ETH were halved or tripled, but the amount poured into BTC has not been affected to the point of concern.
In fact, Ms. U.'s current losses only affect a few percent of her initial capital outlay. The money lost when the market went down was mainly in the profits she had earned in the past.
As of this afternoon, May 30, Bitcoin and digital currencies increased slightly compared to 24 hours ago. Passing the $30,000 mark, BTC is up 4.77% compared to yesterday, popular coins like Ethereum, BNB, Solana, ADA, Dogecoin, Near, GMT. In which, only BTC increased 0.44% compared to 7 days ago – an indicator of recovery, the rest of the coins remained negative. Of the strong gainers in the past 24 hours, GMT was the most active – reaching 32.15%.
You are reading the article
Bitcoin saves long-term investors

at
Blogtuan.info
– Source:
Kenh14.Vn
– Read the original article
here