Coach Park Hang Seo affirmed that Quang Hai really wanted to attend the 31st SEA Games, but he refused to keep his students going abroad to compete.
Sharing before the friendly match with Afghanistan, Coach Park Hang Seo clearly explained Quang Hai's absence from the SEA Games: "TLet me explain like this, Quang Hai's contact with the Austrian team has a clause that if he gets injured at the SEA Games, he will not sign a contract, even though he really wants to attend.
This is difficult for Quang Hai to attend the 31st SEA Games which has a tight schedule, I myself have discussed a lot with him and to make sure there is no injury, I did not summon Quang Hai.
At this gathering, I also asked him if he wanted to participate and Quang Hai said he wanted to, so I called. As for whether I will play in Afghanistan or not, I cannot say yet."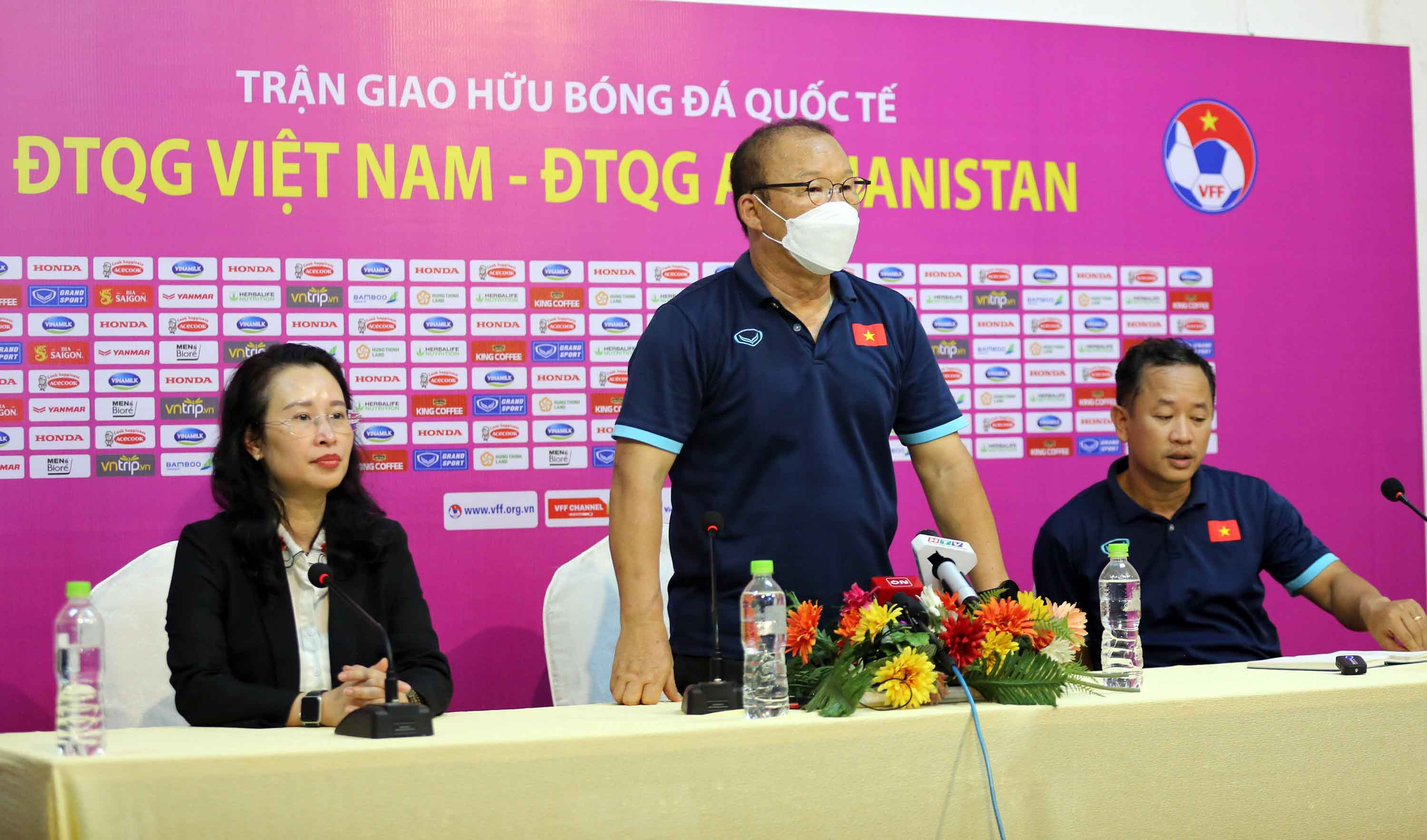 Coach Park Hang Seo talked about the goal for the match against Afghanistan: "Team Vietnam I entered the Asian Cup finals so I don't need to play in the qualifying round, but I want the team to have more matches to accumulate and test new players and tactics.
Other teams also need to meet the Vietnamese team because they are preparing for the third qualifying round of the Asian Cup, so there is a friendly match like that. For me personally, it has been many years since I led the Vietnamese team to attend a match in Ho Chi Minh City, so it is quite meaningful."
Explaining more about the "right-hand man" Lee Yong Jin's absence since the 31st SEA Games, and calling Anh Duc, Mr. Park said: "On June 4, coach Lee Yong Jin's son will get married, this is an important family matter, so I suggest that I go back to my country to attend the wedding.
In the case of Anh Duc, it does not mean anything too special. In Vietnam, there are no full-time assistants but mainly support the coach, so I decided to invite Anh Duc to participate this time.
He has also attended coaching courses, has a professional degree and is ready for a coaching career. It is very important to focus with the Vietnamese team this time as Anh Duc has experience and contributes well to the exchange of information from the BHL to the players.
Because of these reasons, I chose Anh Duc and discussed with VFF to prepare for the future…"
Meanwhile, coach Anoush Dastgir (Afghanistan) expressed his joy at having the opportunity to return to Vietnam and play against the host after the encounter many years ago.
The captain of Afghanistan also affirmed that the squad brought to Vietnam is the strongest to prepare for the third qualifying round of the Asian Cup. Afghanistan aims to have a good match against Vietnam at Thong Nhat Stadium.
MA (write)
You are reading the article
I have to keep Quang Hai's feet

at
Blogtuan.info
– Source:
vietnamnet.vn
– Read the original article
here