Hanoi classifies regions to apply different tuition rates, including: Pre-school children, high school students in districts and wards in Son Tay town (region 1); students in towns of the city's districts (region 2); public school students in the communes of Son Tay town and communes of the city's district (region 3); public school students in mountainous communes (region 4).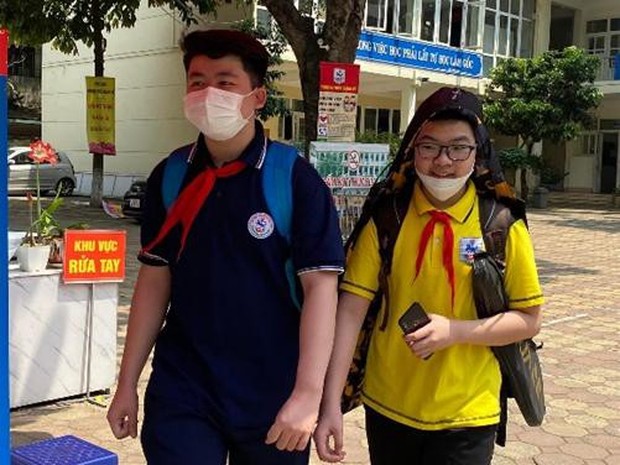 Hanoi plans to double tuition fees at secondary school next school year Photo: Quynh Anh
Specifically, in the next school year 2022-2023, if a new tuition rate is imposed, in region 1, preschool children; primary school student; Middle and high school students have to pay 300,000 VND/month. However, primary school students are currently exempted from tuition fees, especially for secondary school, this school year will double that of the 2021-2022 school year (155,000 VND/month/child). In particular, according to the draft, this fee has a roadmap to increase gradually year by year, by 2025-2026, the tuition fee of the middle school – high school level in region 1 will increase to 650,000 VND/month (more than 4 times the tuition fee for the school year). this).
For region 4, students in mountainous communes are entitled to the lowest fee. The next school year is also expected to collect 50,000 VND/month for junior high school; 100,000 VND/month for high school. By 2025-2026, the revenue at these two levels will also increase to 170,000 VND for middle school and 220,000 VND for high school. Thus, compared with the school year 2021-2022, the tuition fee of students at all levels is only from 19,000; 75,000 and 155,000 VND respectively for the regions, the revenue in the next school year will increase a lot.
As soon as the information was released, many parents were worried "screaming" if they had to pay the new fee.
Ms. Nguyen Thi Thanh Ha (with 1 child in high school, 1 child entering 6th grade from next year) said: "Public education must move towards exemption and reduction of tuition fees, reducing the burden on the people, but Hanoi calculates the method of education. increased sentence". With the new tuition fee, each student will have to pay 2-3 million VND/month, including only basic expenses such as: Boarding meals; 2 lessons/day, water bill. Not to mention, if parents want to let their children participate in sports activities, increase social skills, learn English in schools, take extra lessons, etc., they have to pay a lot of money, not all families can afford it. conditions, Ms. Ha said.
The increase is too high
Ms. Tran Thi Le Ha, Principal of Phu La Secondary School, Ha Dong District (Hanoi) said that the school had just held a meeting with the representative board of parents of students in all grades to get opinions. More than 80% of the respondents disagreed with the doubling of tuition fees in the next school year as well as the roadmap for the increase in the following years. With the current tuition fee of 155,000 VND/month, the school has not paid the full amount until the end of the year.
Pham Tat Dong, former deputy head of the Central Propaganda Department, said that after the covid-19 pandemic, more than 100,000 businesses withdrew from the market, leading to many people losing their jobs and struggling in life. Meanwhile, the increase in gasoline prices, increase in textbook prices, and increase in tuition fees will push many people into difficulties and impasse. When calculating tuition fees, many factors must be taken into account, including the situation of social life in each period and each group of people. "The current tuition fee for secondary school in Region 1 is 155,000 VND/month, doubling next year and quadrupling in the following years, which is a horrible increase that is difficult for people to accept."he said.
Deputy Director of the Hanoi Department of Education and Training Pham Xuan Tien said that Hanoi has developed a draft regulation on tuition fees at all levels based on the Government's Resolution 81/2021 stipulating the mechanism for collection and management of tuition fees for students. with public educational institutions, in which the fees for all levels are at the floor level. In the following years, tuition fees are expected to remain the lowest.
Dr. Le Viet Khuyen, Vice Chairman of the Association of Vietnam Universities and Colleges also commented that the increase in tuition fees at public schools like Hanoi is expected to be too high. With such a fee, applied in the coming school years, people with low incomes will find it very difficult to send their children to school. "Hanoi should calculate the average income of people in each area to calculate a reasonable income. However, as a public school must be invested with the school budget, parents only share a certain part of the tuition fee, not many times as expected.Mr. Khuyen said.
You are reading the article
More burden for parents

at
Blogtuan.info
– Source:
Kenh14.Vn
– Read the original article
here