Previously, when referring to Phan Hien, many people only remembered him as "half" of "Queen of dancesport", the judge of many hit game shows, Khanh Thi. But time has proven, Khanh Thi has "a sharp eye".
Phan Hien's career is increasingly sublimated. He and his dance partner Thu Huong "won" 3 gold medals at the 31st SEA Games. Khanh Thi assessed the achievements of Phan Hien – Thu Huong had "created a new history for Vietnamese dancesport". After many years together, the couple decided to get on a flower car at the end of this year.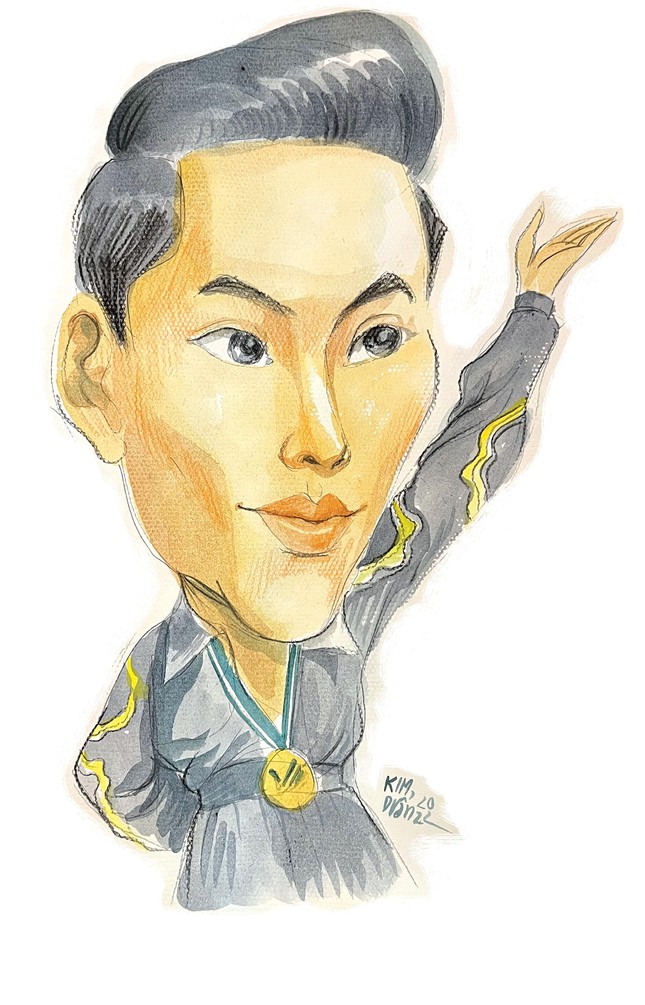 Ask Phan Hien: "Is winning 3 gold medals at the 31st SEA Games in your plans?". The international dancesport master laughed happily: "I only set a maximum goal of 2 gold medals. Last time, I won 1 already, so this time I just want one more…".
Even the "Queen of dancesport", the woman behind Phan Hien, could not have guessed her husband's resounding victory at the 31st SEA Games. She decided to give her husband a big reward: A motorbike worth more than a billion bronze, causing many male viewers interested in the golden couple in the dancesport village to exclaim in admiration: That's right!
Phan Hien was also surprised by his wife's valuable and psychological gift. He revealed: This is Khanh Thi's fourth motorcycle for her husband. The dancesport grandmaster joked: "She gave 3 of them and then she gave 1 more? Unexpectedly, human calculation is not equal to heaven calculation". They have been together for more than ten years and have two lovely children, but have not yet married.
After the success at the 31st SEA Games, Phan Hien announced to marry Khanh Thi at the end of this year. But a specific time has not been determined. Because Phan Hien still has many tournaments to conquer, in June he competes in dancesport in Spain for the national champions, in July is in Italy, in November is the World Championship in Italy . Phan Hien is the 9th largest dancesport athlete in Asia.
Phan Hien: Career chooses me
Phan Hien's real name is Nguyen Doan Minh Truong, born in 1993, in a family with good conditions in Ho Chi Minh City: "My profession chooses me, I think. No one in my family is an artist, all of them do business." Few people know that, as a teenager, Phan Hien used to have autism: "At that time, I didn't socialize with outsiders, I just came home from school and didn't go out, didn't have friends. Hoang My An, a singer who sings for Thuy Nga Center in Paris, is now my cousin.
Hoang My An's mother was afraid that I would get worse with autism, so Miss Hai took me to dancesport school, so that I could interact with friends. My original purpose was just to exercise, but unexpectedly, it turned into a career. I was 14 or 15 years old at that time," said Phan Hien.
He also revealed that dance partner Thu Huong, who had just "winned" with him 3 gold medals in 3 participating categories: 5 latin almighty dances, paso and jive mono, practiced dancesport 3 years before him. Thu Huong is about 4 years older than Phan Hien.
To have a great career with dancesport requires expensive expenses. I asked Phan Hien: "Is the material value from 3 gold medals enough to make up for what the athlete spends?". Without thinking, Phan Hien replied: "No. Of course it is. We can only make up a part of the cost."
According to Phan Hien, sports dance in Vietnam is currently very popular, but there are not many people who understand and know about this sport, those who stick to dancesport as karma are even rarer. Phan Hien – Khanh Thi has a school to train teenagers who love dancesport, he noticed: "This subject from teenagers and below attracts a lot of people.
But to go into the professional left little. Because over 16 years old, young people begin to worry about "rice and money", so they don't follow dancesport anymore. If you only live on salary, your salary cannot make up for the cost of going to school and training." He also expressed his feelings, that with dancesport many people only know Chi Anh, Khanh Thi, Phan Hien: "The public doesn't know much in the next generation".
Back to the prestigious medals at the 31st SEA Games. Behind the smile is always sweat and tears. Phan Hien said: "The Covid-19 pandemic hit, for two years, Thu Huong and I rarely practiced together. Saigon reopens, we plan training.
2 months before the tournament, we flew to Italy for training, sprinting to equal the training time of 2 years, so the volume of training was quite hard compared to normal. Normally we practice about 4 hours a day. If it's urgent, then at least 4 hours a day, usually we practice for 5-8 hours."
Phan Hien is attached to dancesport for fame or profit? He laughed: "I often joke, I do it for passion. We are paid in the highest bracket of athletes. The couple has opened a small school, just enough to pay for short training sessions, about 3-4 days, but training for up to 2 months in Europe as recently as the past is… a deep deficit.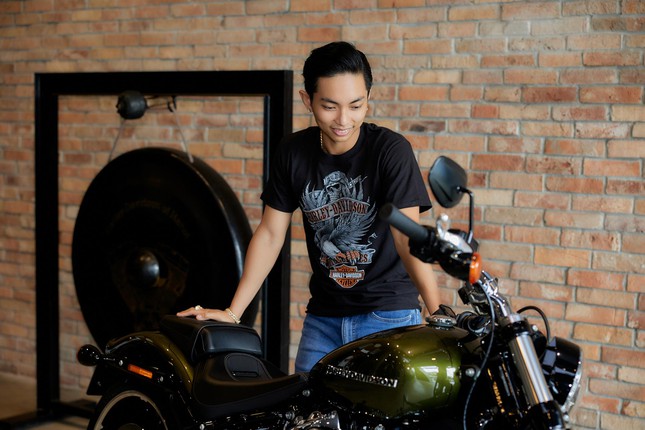 Khanh Thi is very similar to my great-grandmother
Many people think that Chi Anh, Khanh Thi's ex-lover, is one of Phan Hien's coaches at this SEA Games. Phan Hien said: "Brother Chi Anh is not my coach but has always supported me in all tournaments from the past to now. He is always enthusiastic."
Phan Hien has never been upset with his wife's past: "I know the relationship of Mr. Chi Anh and Thi. But for me, Chi Anh is like a teacher. In a private conversation with him, I said, no matter what your previous relationship with Thi is, you are still my teacher. I always say the same to the media. Because without Chi Anh, there would be no Phan Hien today. I was educated in the tradition of respecting the teacher, always putting the teacher-student relationship first, everything else counts."
Less than ten years old Khanh Thi has a surplus, when Phan Hien loves Khanh Thi, his name is somewhat "inferior" compared to his girlfriend. But from the beginning, Phan Hien did not feel pressured. He confided: "We never thought of who was more famous than the other, who had more money than the other, what the other half's family was like… The two came together with love. The exam is very delicate, not mentioning or "going to class" I have to be this, that …".
Khanh Thi supports her husband's career, wishing Phan Hien to shine more and more. According to Phan Hien, marrying people with the same profession is better than bad: "Two people can sympathize with each other a lot. Because this profession is quite sensitive. If the wife is outside the profession, then just go to practice with other women, some days practice up to 8 hours, surely no one can stand me."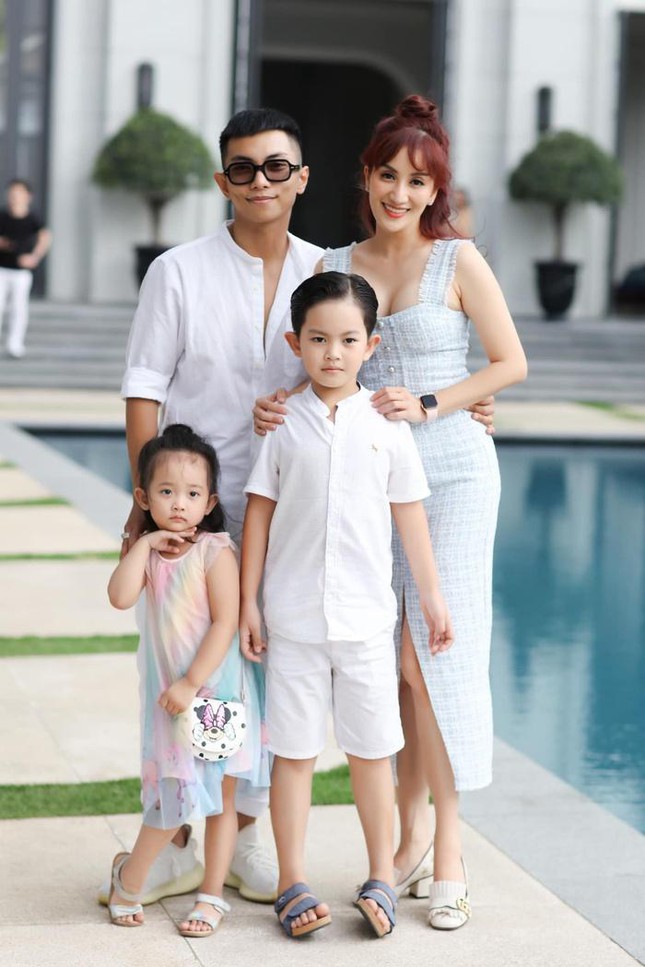 "This profession is quite sensitive. If the wife is outside the profession, then just go to practice with other women, some days practice up to 8 hours, surely no one can stand me."

Dancesport dancer Phan Hien
Phan Hien revealed: "Queen of dancesport" rarely goes to the kitchen. But when Phan Hien practiced sprinting Khanh Thi, there was a big change: She went to the kitchen to cook to serve her husband. But the dish Khanh Thi treated her husband to, Phan Hien accepted, "don't know what the name of the dish is".
He shared: "Before Thi came home as a bride, I told her family in advance that Thi did not know how to stay at home, did not know how to cook anything in the kitchen. But in my house, women rarely go to the kitchen, so it's quite normal." The question many viewers wondered: "Why did Phan Hien love and marry Khanh Thi?".
The dancesport master replied: "I am impressed with Thi in her beauty and sophistication. Thi is a profound woman and resembles my great-grandmother." He is not afraid to reveal, he also had many women in the past. They were young girls but he still chose Thi in the end. The great-grandmother deeply influenced Phan Hien's behavior: "My great-grandmother doesn't brag, but lives very emotional."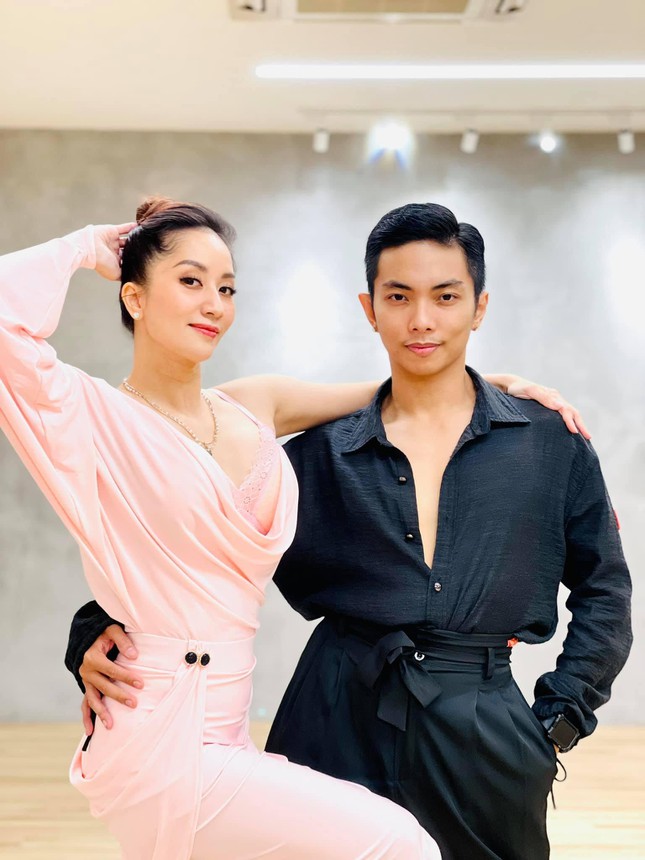 When the love story of Phan Hien – Khanh Thi was "revealed", Khanh Thi was under a lot of pressure. At that time, Phan Hien stood up to protect his woman, because in his opinion, if he couldn't protect the person he loved, he couldn't do anything. In family life, whenever conflicts arise, Phan Hien is always the first to make up.
Khanh Thi has a sensitive soul, so she sheds tears easily. Every time Khanh Thi cried, Phan Hien thought of all sorts of tricks to comfort his wife, sometimes making jokes, sometimes giving gifts. "Dancesport queen" is jealous, sometimes jealous in imagination.
Phan Hien told a funny story: "Normally, if I don't go to practice, I wake up at 11 o'clock. This morning, I got up at 6 o'clock, went to buy breakfast. Thi texting, where are you going so early? I took pictures to prove I bought breakfast. Thi said, see wrong. Obviously I went to buy breakfast but Thi still thought about going out. That's cute!" Ask Phan Hien: "Have you ever been jealous of Khanh Thi?". The dancesport master confessed: "Yes, yes".
Like father Like Son
Phan Hien – Khanh Thi's son, baby Kubi, has participated in many sports dance competitions and won a series of gold and silver medals. Many people predict that Kubi will become a famous dancer in the future. And Phan Hien is quite reserved when evaluating Kubi: "She also has a little talent, but she doesn't know how far she will develop? I let him develop naturally, when my son is mature enough he will decide for himself which path to follow." The work is busy, but every day, the young father still tries to spend a maximum of about 3 hours to take care of, listen to and play with his two children.
You are reading the article
Phan Hien opens up about his profession and marriage

at
Blogtuan.info
– Source:
danviet.vn
– Read the original article
here