Giới trẻ
The secret to learning English of Vinh Phuc female students: The word stigmatized is pronounced like a man, no one understands a series of remarkable achievements
Few people know that to get that achievement, Cao Thi Diem Quynh had to study and practice very hard.
Used to be discriminated against to pronounce English like a man's voice
On May 5, a 12th grade female student at Nguyen Viet Xuan High School (Vinh Phuc) Cao Thi Diem Quynh was honored to become the youngest Party member of the school.
In order to be honored to stand in the ranks of the Party, Quynh has worked hard to study and practice a lot. Looking at Quynh's extended achievements, many "eyes of the letter O, mouth of the letter A" admire because it is really excellent.
During her school years at the junior high school level, Quynh won the first prize in the district level Internet English Olympiad, the second prize in the district level English competition for excellent students, the second prize in English in the district-level HSG exam, and the second prize Promoting English subject at provincial level…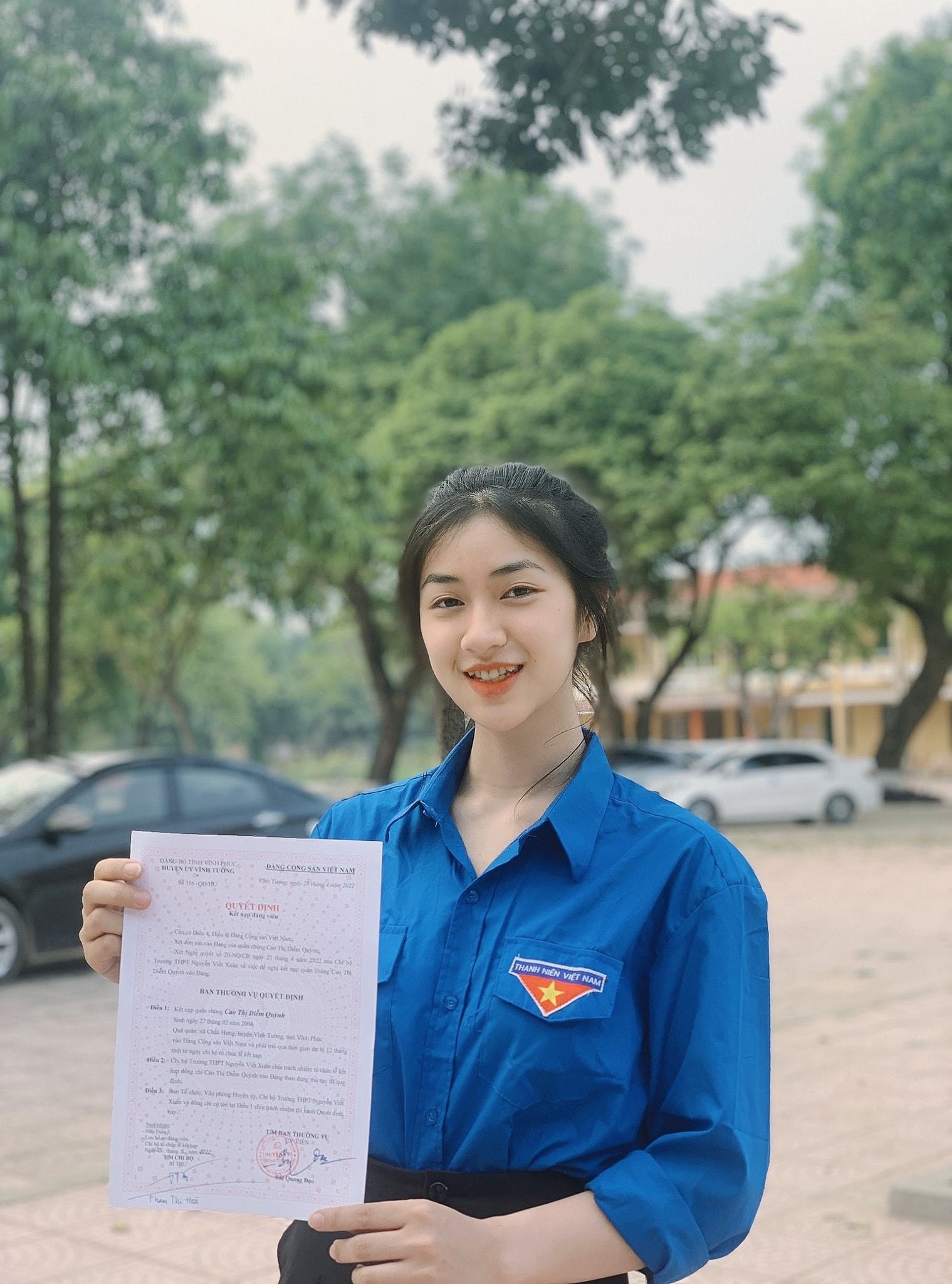 Diem Quynh on the party's admission ceremony.
After three years of studying at Nguyen Viet Xuan High School, Quynh continued to win the third prize in English in the 11th grade HSG selection exam in the 2020-2021 school year; Consolation prize of the provincial competition "Teachers in my eyes" in the school year 2020-2021; Bronze medal in Internet English Olympiad for high school students in the academic year 2020-2021; Third prize in English in the HSG 12th grade high school selection exam in 2021-2022.
This achievement is exchanged for the continuous efforts of the student of Vinh Phuc province. Few people know that Quynh was once ridiculed for speaking English, but "Americans don't understand", her voice is as loud as a man's.
Quynh recounted: "English has always been my favorite subject and I have always been interested in my foreign language ability. Since the 3rd grade, when a teacher came to school, she inspired me. However, after that I was "disillusioned" because people make fun of my ability to speak foreign languages.
At that time, when I was in grade 5 – 6, I often went to my teacher's house to learn more English. Everyone in my class often laughs, saying that I sound like a man, Americans listen to English but don't understand… Being teased like that, I'm quite sad. At home, I thought a lot about how to make people accept and love my English accent.
I don't like being disrespected. I don't want that myself and I can improve my pronunciation. After that, I started to work harder on my English learning path."
Going to work as a waiter to communicate with Western customers
Thinking is doing, Quynh dives into studying and improving her English. Fortunately, there are teachers near the house who inspire and guide every step of the way, practice hard work and discipline when learning foreign languages, so Quynh progressed very quickly.
"In middle school, I was on the team for the competitive exam for good students, so it promoted my English a lot. When I was in high school, I was self-taught. Normally, I spend 1 hour a day studying foreign languages. Closer to the exam date, speed up to 3-4 hours/day.
I mainly listen to music. People often say that if you want to learn English well, you should listen to music and watch movies. But in order to have the ability to read, you must know a bit of a foreign language. After that, I remember the melody and learn deeply about the grammar of the lyrics to achieve high efficiency.
In my opinion, at the beginning of learning without root, without learning anything about grammar and then listening to English, it is very difficult to learn and quickly discouraged."a female student from Nguyen Viet Xuan High School shared.
Not only learning foreign languages ​​through books, Quynh also regularly practices to communicate in foreign languages ​​more confidently. The female student said that every summer she asked her family to let her go to Sapa to help her uncle do tourism there. Quynh's main purpose is to have the opportunity to communicate with foreigners, quickly raise "level" (level – PV).
"From the 6th grade, I asked my parents for permission to work with my uncle and aunt in Sapa during the summer holidays. There, I communicate with Western customers about ordering food, serving…
Before that, I was also shy, seeing foreigners faltering only a few basic sentences. But gradually I become more confident, communicate more fluently and customers understand what I say more easily.
In my opinion, learning a language is to follow the long-lasting rain pattern. You have to study at least 1 hour every day. But interrupting for 1 week and then 1 month to go back to school is not effective. So whether I go to school, work, at school, on the road, whenever I have free time, I always focus on English through listening to music, watching movies, watching the news…"Quynh shared.
When there is no one to communicate with, Quynh also monologues with herself in a foreign language. This way she can listen to her voice to improve. At the same time help yourself learn many new words and remember longer.
"Currently, I only spend 30 minutes a day learning English. When learning a foreign language, people don't need too much pressure like a month to learn 600 words… but just learn gently, while learning while playing. Like me, I also have a style that often chats with friends in English to improve new words effectively", Diem Quynh revealed more about her foreign language learning method.
Aries
Photo: NVCC
You are reading the article
The secret to learning English of Vinh Phuc female students: The word stigmatized is pronounced like a man, no one understands a series of remarkable achievements

at
Blogtuan.info
– Source:
infonet.vietnamnet.vn
– Read the original article
here