A VinFast VF 8 with a sealed logo was spotted charging at a public charging station in Canada. This means that the VF 8 in particular and VinFast's electric vehicles in general can share a charging station with many other brands' electric vehicles when sold to the Canadian market, unlike Vietnam, which uses charging posts. VinFast's own.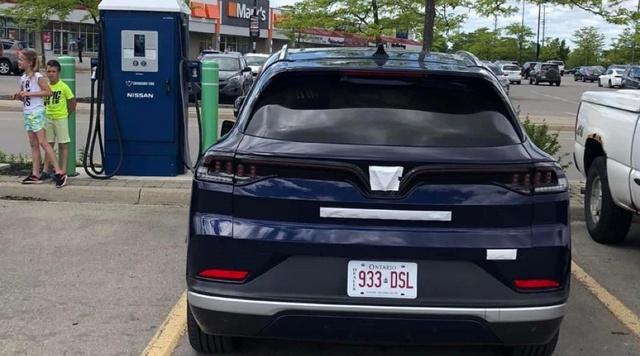 VinFast VF 8 plugs in to charge on the road in Canada.
According to research, the charging pillar for this VinFast VF 8 is a SmartDC fast charging pillar. Using standard CHAdeMO and SAE J1772 Combo connectors, this charging post is fully compatible with all electric vehicles on the market. That is also the reason that VF 8 can be easily charged at this charging post.
This type of charging post is designed with extreme weather resistance in mind. According to the manufacturer's announcement, the aluminum type of the charging cylinder shell has high durability. The charging post can operate normally at temperatures from minus 40 degrees Celsius to 50 degrees Celsius. Power is from 50 kW to 100 kW.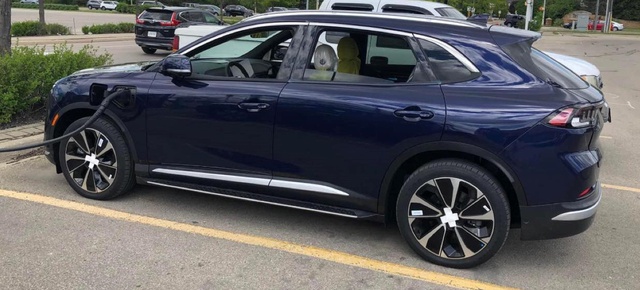 The charging post is compatible with many electric vehicles, so it is easy to charge the VF 8.
This charging post is also integrated with modern technology with the ability to confirm the incoming vehicle to charge via RFID card or via the mobile application of FLO – the unit that provides this type of charging post. Payment is also made online easily. In particular, in Canada, the charging post supports a free 24/7 hotline to assist drivers when needed.
According to Canada's Ev-chargers site, the price of this FLO SmartDC charging post ranges from CAD 45,750 to CAD 65,750 depending on capacity. This price is equivalent to the highest equivalent of about 1.2 billion VND and does not include tax. Thus, each charging post costs the same as an SUV like VinFast VF 8 or VF 9.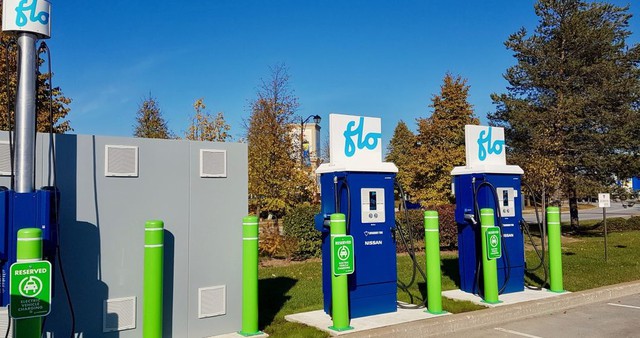 Smart charging posts are expensive.
VinFast VF 8 is one of two electric car models of the Vietnamese automaker that have been opened for sale in Canada as a deposit. The other model is the VF 9 in the higher segment. Both SUVs have modern equipment such as "full" LED lights, a 15.4-inch screen inside the car, a panoramic sunroof, and smart technology features in the ADAS and Smart Services packages.
The electric motor on both cars has a capacity of 402 horsepower, 640 Nm of torque and four-wheel drive. Two versions of VF 8 give a range of about 460 km and 510 km after a single charge. The battery of the two versions of VF 9 gives a distance of about 485 km and 680 km after a single charge.
In any market, VinFast also sells VF 8 and VF 9 with Eco and Plus version options. This price does not include batteries and batteries are provided as rental.
Not only rolling in Canada, VinFast VF 8 also wears a number plate and appears on American streets. However, these cars are only a test form, not a commercial version sold to the market.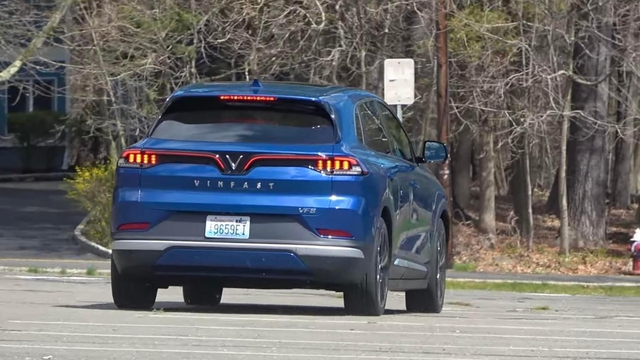 VF 8 wears a number plate in the US.
In Vietnam, VinFast VF 8 has also been seen on the road but has not yet worn a license plate. As expected, this electric car model will be handed over from the end of this year. The starting price of VF 8 in Vietnam is VND 1,057 billion and the price of VF 9 is from VND 1,443 billion.

https://autopro.com.vn/tru-sac-cam-vinfast-vf-8-tai-canada-co-gia-quy-doi-hon-12-ty-dong-tuong-thich-nhieu-loai- Xe-Nhan-Dien-Dien-Minh-Chiu-Duong-Duong-Tien-Tien-Tien-Dien-Dien-Dien-Dien-Dien-Dien-Mr-20220531112314148.chn
You are reading the article
The VinFast VF 8 plug in Canada has a conversion price of more than 1.2 billion VND, compatible with many vehicles, intelligent identification, and can withstand harsh weather.

at
Blogtuan.info
– Source:
autopro.com.vn
– Read the original article
here