Ẩm thực
A unique noodle dish that confuses many people
This dish is called Quang noodles, but it is not ordinary Quang noodles, but Quang duck noodles in Phan Thiet.
When someone mentions Quang noodles, many people will definitely think of specialties in the provinces of Quang Nam, Quang Ngai, and Da Nang. This central dish is famous throughout the country and is a must-eat dish when visiting these provinces. Even in many other cities, there are Quang noodle shops to serve the needs of diners.
But for the people of Phan Thiet and those who have had the opportunity to travel here, this dish has a different form with a very different taste.
If it is the first time to enjoy, surely every visitor will be surprised because Quang Phan Thiet noodles are different from what they imagined. However, just try it once, you will have to remember forever about a very unique dish.
With a bowl of Quang noodles that everyone is familiar with, the fibers are usually white or yellow, large, flat, fragrant broth with a characteristic compressed tuber smell, with a basic filling of chicken, shrimp, pork, and eggs. quail… served with raw vegetables (usually sprouts) and grilled rice paper. When eating, only the broth penetrates the breadcrumbs, not flooded.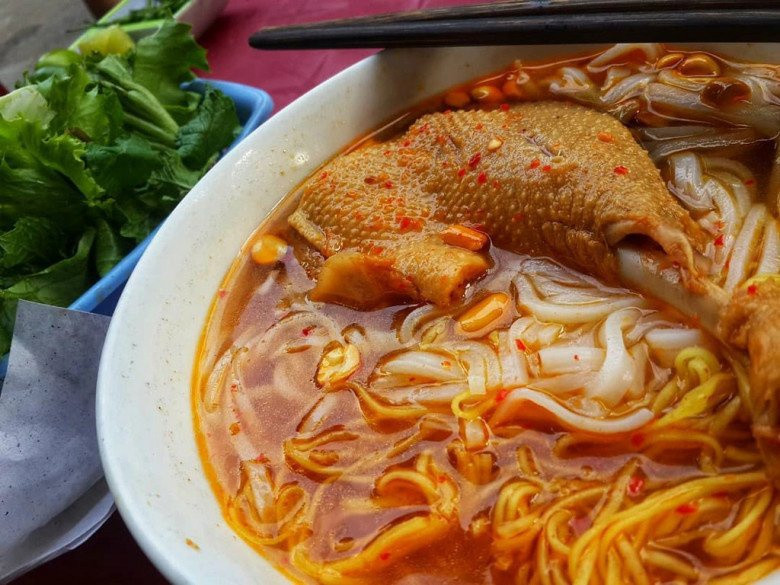 Attractive Quang noodle dish in Phan Thiet.
Meanwhile, Quang noodles in Phan Thiet are usually eaten with one of two basic types of noodles: yellow noodles or smaller square noodles, the broth is covered with the cake. The broth is often colored with colored cashews. In particular, Quang noodles in Phan Thiet only have two types of meat, which are pork (usually lean meat, cutlets, spring rolls, hoof) and duck meat, which is stewed very tenderly. This dish is also served with vegetables, raw sprouts, roasted peanuts and no rice paper.
What makes Quang Phan Thiet noodles different from other noodle dishes in other places is that as soon as you bring out the bowl of noodles, you will immediately see a large stewed duck thigh that people still call Quang duck noodles to distinguish them. separate.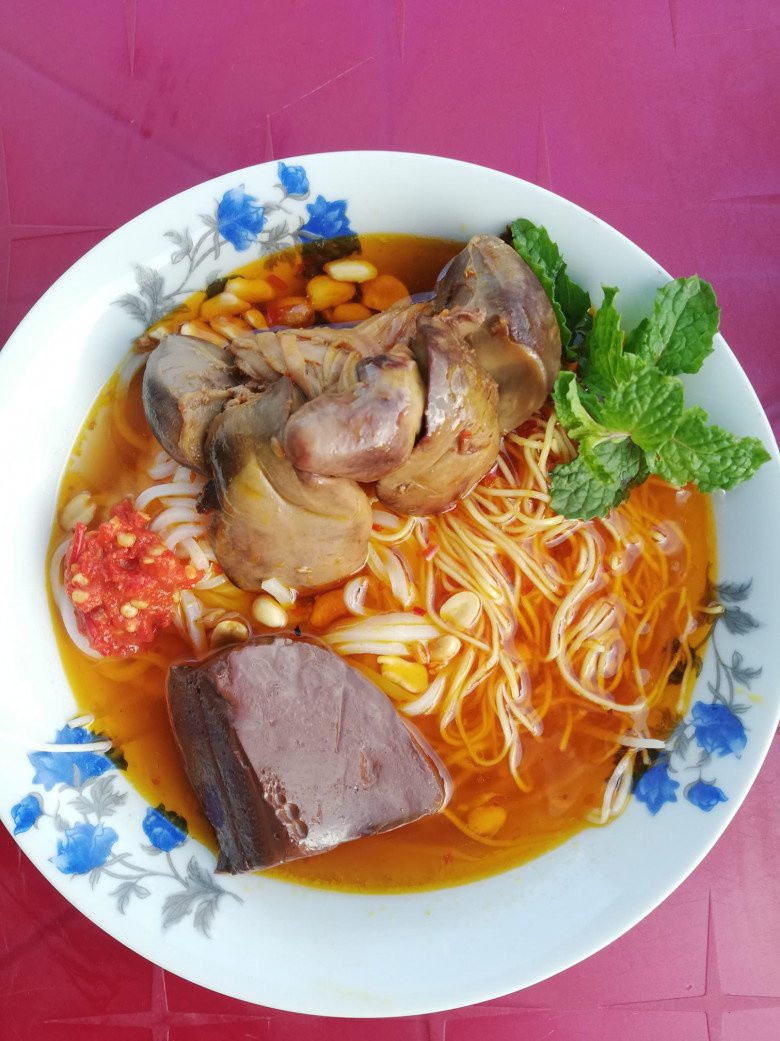 If you do not like to eat duck thighs, diners can ask for other meat parts for the bowl of noodles.
For the people in this sunny and windy land, the taste of Quang noodles will be more delicious if cooked with duck meat instead of pork as usual.
Duck meat is stewed until soft, one bite to see sweet, soft but not friable. Spreading in the mouth is the aroma of duck meat with spices and attractive fat.
Phan Thiet Duck Quang Noodles is rich, spicy, fragrant and a little fatty of the broth cooked with duck meat. Not only adding a rich flavor to the dish, duck meat also helps the bowl of noodles in Phan Thiet become more eye-catching.
Who can resist a bowl of attractive red noodles and a large duck thigh that takes up nearly half of the bowl. But if you are not a person who likes to eat thighs, depending on the customer's request, you can choose breast meat, duck wing meat to add to your bowl of noodles.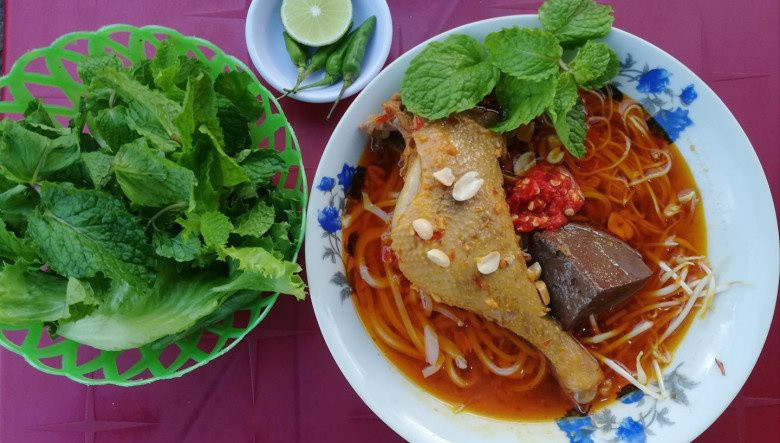 The duck thigh is the point that makes the difference in Quang Phan Thiet noodles.
A bowl of authentic Phan Thiet Quang duck noodles, in addition to noodles and duck meat, also has herbs, bean sprouts, peanuts, squeezed noodles… to create many attractive flavors and colors for the dish.
To enjoy a bowl of Phan Thiet's Quang duck noodles properly is to eat them while still hot, with full noodles, duck meat, broth, a cup of spices and a portion of herbs. Bite into the soft and fatty duck meat, then put in the mouth the soft and chewy noodles and the sweet and savory duck broth. If you like spicy food, you can add some chili sauce or fresh chili to the bowl.
The unique difference makes Phan Thiet Quang duck noodles more interesting, many visitors who taste it once will remember it forever and admit that this Quang noodle dish is not like the familiar Quang noodles at all.
According to Zing
You are reading the article
A unique noodle dish that confuses many people

at
Blogtuan.info
– Source:
vietnamnet.vn
– Read the original article
here