Business
Digital Transformation in the Broadcasting Industry
Cloud computing industry growth rate to increase 40% by 2025
Vietnamese businesses after the translation need solutions to help optimize costs and manage data quickly. Therefore, in addition to the options on the human resources apparatus, new directions in technology are also paid special attention by the Government and enterprises.
A representative of the Information Security Department, Ministry of Information and Communications (TT & TT) said that Covid-19 has created momentum to promote the development of cloud computing. It is forecasted that by 2025, the cloud computing market in Vietnam will reach 500 million USD and the growth rate is 30-40%.
Statistics show that 80% of the cloud computing market share in Vietnam is currently in the hands of cross-border giants such as Amazon, Google, Microsoft, IBM…, the remaining 20% ​​belongs to Vietnamese enterprises such as VNG, VNPT, etc. Viettel, CMC. Thus, the space to expand the cloud computing industry is still very potential.
In the event that all Vietnamese businesses switch to using the Cloud platform, by the end of 2025, the Cloud market will reach a size of more than 53 trillion VND.
According to statistics by September 2021, Vietnam has about 27 data centers that meet the design standards of Tier 3 and Uptime Tier 3, invested by 11 businesses. These data centers are serving up to more than 26,000 customers and offer data storage capacity of up to 60,000 T-bytes.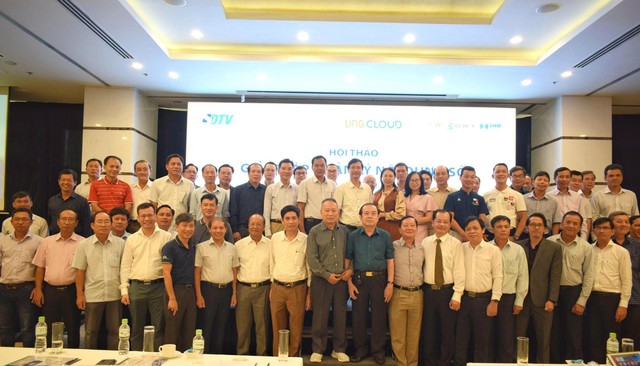 VNG Cloud – Multi-solution ecosystem to help the media industry integrate digital technology
As a leading technology company in providing smart solutions, VNG Cloud is always a cloud service provider trusted and used by TOP 3 major TV stations and major pay TV channels in Vietnam. using the service via vServer; vStorage; vCDN, the enterprise's CMS, the management system for exploiting and trading digital content.
Accordingly, the cloud services offered by VNG Cloud help businesses optimize costs, management and operation time. Specifically, CMS content management solution operating on VNG Cloud server infrastructure offers the ability to edit movies right on Cloud GPU with powerful configuration. Dai's editing team can easily use it to create videos anytime, anywhere. From there, quickly pack and distribute content to broadcast channels as well as share documents to other distributors of Radio.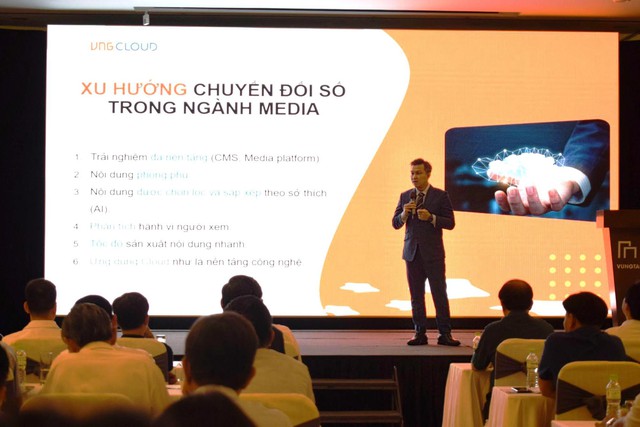 (VNG Cloud shares about a set of solutions for the television industry)
As a unit with more than 10 years of experience in serving television stations, VNG Cloud understands the difficulties in managing and storing data in the Hybrid Cloud environment of Broadcasting – Television units. Up to now, VNG Cloud has completed a comprehensive solution for Radio, in which the cloud infrastructure meets the strict requirements of information data management on the cloud-based electricity platform. At the same time, VNG Cloud is also a provider of digital content distribution solutions (CDN-Content Delivery Network) for radio stations as well as multimedia entertainment applications with a capacity of up to 3 million people. CCU (CCon – current users) – the number of people using the service at the same time.
In which Digital Rights Management (DRM) helps to eliminate the challenge of piracy of digital content, reach customers on multiple platforms easily, and create favorable conditions to help content providers expand business opportunities. numbers on the digital medium.
In addition, VNG Cloud's CMS solution also supports automatic categorization of news/articles, provides appropriate features for each department, supports spell check, automatically evaluates duplicate news articles, and more. many features to support news production/browse. Step by step, CMS will help automate the operating model, promote the digitalization roadmap and move towards building a smart newsroom or a smart TV station.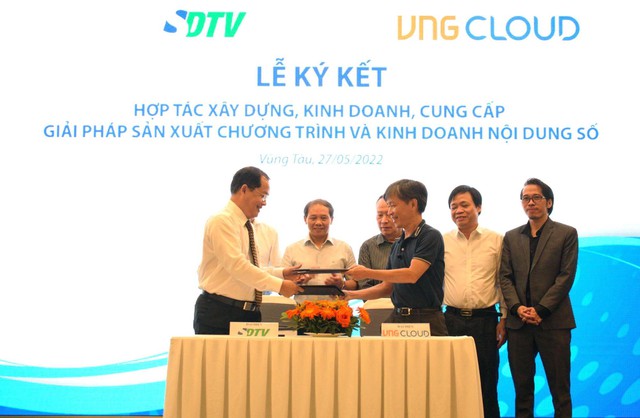 VNG Cloud has officially "shaken hands" with SDTV – a unit that has many years of experience in successfully implementing the government's TV digitization project and is a reliable partner, providing services for broadcasters. Radio and Television in the South, South Central and Central Highlands regions, developing Content Media Hub. Through this combination, the two sides want to optimize the operation process, digitize production content as well as increase interaction and improve transmission and broadcasting quality when promoting digital transformation. Thereby creating a foundation and bridge to strongly promote the digital transformation process in the field of Radio and Television.
Accordingly, VNG Cloud will build a smart TV station with a modern digital content management solution (CMS), design and build a suitable cloud computing infrastructure for TV stations.
Taking advantage of available advantages from more than 10 years of experience in serving Top 3 national TV channels, VNG Cloud has so far completed a comprehensive digitalization ecosystem for television stations.
The move to cooperate with SDTV to develop Content Media Hub is part of the radio station's strategy to accelerate the digital transformation and digitize program production process. From there, program production, content management, and storage are convenient, safe, and especially cost-optimized.
In addition, through this comprehensive set of solutions, VNG Cloud wishes to help broadcasters expand their program production capacity, store and distribute content to viewers more quickly and conveniently than compared to other broadcasters. with the previous traditional way – VNG Cloud representative shared.
https://cafebiz.vn/chuyen-doi-so-trong-nganh-phat-thanh-truyen-hinh-cuoc-dua-gap-rut-de-ve-dich-2022053116034197.chn
Following the Economic Lifestyle
You are reading the article
Digital Transformation in the Broadcasting Industry

at
Blogtuan.info
– Source:
cafebiz.vn
– Read the original article
here