Gia đình
Don't make fun of the National Assembly member saying "praise a beautiful neighbor is spiritual violence"!
"The husband who praises his beautiful neighbors all the time is also spiritual violence" – a sentence of National Assembly member Phan Thi My Dung discussing the revised Law on Prevention of Domestic Violence, which is being shared and discussed on social networks.
On the afternoon of May 31, the National Assembly discussed the revised Law on Domestic Violence Prevention and Control. At the meeting, National Assembly Representative Phan Thi My Dung (Delegation of the National Assembly of Long An) analyzed that there are acts of violence that manifest in detail and are clearly seen, but there are also behaviors that "we don't think of as acts but are causes psychological and spiritual crises", which is also domestic violence.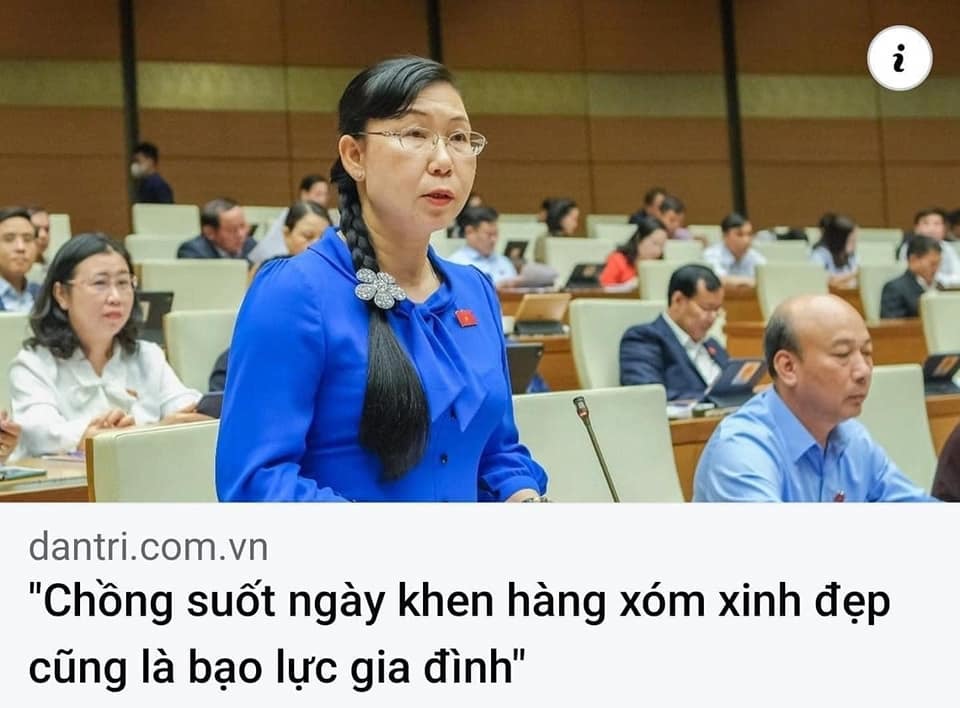 The statement of the female member of the National Assembly caused a "storm" of the network.
Delegate Phan Thi My Dung acknowledged: "When coming home, the husband is silent all the time, or he doesn't criticize his wife, but all day he keeps praising his neighbors for being attentive, beautiful, rich, or angry at the fish, that is. They don't take action against the person being abused, but every time they beat a dog, hit a cat, etc., in the long run, the affected member will have a psychological crisis."
The opinion of Representative Phan Thi My Dung has created a wave of discussion on social networks. Accordingly, one account said: "To be fair, every time I'm complimented by my sisters for being handsome and stylish… I'm sure I'm being harassed. Thank you delegates!".
Or another opinion stated: "Colleagues at the agency sympathize. Neighbors are very apologetic. I had no choice but to close my eyes and keep my mouth shut, because I was trying to become a man without blemishes. It's a little scary to commit such a crime!".
Expressing on this issue, from the perspective of an independent researcher with many years of working on gender equality, domestic violence prevention, Dr. Khuat Thu Hong, Director of the Institute for Social Development Studies (ISDS) The more detailed the law the better, the more it proves that law makers want the law to be an effective tool to prevent and deal with wrongdoing.
"The fact that National Assembly deputies give many examples of domestic violence acts shows that they care and are responsible for this issue. Don't make fun of them. The press should also not quote a sentence or two out of context to sentence the view", emphasized Dr. Khuat Thu Hong.
According to Dr. Khuat Thu Hong, if it is true that a wife compares her husband to others all day long with disparaging, contemptuous and insulting words, it is also an act of mental violence. And the husband who watches the neighbor all day and then denigrates his wife, insults his wife, is estranged… is also mental violence.
"On the other hand, listing behaviors is not enough. Should group violence into large groups: physical violence, emotional violence, sexual violence, economic violence… and give examples for each group, rather than list 18-19 behaviors, It looks long, but it's still not enough," commented Dr. Khuat Thu Hong.
In addition, the expert also recommended focusing on solutions to prevent and handle domestic violence.
"Abandon reconciliation, force the abuser to temporarily leave the place of residence, not the victim, to take refuge. Strengthen the role of emergency handling for the police. Specifically, the police must be the one to issue the ban on contact, not the People's Committee. The police are the only place to receive reports of violence, not the current 6-7 parties… The police must be present immediately to stop the violence case immediately, then the role of the health and social organizations will be. women", emphasized Dr. Khuat Thu Hong.
According to the revised Domestic Violence Prevention Bill, acts considered as domestic violence include: torture, ill-treatment, beating or intentional harm to health and life; insult or intentionally offend the honor and dignity; isolating, driving away or applying constant psychological pressure, causing physical or mental harm; neglect or fail to take care of the elderly, pregnant or nursing women, disabled or sick people.
There is also behavior that does not educate children; gender discrimination of family members when dividing inheritance; disparaging body shape, gender; prevent family members from participating in social activities; distribute private information and images without consent; forced sex; compulsive listening to audio, viewing images, reading content, performing pornographic performances, inciting violence…
N. Huyen
You are reading the article
Don't make fun of the National Assembly member saying "praise a beautiful neighbor is spiritual violence"!

at
Blogtuan.info
– Source:
infonet.vietnamnet.vn
– Read the original article
here