Business
Forbes lists Vietnamese startups that can rise to become the next unicorn
The term unicorn – technology unicorn appeared in 2013 to refer to technology startups valued at over 1 billion US dollars.
Recently, Forbes Vietnam has just reviewed Vietnam's unicorns, "near" unicorn companies and promising startups that create a unique business model or competitive advantage that can go far.
Accordingly, if the first generation of Vietnamese startups (2000-2006) focused on game distribution, e-commerce, payment, digital media with typical names like VNG , Vatgia, Peacesoft, VCCorp, 24H, the second phase (2007-2014) with the appearance of Tiki, Foody, Batdongsan.com.vn, Amanotes tends to focus on consolidating vertical business operations. to form an ecosystem around the original main product.
The next generation, from 2015 to now, has exploded in both quantity and type with the common focus on building a technology foundation to create a competitive advantage.
Who are the 4 unicorns?
At the end of 2021, Vietnam added two more unicorns to the list, MoMo and Sky Mavis, besides the two previously appeared names, VNG (2014) and VNLIFE (2019). With 4 technology unicorns, on the regional map, Vietnam ranks third, behind Singapore and Indonesia in number.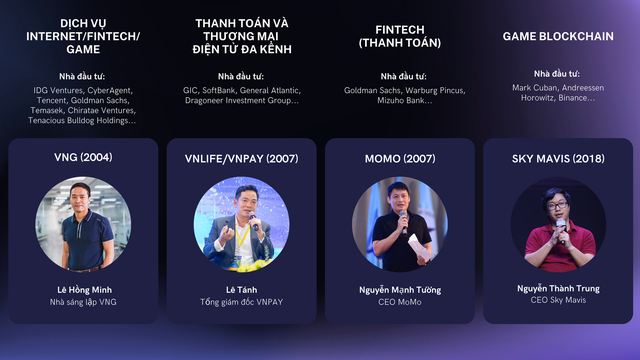 VNG: VNG is one of the first startups in Vietnam to start with an online game release. VNG gradually transformed itself into an Internet-based technology company and became Vietnam's first tech unicorn in 2014.
VNG is considered as the most influential digital content enterprise with the development of Vietnam's Internet and Mr. Le Hong Minh is one of the 10 most influential figures in this field in the period 2007-2017. according to Vietnam Internet Association. In the period 2016-2020, VNG is in the Top 50 leading brands of Forbes Vietnam with a valuation of US$69.3 million in the most recent ranking in 2020.
VNLIFE/VNPAY: In 2019, VNPAY became a unicorn after an investment of 300 million USD from GIC and Softbank, a record investment in a Vietnamese technology company up to that time. According to the e-Conomy SEA 2020 report conducted by Google, Temasek, Bain & Company, VNPAY became Vietnam's second technology unicorn, ranking 12th in Southeast Asia.
Momo: Momo became a unicorn after the E series round at the end of 2021, when Mizuho Bank led a group of international investors with an investment of US$200 million.
From 2020, MoMo announced its goal of developing into a super app, expanding the market by providing digital transformation solutions for millions of small businesses (SMEs) and micro enterprises (MSMEs) in Vietnam and continuing to continue to promote investment in Vietnamese companies to expand the ecosystem.
Sky Mavis: Sky Mavis founded in 2018, is the company that develops the hit game Axie Infinity, the NFT game running on the blockchain platform. Attracting 2.6 million players, Axie Infinity is not the first blockchain game in the world, but it is the most successful game to date when opening the trend of blockchain games causing fever in Vietnam and around the world.
In October 2021, the company received Series B capital with US$152 million with a valuation of US$3 billion, officially becoming one of the four Vietnamese technology unicorns.
"Near" unicorns and promising startups
Tiki: As the third largest e-commerce platform in Vietnam by number of visits, after Shopee (belonging to SEA Ltd) and Lazada (belonging to Alibaba), the IPO event in late 2022 or early 2023 can value Tiki. over 1 billion USD and become the unicorn of Vietnam.
Economical delivery: GHTK has two major shareholders, SEA, which is the controlling company in Shopee, Shopee Food, Shopee Pay and Kerry Logistics, a Hong Kong delivery group. The company has restructured its financial portfolio, is preparing for an IPO, and has unicorn target expectations.
Trusting Social: Trusting Social is a company that harnesses the power of big data and machine learning, to help improve financial access for people without a credit history, or simply to use technology to help more people. subprime banks can borrow money.
In April 2022, Masan Group announced the completion of an investment agreement of 65 million USD to own 25% of Trusting Social Vietnam.
Kyber Network: Kyber Network is developed on the Ethereum Blockchain platform, providing a decentralized exchange that can be integrated into dApps, making it possible for users to trade and convert between digital currencies instantly on Kyber Network. Key products include decentralized exchange KyberSwap and digital asset management platform Krystal. In particular, KyberSwap is one of the largest decentralized exchanges (DEX) today.
In 2017, Kyber Network successfully raised capital, raising 52 million USD, becoming one of the largest fundraising deals in the history of Vietnamese startups and in the top 10 startups raising capital in the form of the largest ICO. world at that time.
Amanotes: Amanotes is known in the market as the world's leading video game publisher in the music game segment with 2.6 billion downloads on the Google Play and iOS app stores.
With a cash-flow-generating business model, Amanotes has not yet undergone any funding round but has grown and developed on its own. Amanotes' business goal is to build a complete music ecosystem, create applications for the music-loving community as well as support independent programmers to bring products to users.
KiotViet: Sales management software KiotViet belongs to Citigo Software Joint Stock Company founded by Tran Nguyen Hao and Tony Nguyen in 2010. Citigo is transforming itself from a software company into an ecosystem for small, medium and super businesses. small businesses in Vietnam and Southeast Asia in providing management tools for store owners, sources of goods and capital for retail store owners.
In 2019, reached 50,000 customers and raised US$6 million from Jungle Ventures and Traveloka. In 2021, the number of customers tripled, KiotViet successfully raised 45 million USD.
Fast delivery: Fast Delivery (GHN) was founded by Luong Duy Hoai in 2012, pioneering in the field of e-logistics, belonging to the Scommerce ecosystem with 6 distinct services on the same platform. In 2018, this company received investment capital from Olympus Capital Asia and by the end of 2019, Temasek invested more than 100 million USD in Scommerce.
In general, the most promising startups are related to the ecosystem of e-commerce, fintech, logistics, blockchain, gaming, etc., areas with great growth potential in the next 2-3 years, although it may not be all of them. But some of those promising companies could grow up to become the next unicorns.
https://cafef.vn/forbes-diem-danh-nhung-startup-viet-co-the-troi-day-thanh-ky-lan-tiep-theo-20220601014604486.chn
You are reading the article
Forbes lists Vietnamese startups that can rise to become the next unicorn

at
Blogtuan.info
– Source:
cafebiz.vn
– Read the original article
here