eSport
Văn hóa xe
In the digital age, why do designers still make clay car models?
According to Car Insider, digital technology can help designers create 3D images, but in reality, it is just a 2D image presented in a 3D environment. And for a few other reasons, a design has to be seen in 3D in order to touch and feel.
And modeling clay can bring "realism" to the design process of a car model. A design that is perfect in the digital environment sometimes does not match the finished product, and so a clay model is the best way to show the image of a car model. is gradually taking shape.
Clay also allows designers and engineers to make quick edits without spending a lot of time on digital drawings. The clay model is also particularly well suited for wind tunnel testing, where a small change to the bodywork can have a huge impact on the vehicle's aerodynamics.
Graphically running a wind tunnel test of cars in a digital environment can cost thousands of dollars an hour, so the quicker the tweaks, the less expensive it will be. Modeling clay not only allows this, but it can also help engineers create extremely detailed edits that are difficult to do with a computer.
Finally, and just as importantly, a completely physical, clay-based version of the design will give designers a clearer look when placing the prototype in natural light. In addition, a car will often be driven in an outdoor environment, so it needs to pass tests in the sun.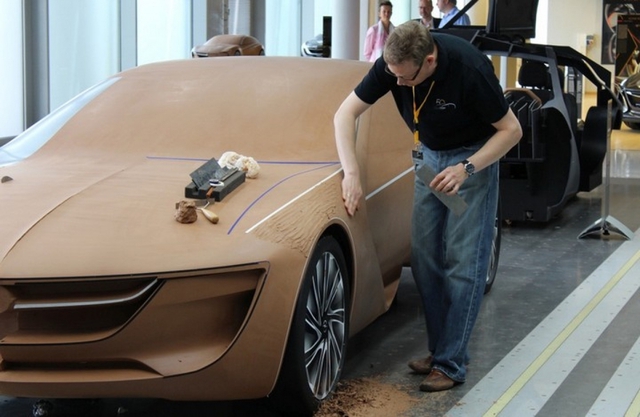 The first company to use modeling clay in the design of automobiles was General Motors in the 1930s, pioneered by designer Harley Earl. The first full-size clay model will allow designers to see and touch their "work" in all three dimensions, and help them better understand the curves, shapes that they figured it out. Modeling clay will also be many times faster than creating a model using the traditional method of joining pieces of steel together.
Modern clay models will start with a steel frame that connects 4 wheels, most of the blocks are made of sponge material. Clay will be covered to form the outer shell, usually 25-50 mm thick. CNC machines will be used to create basic shapes on the model's clay layer.
Clay modeling can cost automakers hundreds of thousands of dollars, but it's still an important process for designing cars. And this method will probably continue to be applied for many more years.
You are reading the article
In the digital age, why do designers still make clay car models?

at
Blogtuan.info
– Source:
autopro.com.vn
– Read the original article
here