Giáo dục
Life Style
Need to punish those who intend to push "complementary books" of textbooks into schools to "eat commissions"
In recent days, the issue of the price of new textbooks (SGK) under the 2018 GDPT program has increased 2-3 times, which is being concerned by many parents and students.
Explaining the price of textbooks to the National Assembly, the Minister of Education and Training said that the increase in the price of textbooks was many times higher than that of the current textbook because the old book sets under the 2016 program were paid for by the state a lot. stages from compilation and evaluation. Currently, new textbooks are compiled with larger sizes, better paper, and the process from compilation to introduction, testing, and release is entirely in charge of enterprises and declaration of prices with the Ministry of Finance. main. For example, the cost of books for the 3rd, 7th and 10th grade books of the Education Publishing House this year is reduced by 10-15% compared to the corresponding new books last year, while the cost of materials and fuel increased. up. So, if you compare the books of the old system with the new books, you will see the price difference.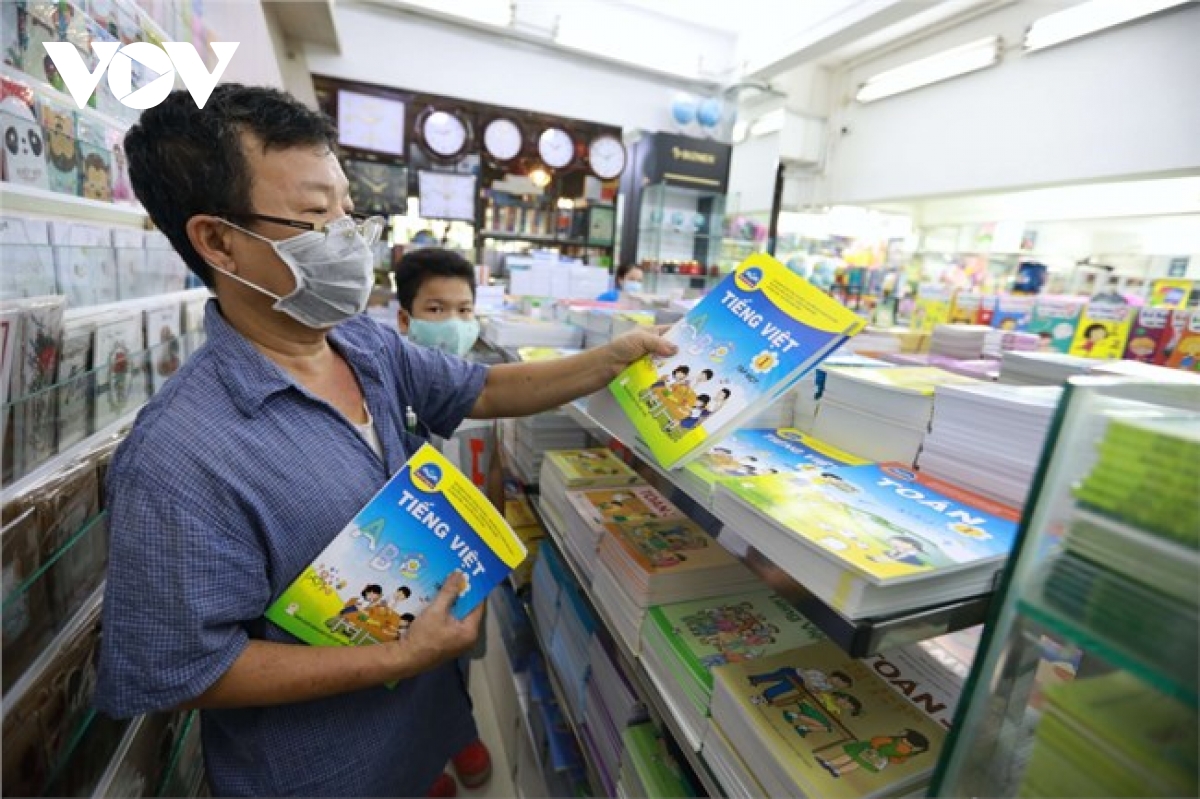 Talking about the price of new textbooks, Mr. Ho Anh Tuan, the principal of a high school in Nghe An, said that in normal socio-economic areas, parents can still accept the new price of textbooks. However, it is worth mentioning that the "complementary part" of the textbook includes all kinds of exercise books and supplementary books that are really worth discussing.
"Currently it is very difficult for parents as well as schools to control the selection of books that "follow" textbooks, in many ways these types of books are brought into schools bluff, costly, and wasteful. . Like the school year 2021-2022, with grade 6, the school received a very long list of textbooks and reference books sent down, we had to meet with a professional council, deciding to only buy textbooks and some workbooks. Essentials included, so each set was about 600,000 VND. If you buy other suggested reference books, it can be up to a million, "said Mr. Ho Anh Tuan.
The principal suggested that the Ministry of Education and Training need to control and provide guidance to help people clearly distinguish between essential textbooks that must be purchased, and those that are not needed by individuals and organizations. intending to take advantage of the books "follow-up" to push into the school to earn "commission", they must be strictly handled.
"To be fair, the public has also spoken before about the fact that textbooks have poor quality images, bad paper, and don't create interest for students, so now publishers also want to raise the quality of books to par. current standard of living.
But it should also be said that textbooks are a special commodity, which should be under the control of the Government and subsidized. Subsidies can be applied to individual users or groups to ensure that no matter how expensive, no one is left behind. At the beginning of the school year, it is necessary to assign it to local authorities and party committees at all levels to take care of textbooks for all students. Or better yet, each school library can be given a certain amount of money to buy shared books for students who can't afford to buy and use them and then return them," suggested Mr.
Unable to "float" the price of textbooks
A lecturer at Hanoi National University also agrees that it is not possible for publishers to decide the price of textbooks because business people always want to put profits first. In advanced countries in the world, they are also moving in the direction of a program of many textbooks, but publishers will compete in terms of quality, content, form and price to sell books. Vietnam is also moving in this direction. But normally, when there is competition, it will often reduce costs, while the price of textbooks in Vietnam is going in the opposite direction. Therefore, it is necessary to review the issue of textbook prices, have a ceiling on bookshelves and stipulate that publishers are not allowed to exceed the ceiling frame given.
For essential textbooks such as rice and gasoline, Dr. Le Viet Khuyen, former deputy director of the Higher Education Department (Ministry of Education and Training), agrees that the state needs to have price management, even if it needs to compensate for losses. need, but cannot float the price of textbooks for businesses.
You are reading the article
Need to punish those who intend to push "complementary books" of textbooks into schools to "eat commissions"

at
Blogtuan.info
– Source:
Afamily.vn
– Read the original article
here