Business
New "Gu" of the rich, hot mineral resort villas have a record price of up to 70 billion dong
More than 10 years of experience in investing in real estate and never made a loss, but, Mr. T. from Hanoi only considers himself a side-by-side investor. His main job is still taking on the role of CEO of a company specializing in supplying and installing solar panels. Before that, Mr. T. used to hold a big position in a foreign company specializing in automobile distribution.
Therefore, investing in real estate with T. is just: "The excess money should be temporarily put into real estate". "I usually buy real estate to serve my own needs first, then use it to take care of my partners due to the specifics of my work. In terms of profit, it's just a side effect." That is the reason that in his property collection T. includes a variety of different types such as condotels, villas, apartments and resort villas.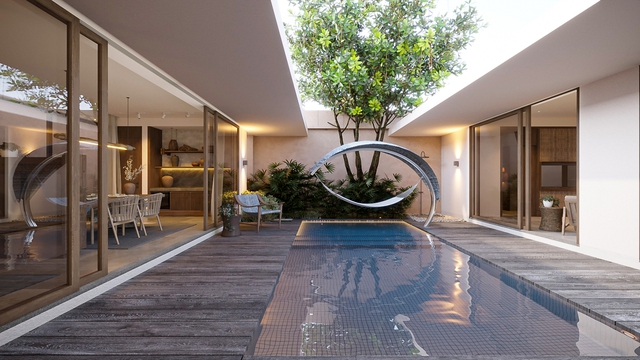 In 2021, Mr. T boldly spent more than ten billion VND to buy a hot mineral villa in Thanh Hoa for more than 10 billion VND. As a person who "loves" to use health care services, Mr. T. said that buying this type of villa in addition to serving the needs of himself and his family, he also wants to invite friends and partners. to experience. Although he did not identify profit as the most important goal, this side-by-side investor revealed that after more than a year, someone had bid up to 1.5 times the original price.
"I bought a hot mineral resort villa just to relax. Instead of paying each time for using the service, I can use it regularly every month, but only for running costs. My house should invite friends , a partner to experience and discuss is also easier than depending on hire", Mr. T. shared.
D., a broker specializing in resort real estate, revealed that the market share of the hot mineral villa product line is quite sought after by the rich, especially after the epidemic. Although the product is considered to be a "picky customer", Mr. D. said that the customer for this type of product is willing to pay. "They buy rarely, weigh up and down too many times. They like to lose money."
"My clients mostly have financial and health concerns. For example, they buy a villa to store assets, and enjoy hot mineral bath services. A villa to own, a service Attached services that are both good for health, heart, and beautiful skin and with dedicated advice are clearly preferable to spending money on your own to buy a physical therapy course at another spa care facility. The reason people have money is to like to own, to invite friends and customers to experience, to show their own position or to serve the purpose of building relationships.
Mr. D. further analyzed, the mineral villa products launched on the market today are appreciated by customers as beautiful and easy to operate. In terms of rental ability, Mr. D. said, hot mineral rooms at some resorts are "burned out" with the rental price is not cheap. For example, at Melia Ba Vi, or Avana Retreat, the rental price is 8 million VND/villa, even peak can be up to 12-20 million VND/villa. Serena Kim Boi is currently renting for 20-24 million VND/villa.
"The nature of customers who book rooms to experience the service in some old resorts actually can't fully experience the hot mineral water," Mr. D. shared. Hot mineral products near Hanoi are used with high frequency, cheap and easy to access. Currently, this product line near Hanoi is quite limited.
Surveying the price of this product line, at that Sun Yoko Quang Hanh project, the initial price was about 120-130 million VND/m2 and now up to 160-170 million VND/m2. In Thanh Hoa, this villa line has an average price of 26-32 billion depending on the area of ​​​​230m2, 350m2, or 350m2. In particular, there are special detached villas with prices ranging from 50-70 billion VND.
The Apec Mandala Retreats Kim Boi project that is open for sale in Kim Boi, Hoa Binh also recorded prices ranging from 8 billion to 19 billion VND. In addition to Apec Mandala Retreats Kim Boi, a hot mineral project of Sun Group in Hoa Binh was also revealed by brokers to be about to launch to the market.
According to the broker, with limited quantity along with the advantages of health care therapy services, mineral spring villas will be sought by many investors because of their ability to increase prices and meet real demand. This is also the reason why many developers are now turning to hot mineral villas.
https://cafef.vn/gu-moi-cua-gioi-nha-giau-biet-thu-nghi-duong-khoang-nong-co-gia-ky-luc-len-den-70-ty-dong- 20220601151751009.chn
You are reading the article
New "Gu" of the rich, hot mineral resort villas have a record price of up to 70 billion dong

at
Blogtuan.info
– Source:
cafebiz.vn
– Read the original article
here