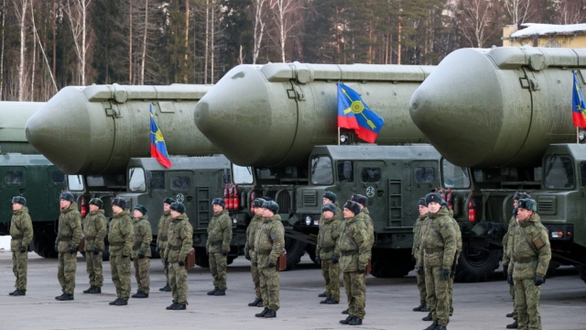 Russian servicemen stand in line in front of Yars intercontinental missile systems, as they prepare for the Victory Day parade on May 9 at Red Square in Moscow, Russia – Photo: GETTY IMAGES
About 1,000 troops are taking part in intense drills along with more than 100 military vehicles and equipment, including Yars intercontinental missile launchers, the Russian Defense Ministry said.
Information about the maneuvers of the Russian nuclear forces came in the context of May 31, when US President Joe Biden announced that Washington would provide modern artillery to Ukraine.
Some US officials revealed it was the High Mobility Artillery Rocket System (HIMARS) with a range of up to 80km, according to Reuters news agency. Washington wants Kiev to be able to use these rocket systems in the Donbass region in eastern Ukraine.
Recently, Kiev has called on the US and its allies to provide long-range missiles capable of hitting targets hundreds of kilometers away to resist Russian attacks.
The United States is trying to strike a balance between its desire to help Ukraine withstand heavy artillery fire from Russia while not providing the weapons that would allow Kiev to hit targets deep inside Russia and cause havoc. escalate the current conflict.
In an address to the press at the White House on May 30, Biden also emphasized that the US would not send Ukraine missile systems capable of reaching Russia.
The Kremlin has warned that any country that supplies advanced weapons to Ukraine will face serious consequences.