1. Shark Hung
Shark Hung (real name Pham Thanh Hung) is one of the most popular "sharks" in the program Shark Tank – Billion dollar deal. Not only famous for his huge fortune and dashing appearance, Shark Hung also impressed the public with his sweet marriage with a 16-year-old runner-up – Nguyen Thu Trang.
As a well-known investor in the market, Shark Hung also has an impressive way of teaching his children. In a recent interview, Shark Pham Thanh Hung said that he often incorporates his experiences in his youth into teaching his children such as giving them early access to personal financial management. The first is to save money.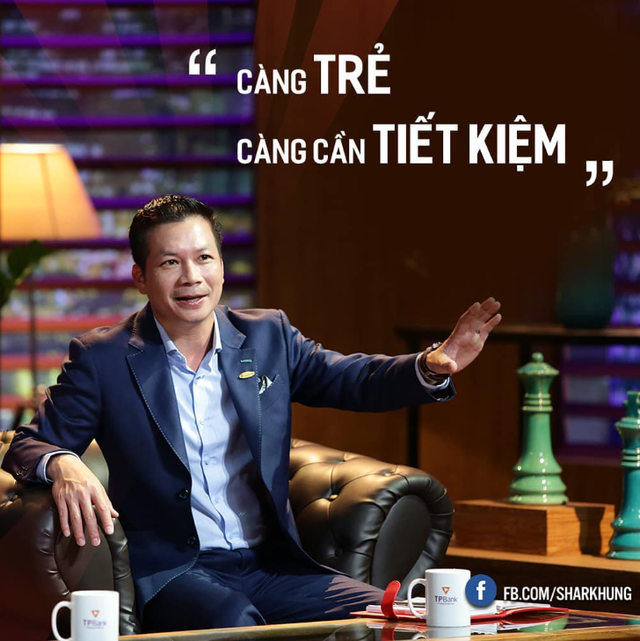 Shark Hung focuses on teaching children about thrift
"The savings and investments need to be decided as soon as they have income. For example, at home, some children leave pigs, I advise them to give up pigs before leaving the house. How much money are we going to spend today? I have to quit in the morning. When I wake up in the morning, I have to make a decision and feed the pig, "Shark Hung said.
According to Shark Hung, in Vietnam, money is always a delicate issue for children, especially when they are young. Children are often not allowed to spend money on their own, do not touch money, making them indifferent to making money, or squandering their parents' money. Later, when I get older, even when I'm just over 30, there will be times when I regret not living frugally sooner.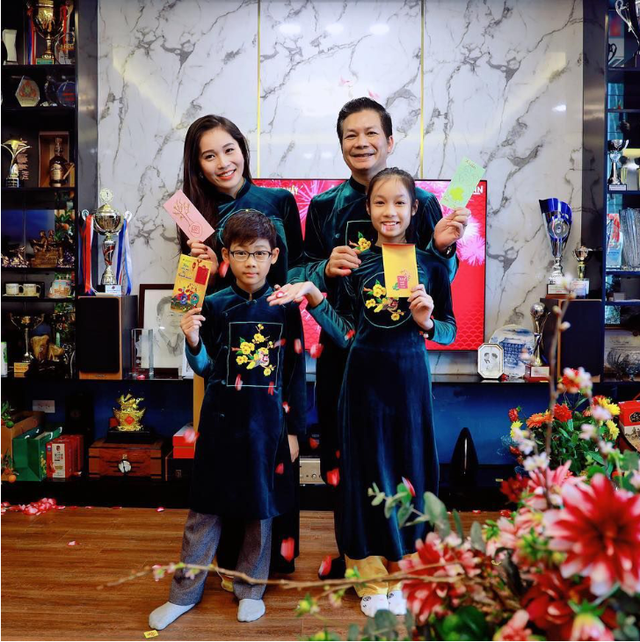 Shark Hung's family. Photo: FBNV
With this shark taste, it doesn't matter how much money you save, it's important to have a sense of frugality. Initially, the amount of savings may not be much. But if we do not start with a small number, it is very difficult to make a larger amount. Usually, the minimum amount of savings must be about 20% of personal income. For example, with a salary of 10 million, you have to make 2 million… And especially, when saving, he often teaches his children to do it as soon as they have money.
In addition, Shark Hung also incorporates business knowledge into the education of his children. After the children save an amount, he often teaches them how to invest, learn money thinking or money sensitivity. Because when they know how to use their savings to invest, young people will soon escape the trap of "hiring".
2. Tang Thanh Ha
In 2012, when she was at the peak of her career, "Pearl Girl" Tang Thanh Ha surprised fans when she announced that she would temporarily put aside the artistic path to get on a flower car with young master Louis Nguyen – the son of billionaire Johnathan. Hanh Nguyen.
However, her name has never shown any signs of cooling down, Tang Thanh Ha's life in the moat family has always been of interest to the audience. Recently, the actress announced that she gave birth to her third son Mason, before that, the eldest son Richard Nguyen and the little princess Chloe Nguyen.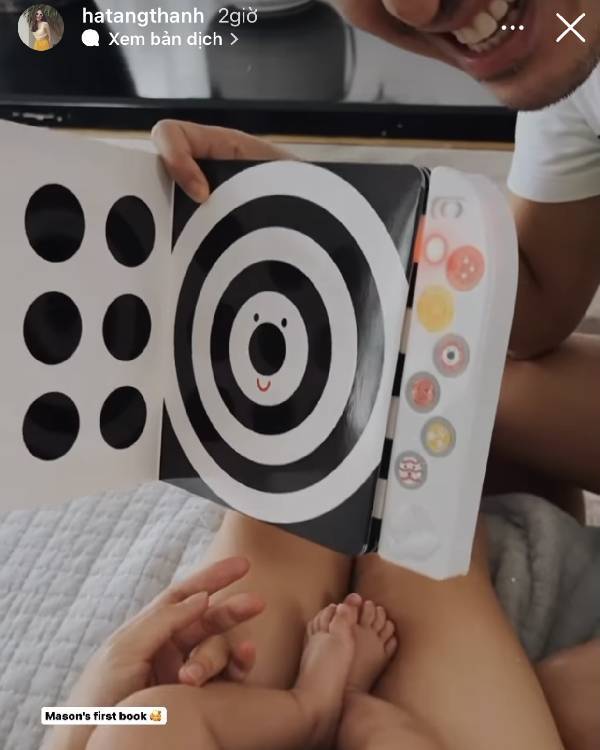 Tang Thanh Ha lets her children read books from the age of 3 months
Up to now, although the pictures and information about the children in the "King of Brands" family have always been kept secret, the way of raising children of Tang Thanh Ha and her husband has always made the public admire.
For example, when Mason turned 3 months old, his parents gave him his first book. This book especially has no words but only symbols and music, helping to stimulate children's vision and hearing.
In addition, if you follow this couple for a long time, you can see that Tang Thanh Ha's children, despite their young age, are very passionate about reading. Louis Nguyen once shared a photo of Richard himself selecting books in English in the bookstore at Far East Plaza, Singapore; and little Chloe likes funny children's books.
The children are always involved in helping with the housework
Besides training her children to love reading, Tang Thanh Ha also raised her children in a simple style, teaching them to love work and help their parents with housework. Richard and Chloe both participate in baking, picking vegetables, washing cars, making creative toys, writing cards for everyone in the house.
The mother-of-two also let the children visit nature outside, witness the life of fishermen at sea or the hardships of workers. Responding to the expectations of their parents, Richard and Chloe both proved to be understanding, playful and active children who went to collect fish to help people.
3. Doan Di Bang
In recent years, Doan Di Bang no longer appears much on the red carpet, entertainment activities, but her influence is still quite large. Referring to Doan Di Bang, everyone admires the rich life. Netizens even gave her the nickname "the giants of District 7", "beautiful people of 400 billion", "love women of brands"…
Contrary to what many people think, although she has plenty of conditions and money, she does not have the concept of raising children as a true "rich-kid". She and her husband always direct their children to live honestly, in harmony with everyone, only reward them when they do good things that are useful to the family and society, and have never revealed to their children that the family always has conditions.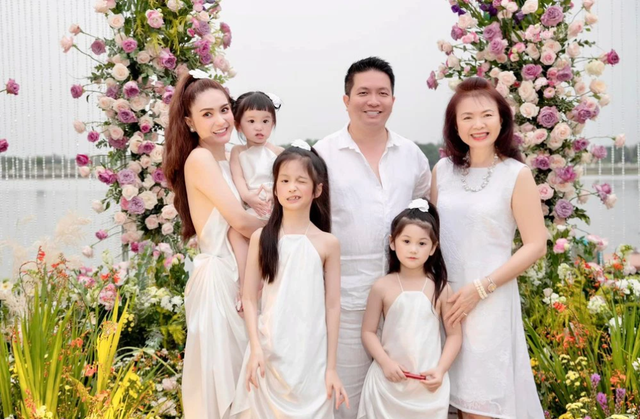 "The life of the children of the Bang is still normal. The children go to school all day, come home to help the nannies in every possible condition. Bang has never told her children that she is rich or has any conditions. Because I don't want the children to create a distance from their friends, and the closest are the nannies. Many of the items that the baby asks for, which Bang sees beyond her spending, she is ready to refuse with her children, not pamper them." , Doan Di Bang shared.
When talking about the average amount of money each month will be for the children, Di Bang once revealed that the amount of money spent for different months is not the same, but at least about 100 million / month. The only fixed amount is to pay the nanny's salary, school fees and daily living expenses. Shopping and travel are not always available.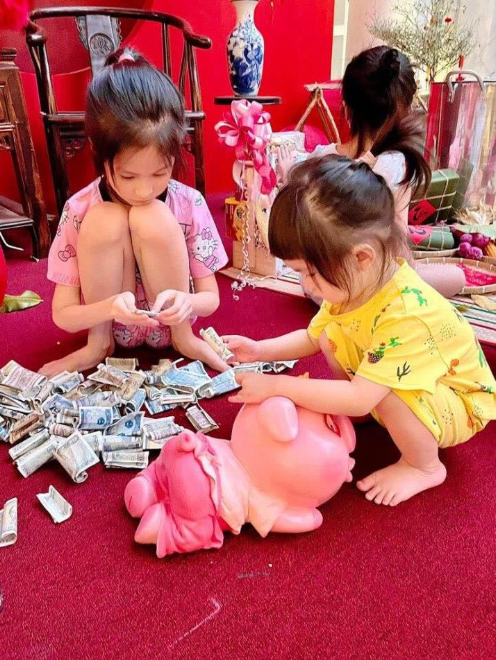 Children enjoy casting savings pigs
In particular, Doan Di Bang always teaches children to appreciate money and appreciate what they have. Every time the children are good and help people with housework, the couple will reward the children with toys and give them a few tens of thousands of dong so that the children can put away the piggy bank to save money. At the end of the year, I will beat a pig once to buy things my children like and the rest will go to charity.
The female giant in District 7 does not put pressure on her children to study; Force your child to learn more or lose with friends. Doan Di Bang just wants you to become honest people and work useful for society.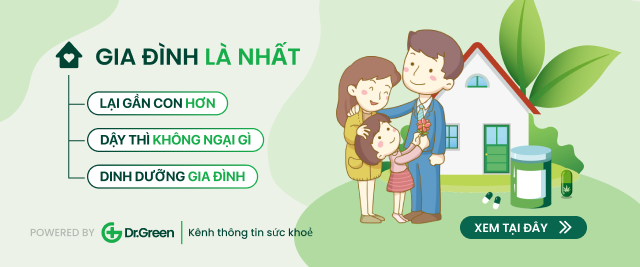 https://cafebiz.vn/soi-gioi-nha-giau-viet-day-con-3-thang-tuoi-doc-sach-dung-tien-tiet-kiem-dau-tu-nuoi-con-het- 100%
You are reading the article
See how to teach children

at
Blogtuan.info
– Source:
cafebiz.vn
– Read the original article
here